Drug information of Mipomersen
Mipomersen
Mipomersen is a cholesterol-lowering medication. It reduces blood levels of "bad" cholesterol, such as low-density lipoprotein (LDL) and apolipoprotein-B (apo-B(.
Mipomersen is used together with a low-fat diet and other treatments to lower total cholesterol in people with homozygous familial hypercholesterolemia (an inherited type of high cholesterol).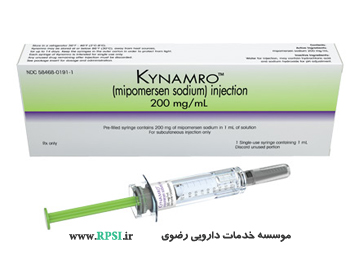 Mechanism of effect
Mipomersen binds to the messenger RNA coding for apolipoprotein B-100 (ApoB-100), a protein that is the main component of low-density lipoprotein (LDL) and very low-density lipoprotein (VLDL). As a consequence, the RNA is degraded by the enzyme ribonuclease H, and ApoB-100 is not translated.
Pharmacodynamic
Mipomersen sodium decreases the levels of apolipoprotein B (apo B), low density lipoprotein (LDL) non-high density lipoprotein-cholesterol, and total cholesterol.
This drug is the only therapy that uses antisense technology to inhibit the synthesis of apo B-100 by targeting a specific 20-base sequence on apo B-100 mRNA.
Mipomersen binds with the mRNA sequence and prevents the translation and formation of the protein apo B-100 in the hepatocyte.
This drug is designed to reduce the formation of very low-density lipoprotein (VLDL) and downstream atherogenic particles—including LDL
Pharmacokinetics
absorption:
The maximum mipomersen concentration is reached in about 3-4 hours after subcutaneous injection. Additionally the bioavailability of mipomersn is dose-dependant and ranges from 54%-78%.
Protein binding: ≥90%
Metabolism:
Mipomersem is metabolized by endonucleases.
Half-Life: 1–2 months
Excretion:
<4% in urine in 24 hours
Dosage
Usual Adult Dose for Hyperlipidemia:
200 mg subcutaneously once weekly on the same day each week
Interactions
Vitamin A
,
Carbamazepine
,
Didanosine
,
Atomoxetine
,
Acarbose
,
Acetaminophen
,
Bupropion
,
Cyclosporine
,
Fingolimod
,
Celecoxib
,
Captopril
,
Bicalutamide
,
Febuxostat
,
Caspofungin
,
Efavirenz
,
Butalbital and Acetaminophen
,
Clofarabine
,
Perindopril
,
Pyrazinamide
,
Maraviroc
,
Nintedanib
,
Troglitazone
,
Abacavir
,
Atovaquone
,
Aminosalicylic Acid
,
Binimetinib
,
trabectedine
,
Duvelisib
,
Valdecoxib
,
atovaquone/proguanil
,
Larotrectinib
,
Oxaprozin
,
gilteritinib
,
Nilutamide
,
Ipilimumab
,
oleandomycin
,
bedaquiline
,
Gefitinib
,
Remdesivir
,
ambrisentan
,
Daclizumab
,
chenodiol
,
calaspargase
,
Capmatinib
Alerts
Mipomersen should be used with caution when prescribed with other hepatotoxic medications such as methotrexate, acetaminophen (more than 4 g/day for more than three days per week), tamoxifen (Nolvadex, AstraZeneca), isotretinoin (Accutane, Hoffman-LaRoche), and alcohol.
Before patients begin mipomersen therapy, baseline laboratory tests for liver transaminases, alkaline phosphatase, and total bilirubin should be performed.
A lipid panel should be assessed every three months for the first year of mipomersen Maximal LDLC reductions should be noted after six months of therapy.
Safety and effectiveness of mipomersen as an adjunct to LDL apheresis have not been established; therefore, the use as an adjunct to LDL apheresis is not recommended.
Mipomersen is available only from a certified pharmacy under a special program. Your doctor must be registered in the program in order to prescribe mipomersen for you.
Mipomersen vials or syringes should be stored in the refrigerator and removed at least 30 minutes prior to administration.
Mipomersen should be injected into the abdomen, thigh region, or outer area of the upper arm. It should not be injected in areas of active skin disease or injury (e.g., sunburns, skin rashes, inflammation, skin infections, active areas of psoriasis). Areas of tattooed skin and scarring should also be avoided.
Points of recommendation
You should not use mipomersen if you have active liver disease or abnormal liver function tests. Tell your doctor right away if you have liver symptoms, such as vomiting, fever, stomach pain, itching, tiredness, dark urine, or jaundice (yellowing of the skin or eyes).
Mipomersen should be administered on the same day every week. If a dose is missed, the medication should be given at least three days before the next scheduled weekly dose.
Mipomersen can cause your liver enzymes to get too high. Your blood will need to be tested often. Your treatments may be stopped based on the results of these tests.
To make sure mipomersen is safe for you, tell your doctor if you have:
cirrhosis or other liver disease;
kidney disease (or if you are on dialysis); or
if you drink alcohol.
Using mipomersen during pregnancy could harm the unborn baby. Tell your doctor if you are pregnant or if you become pregnant while using this medicine. Use effective birth control during treatment.
It is not known whether mipomersen passes into breast milk or if it could harm a nursing baby. You should not breast-feed while using this medicine.
Mipomersen is usually given once per week. Use this medicine on the same day each week, at the same time of day.
Use a different place on your thigh, or upper arm each time you give the injection. Your care provider will show you the best places on your body to inject the medication. Do not inject into the same place two times in a row.
Mipomersen must be at room temperature at the time of injection. Take a vial or prefilled syringe out of the refrigerator and allow it to reach room temperature before giving an injection. Do not heat the medicine before using. Do not remove the needle cover from the prefilled syringe until you are ready to give the injection.
Mipomersen may also be stored at room temperature for up to 14 days. Keep the medicine in its original container and protect from heat or light.
Prepare your dose only when you are ready to give an injection. If you use any other injectable medication, do not mix it with mipomersen or inject it at the same time you inject mipomersen.
Do not use the medicine if it looks cloudy or has particles in it. Call your pharmacist for new medicine.