Drug information of Zileuton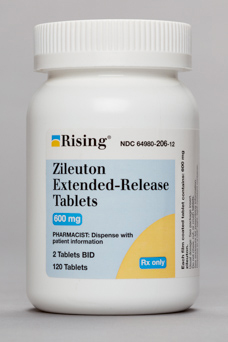 Mechanism of effect
Leukotrienes are substances that induce numerous biological effects including augmentation of neutrophil and eosinophil migration, neutrophil and monocyte aggregation, leukocyte adhesion, increased capillary permeability, and smooth muscle contraction.
These effects contribute to inflammation, edema, mucus secretion, and bronchoconstriction in the airways of asthmatic patients. Zileuton relieves such symptoms through its selective inhibition of 5-lipoxygenase, the enzyme that catalyzes the formation of leukotrienes from arachidonic acid. Specifically, it inhibits leukotriene LTB4, LTC4, LTD4, and LTE4 formation.
Pharmacodynamic
In humans, pretreatment with zileuton attenuated bronchoconstriction caused by cold air challenge in patients with asthma.
Pharmacokinetics
Half-Life: 2.5 hr
Onset: 2-5 hr
Peak Plasma Time: 1.7 hr
Protein Bound: 93%
Vd: 1.2 L/kg
Metabolites: O-glucuronide conjugate & N-dehydroxylated metabolite
Clearance: 7 mL/min/kg
Excretion: Urine (95%); feces (2%)
Enzymes inhibited: hepatic CYP1A2, CYP3A4, and CYP2C9
Dosage
Adult
Asthma
Extended release: 1200 mg PO twice daily, within 1 hour after morning and evening meals
Conventional: 600 mg PO four times daily
Pediatric
Asthma
<12 years
Safety and efficacy not established
The FDA has not required pediatric studies in patients <12 years old due to the risk of hepatotoxicity; not recommeded for children younger than 12 years
>12 years
Extended Release: 1200 mg PO twice daily, within 1 hour after morning and evening meals
Conventional: 600 mg PO four times daily
Interactions
Methylergonovin
,
Olanzapine
,
Irinotecan
,
Imipramine
,
pentoxifylline
,
Pimozide
,
Theophyline
,
Eliglustat
,
Alosetron
,
Eltrombopag
,
Bendamustine
,
Terfenadine
,
olaparib
,
Ramelteon
,
Ivabradine
,
Tofacitinib
,
Eluxadoline
,
Lopinavir
,
Indinavir
,
Mefloquine
,
Darunavir
,
astemizole
,
rasagiline
,
ritonavir
,
nelfinavir
,
Fosamprenavir
,
Lidocaine
,
Warfarin
,
Clozapine
,
Clomipramine
,
fentanyl
,
Atazanavir
,
Tizanidine
,
Tinidazole
,
Deferasirox
,
Duloxetine
,
Ropinirole
,
Cyclosporine
,
Pirfenidone
,
Flibanserin
,
Methacholine
,
Brexpiprazole
,
Remdesivir
Alerts
Not indicated for use in acute bronchospasm
History of liver disease, heavy alcohol use
Behavioral changes and sleep disorders reported
Not recommended for patients <12 years due to risk of hepatotoxicity
Points of recommendation
It may take a few weeks to see the full effect.
Call your doctor right away if your breathing problems get worse, if your rescue inhaler does not work as well, or if you need to use your rescue inhaler more often.
Have blood work checked as you have been told by the doctor. Talk with the doctor.
Talk with your doctor before you drink alcohol.
This medicine may affect how much of some other drugs are in your body. If you are taking other drugs, talk with your doctor. You may need to have your blood work checked more closely while taking this medicine (zileuton tablets) with your other drugs.
Tell your doctor if you are pregnant or plan on getting pregnant. You will need to talk about the benefits and risks of using this medicine (zileuton tablets) while you are pregnant.
Take with or without food.
To gain the most benefit, do not miss doses.
Keep taking this medicine (zileuton tablets) as you have been told by your doctor or other health care provider, even if you feel well.
Take even during sign-free periods.
Take a missed dose as soon as you think about it.
If it is close to the time for your next dose, skip the missed dose and go back to your normal time.
Do not take 2 doses at the same time or extra doses.