Drug information of dronedarone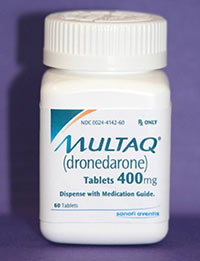 Mechanism of effect
The antiarrhythmic effect of dronedarone may be due to at least two major actions. It prolongs the duration of action potential and refractory period in myocardial tissue via inhibition of sodium and potassium channels. Via inhibition of calcium channels and blockage of beta1-adrenergic receptors, a decrease in AV conduction and sinus node function can be observed. Dronedarone can also cause an increase in blood pressure by inhibition of alpha1-adrenergic receptors.
Pharmacodynamic
Dronedarone inhibits human atrial sodium currents (INa) in a dose dependent manner. Chemically it is related to amiodarone, a popular antiarrhythmic the use of which is limited to toxicity due its high iodine content (pulmonary fibrosis, thyroid disease) as well as by liver disease. Dronedarone lacks the iodine, and is expected to have less toxicity, yet it displays amiodarone-like class III antiarrhytmic activity in vitro and in clinical trials. Despite this advantage over amiodarone, clinical trials of dronedarone have shown that it may increase risk of stroke and mortality from cardiovascular causes and arrhythmia. Furthermore, amiodarone more potently effects action potential and refractory periods than dronedarone.
Pharmacokinetics
Bioavailability: 4% (without food); 15% (with high-fat meal)
Peak plasma time: 3-6 hr (including major active metabolite); at steady state: 2.6-4.5 hr
Protein bound: >98%
Vd: 1400 L (steady state)
Metabolism
CYP3A4 (extensive)
Initial metabolic pathway includes N-debutylation to form active N-debutyl metabolite, oxidative deamination to form the inactive propanoic acid metabolite, and direct oxidation
Metabolites undergo further metabolism to yield over 30 uncharacterized metabolites; N-debutyl metabolite exhibits pharmacodynamic activity (1/10 to 1/3 as potent as dronedarone)
Half-life, elimination: 13-19 hr
Clearance: 130-150 L/hr
Excretion: Feces (84%); urine (6%)
Drug indications
Nonvalvular Atrial Fibrillation
Dosage
Adult
Atrial Fibrillation/Flutter
400 mg PO twice daily with meals
Pediatric
Safety and efficacy not established
Drug contraindications
Hypersensitivity
Permanent AF in patients in whom normal sinus rhythm cannot be restored
Symptomatic HF with recent decompensation requiring hospitalization, or symptoms of NYHA class IV HF due to doubled risk of death
Concomitant strong CYP3A4 inhibitors (eg, grapefruit juice, itraconazole, clarithromycin, erythromycin)
2nd or 3rd degree heart block or sick sinus syndrome (unless used with functioning pacemaker)
Bradycardia <50 bpm
QTc interval >500 ms or PR interval >280 ms
Coadministration with drugs that prolong QT interval may cause torsade de Pointes-type ventricular tachycardia (eg, phenothiazine, TCAs, macrolide antibiotics, class I and III antiarrhythmic agents [amiodarone, flecainide, propafenone, quinidine, disopyramide, dofetilide, sotalol])
Liver toxicity related to previous use of amiodarone
Severe hepatic impairment (ie, Child-Pugh Class C)
Pregnancy (category X)
Breastfeeding women
Side effects
QTc prolongation , Early increase in SCr of >10% , Diarrhea, Asthenia, Nausea, Skin reactions (eg, rash, pruritus, eczema, allergic dermatitis), Abdominal pain, Bradycardia, Vomiting, Dyspepsia
Interactions
Ergotamine-C
,
Ondansetron
,
Carbamazepine
,
Dorzolamide and timolol
,
Ranolazine
,
Methazolamide
,
Nefazodone
,
Axitinib
,
Daunorubicin
,
fentanyl
,
Toremifene
,
Vasopressin
,
Chlorthalidone
,
Arsenic trioxide
,
Flibanserin
,
nelfinavir
,
Prednisolone
,
Dolasetron
,
Palonosetron
,
Droperidol
,
Quinine
,
sparfloxacin
,
Procainamide
,
Mefloquine
,
Dofetilide
,
Promazine
,
Efavirenz
,
Etravirine
,
Panitumumab
,
Halofantrine
,
Grepafloxacin
,
Darifenacin
,
cobicistat
,
Delavirdine
,
Oxiconazole
,
Terfenadine
,
Asenapine
,
Alfuzosin
,
Pazopanib
,
Butabarbital
,
Perflutren
,
Betrixaban
,
lenvatinib
,
Crizotinib
,
Avanafil
,
Edoxaban
,
Pitolisant
,
Entrectinib
,
gilteritinib
,
glasdegib
,
Eliglustat
,
riociguat
,
oleandomycin
,
Bepridil
,
bedaquiline
,
Gefitinib
,
Dasatinib
,
Cannabidiol
,
talazoparib
,
vemurafenib
,
tucatinib
,
Fidaxomicin
,
Ombitasvir, Paritaprevir, and Ritonavir
,
Halaven
amiodarone, amitriptyline, arsenic trioxide, astemizole, cisapride, citalopram, clomipramine, cobicistat, crizotinib, darunavir, desipramine, disopyramide, eliglustat, fingolimod, flibanserin, goserelin, ibutilide, imipramine, indapamide, itraconazole, ketoconazole, leuprolide, lomitapide, mifepristone, nefazodone, nortriptyline, ombitasvir/paritaprevir/ritonavir, ondansetron, pasireotide, pentamidine, pimozide, procainamide, quinidine, quinine, sorafenib, sotalol, terfenadine, toremifene, afatinib, amiodarone, amisulpride, amitriptyline, amobarbital, amoxapine, apalutamide, aprepitant, armodafinil, artemether/lumefantrine, astemizole, atazanavir, axitinib, azithromycin, bosentan, bosutinib, budesonide, butabarbital, butalbital, carbamazepine, chlorpromazine, cimetidine, ciprofloxacin, cisapride, clarithromycin, clobetasone, clomipramine, cobimetinib, colchicine, conivaptan, cortisone, cyclosporine, dabigatran, darifenacin, dasatinib, delavirdine, desipramine, dexamethasone, dhea, herbal, digoxin, dihydroergotamine, dihydroergotamine intranasal, diltiazem, dofetilide, dosulepin, doxepin, droperidol, edoxaban, efavirenz, eliglustat, encorafenib, epinephrine, ergotamine, eribulin, erythromycin, eslicarbazepine acetate, ethotoin, etravirine, eucalyptus, everolimus, fentanyl, fentanyl intranasal, fentanyl iontophoretic transdermal system, fentanyl transdermal, fentanyl transmucosal, fluconazole, fludrocortisone, fluphenazine, fluvoxamine, formoterol, fosamprenavir, fosphenytoin, glasdegib, grapefruit, griseofulvin, haloperidol, hexobarbital, histrelin, hydrocortisone, idelalisib, imipramine, indinavir, isoniazid, ivabradine, ivosidenib, lapatinib, lofepramine, lumefantrine, macimorelin, maprotiline, marijuana, mefloquine, methylprednisolone, metronidazole, mianserin, miconazole vaginal, modafinil, moxifloxacin, nafarelin, nafcillin, naloxegol, nelfinavir, neratinib, nevirapine, nilotinib, nortriptyline, octreotide, olaparib, oxaliplatin, oxcarbazepine, oxiconazole, panobinostat, pazopanib, pentobarbital, perphenazine, phenobarbital, phenytoin, pomalidomide, posaconazole, prednisolone, prednisone, primidone, prochlorperazine, promazine, promethazine, propafenone, protriptyline, quinupristin/dalfopristin, ranolazine, ribociclib, rifabutin, rifampin, rifapentine, riociguat, ritonavir, rufinamide, saquinavir, secobarbital, sertindole, silodosin, st john's wort, tacrolimus, terfenadine, thioridazine, tolvaptan, topiramate, topotecan, trazodone, triamcinolone acetonide injectable suspension, trifluoperazine, trimipramine, triptorelin, umeclidinium bromide/vilanterol inhaled, vandetanib, vemurafenib, venetoclax, verapamil, vilanterol/fluticasone furoate inhaled, vilazodone, voriconazole, zafirlukast, ziprasidone
Alerts
Interstitial lung disease (pneumonitis, PF); if pulmonary toxicity is suspected, discontinue immediately
Increased risk of hypomagnesemia/hypokalemia with potassium-depleting diuretics
Dronedarone induces moderate prolongation of the QT interval; monitor
Discontinue if new or worsening HF develops
Small increase in SCr following initiation; elevation has a rapid onset, reaches plateau after 7 days, and is reversible upon discontinuation
Black Box Warnings
Increased risk of death, stroke, and heart failure in patients with decompensated HF or permanent AF
Heart failure
Symptomatic HF with recent decompensation requiring hospitalization
NYHA class IV HF
Referral to specialized HF clinic
ANDROMEDA study showed mortality increased 2-fold in patients with severe HF requiring hospitalization or those referred to HF clinic for worsening symptoms
Permanent atrial fibrillation
In patients with permanent AF, risk of death or stroke (particularly in the first 2 weeks of therapy) and hospitalization for HF is doubled; contraindicated in permanent AF (ie, patients who cannot be cardioverted into normal sinus rhythm)
Patients should undergo cardiac rhythm monitoring at least every 3 months
Cardiovert patients who are in atrial fibrillation (if clinically indicated) or discontinue drug
Dronedarone offers no benefit in permanent AF
Points of recommendation
Avoid grapefruit and grapefruit juice.
This medicine may affect how much of some other drugs are in your body. If you are taking other drugs, talk with your doctor. You may need to have your blood work checked more closely while taking dronedarone with your other drugs.
This medicine may cause harm to the unborn baby if you take it while you are pregnant. If you are pregnant or you get pregnant while taking dronedarone, call your doctor right away.
Use birth control that you can trust to prevent pregnancy while taking dronedarone.
Take with meals.
To gain the most benefit, do not miss doses.
Keep taking dronedarone as you have been told by your doctor or other health care provider, even if you feel well.
Skip the missed dose and go back to your normal time.
Do not take 2 doses at the same time or extra doses.