Drug information of Diethylpropion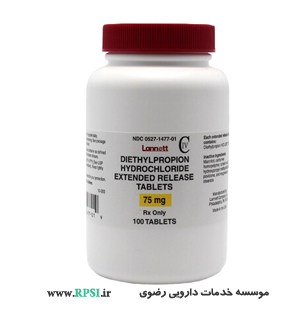 Mechanism of effect
Diethylpropion is an amphetamine that stimulates neurons to release or maintain high levels of a particular group of neurotransmitters known as catecholamines; these include dopamine and norepinephrine. High levels of these catecholamines tend to suppress hunger signals and appetite.
Diethylpropion (through catecholamine elevation) may also indirectly affect leptin levels in the brain. It is theorized that diethylpropion can raise levels of leptin which signal satiety.
It is also theorized that increased levels of the catecholamines are partially responsible for halting another chemical messenger known as neuropeptide Y. This peptide initiates eating, decreases energy expenditure, and increases fat storage.
Pharmacodynamic
Diethylpropion is a sympathomimetic stimulant drug marketed as an appetite suppressant. Chemically, it is the N,N-diethyl analog of cathinone. Its mechanism of action is similar to other appetite suppressants such as sibutramine, phentermine and dextroamphetamine.
Pharmacokinetics
Metabolism: Undergoes reduction and N-dealkylation to form active metabolites
Duration: 4 hr
Half-life elimination: 4-6 hr (aminoketone metabolites)
Excretion: primarily urine (>75%)
Dosage
Adult
Obesity
Immediate-release
25 mg PO q8hr 1 hour AC
May add 1 additional 25 mg dose PO midevening to overcome night hunger
Controlled-release
75 mg PO qDay, swallowed whole, in midmorning
Pediatric
Obesity
<16 years
Safety & efficacy not established
> 16 years
Immediate release: 25 mg PO q8hr AC
Controlled release: 75 mg PO qDay, swallowed whole, in midmorning
Side effects
Pain
,
Insomnia
,
Headache
,
nausea
,
dry mouth
,
dizziness
,
vomiting
,
Blurred vision
,
urticaria
,
Hypertension
,
palpitations
,
impotence
,
Restlessness
,
Rash
Interactions
Ergotamine-C
,
Sibutramine
,
Tapentadol
,
Amitriptyline
,
Imipramine
,
Procarbazine
,
Trazodone
,
Tranylcypromine
,
Trimipramine
,
lofepramine
,
Methoxyflurane
,
Enflurane
,
Doxapram
,
Ergoloid Mesylate
,
Dosulepin
,
Mianserin
,
Phenelzine
,
Desflurane
,
Amoxapine
,
isocarboxazid
,
safinamide
,
protriptyline
,
Cabergoline
,
Clomipramine
,
Yohimbine
,
ergotamine
,
ergonovine
,
Linezolid
,
Desipramine
,
Doxepin
,
Dihydroergotamine
,
Selegiline
,
Sevoflurane
,
Nortriptyline
,
Phenylpropanolamine
,
Dexfenfluramine
,
Levomilnacipran
Alerts
Discontinue when tolerance develops - DO NOT EXCEED recommended dose
Pregnancy, lactation
Epilepsy
Use caution in patients with diabetes mellitus or Tourette's syndrome
Incidence of primary pulmonary hypertension has been associated with therapy use
Mild hypertension, symptomatic cardiovascular disease
Development of valvular heart disease reported
May impair ability to drive &/or operate heavy machinery
Points of recommendation
Follow all directions on your prescription label. Your doctor may occasionally change your dose. Do not use this medicine in larger or smaller amounts or for longer than recommended.
Diethylpropion may be habit-forming. Never share diethylpropion with another person, especially someone with a history of drug abuse or addiction. Keep the medication in a place where others cannot get to it. Selling or giving away this medicine is against the law.
The immediate-release diethylpropion tablet is usually taken three times a day before meals.
The extended-release diethylpropion tablet is usually taken once a day midmorning.
Tell your doctor if you do not lose at least 4 pounds after taking the medicine for 4 weeks along with a low calorie diet.
Do not crush, chew, or break an extended-release tablet. Swallow it whole.
If you need surgery, tell the surgeon ahead of time that you are using diethylpropion. You may need to stop using the medicine for a short time.
Do not stop using diethylpropion suddenly after long-term use, or you could have unpleasant withdrawal symptoms. Ask your doctor how to safely stop using this medicine.
Store at room temperature away from moisture and heat.
Take the missed dose as soon as you remember. Skip the missed dose if it is almost time for your next scheduled dose. Do not take extra medicine to make up the missed dose.