Drug information of Almotriptan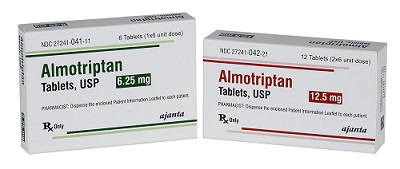 Mechanism of effect
Almotriptan binds with high affinity to human 5-HT1B and 5-HT1D receptors leading to cranial blood vessel constriction. It works by narrowing blood vessels in the brain, stopping pain signals from being sent to the brain, and stopping the release of certain natural substances that cause pain, nausea, and other symptoms of migraine. Almotriptan does not prevent migraine attacks.
Pharmacodynamic
Almotriptan is an agonist for a vascular 5-hydroxytryptamine receptor subtype (probably a member of the 5-HT1D family) having only a weak affinity for 5-HT1A, 5-HT5A, and 5-HT7 receptors and no significant affinity or pharmacological activity at 5-HT2, 5-HT3 or 5-HT4 receptor subtypes or at alpha1-, alpha2-, or beta-adrenergic, dopamine1,; dopamine2; muscarinic, or benzodiazepine receptors. This action in humans correlates with the relief of migraine headache.
In addition to causing vasoconstriction, experimental data from animal studies show that Almotriptan also activates 5-HT1 receptors on peripheral terminals of the trigeminal nerve innervating cranial blood vessels, which may also contribute to the antimigrainous effect of Almotriptan in humans.
Pharmacokinetics
Half-Life: 3-4 hr
Peak Plasma Time: 1-3 hr
Bioavailability: 70%
Protein bound: 35%
Vd: 180-200 L
Absorption: Well absorbed
Metabolism: CYP3A4, CYP2D6
Excretion: Urine (75%)
Dosage
Adult
Migraine
Initial 6.25-12.5 mg PO at onset; may repeat once after 2 hours
Not to exceed 25 mg/day
Pediatric
Migraine
Indicated for acute treatment of migraine headache pain in adolescents with a history of migraine attacks with or without aura usually lasting ≥4 hr (when untreated)
<12 years: Safety and efficacy not established
≥12 years: 6.25-12.5 mg PO at onset of headache; may repeat once after 2 hr
Not to exceed 25 mg/day
Interactions
Ergotamine-C
,
Sibutramine
,
Tapentadol
,
Erythromycin
,
Ondansetron
,
Itraconazole
,
Bromocriptine
,
Procarbazine
,
Tranylcypromine
,
Vilazodone
,
Dolasetron
,
Palonosetron
,
Desvenlafaxine
,
Ergoloid Mesylate
,
tedizolid
,
rasagiline
,
Nefazodone
,
Naratriptan
,
Frovatriptan
,
saquinavir
,
eletriptan
,
Cyclobenzaprine
,
Rifabutin
,
Linezolid
,
Phenelzine
,
isocarboxazid
,
methylene blue
,
Carbamazepine
,
Ketoconazole
,
Clarithromycin
,
Zolmitriptan
,
ergotamine
,
ergonovine
,
Dihydroergotamine
,
Rizatriptan
,
Rifampin
,
Fluvoxamine
,
Granisetron
,
Cabergoline
,
Lorcaserin
,
Dexfenfluramine
,
Levomilnacipran
,
lasmiditan
,
Droxidopa
,
Netupitant
Alerts
Overuse of acute migraine drugs (eg, ergotamine, triptans, opioids, or combination of these drugs for ≥10 days/month) may lead to exacerbation of headache (medication overuse headache); detoxification of patients, including withdrawal of overused drugs, and treatment of withdrawal symptoms (often includes a transient worsening of headache) may be necessary
After dose is administered, patients who experience angina symptoms or chest pain, pressure, and tightness, should be evaluated for coronary artery disease or Prinzmetal's angina before receiving additional doses
Hemorrhage and stroke have been reported with 5-HT1 agonist administration
Significant increase in blood pressure has been reported with 5-HT1 agonists
Transient and permanent blindness and partial vision loss have been reported with 5-HT-1 agonisits
Serotonin syndrome may develop if administered concomitantly with proserotonergic drugs
Points of recommendation
Avoid driving and doing other tasks or actions that call for you to be alert until you see how almotriptan affects you.
High blood pressure has happened with almotriptan. Have your blood pressure checked as you have been told by your doctor.
Very bad and sometimes deadly heart problems like heart attack and a heartbeat that is not normal have rarely happened within a few hours of taking almotriptan. Call your doctor right away if you have chest, throat, neck, or jaw tightness, pain, pressure, or heaviness; break out in a cold sweat; shortness of breath; a fast heartbeat; a heartbeat that does not feel normal; or very bad dizziness or passing out.
Very bad and sometimes deadly brain blood vessel problems like stroke have rarely happened with almotriptan. Call your doctor right away if you have weakness on 1 side of the body, trouble speaking or thinking, change in balance, drooping on 1 side of the face, or change in eyesight.
If you have a headache that is not like your usual migraine headaches, talk with your doctor before you take almotriptan.
Taking more of almotriptan (a higher dose, more often) than your doctor told you to take may cause your headaches to become worse.
Tell your doctor if you are pregnant or plan on getting pregnant. You will need to talk about the benefits and risks of using almotriptan while you are pregnant.
Tell your doctor if you are breast-feeding. You will need to talk about any risks to your baby.
Follow how to use as you have been told by the doctor or read the package insert.
Take with liquids as early as you can after the attack has started.
If your headache comes back after the first dose, 1 more dose may be taken 2 hours after the first one.