Drug information of Axitinib
Axitinib
Axitinib is an oral, potent, and selective inhibitor of vascular endothelial growth factor receptors (VEGFR) 1, 2, and 3 and if one previous systemic therapy for kidney cell cancer has failed, axitinib is indicated.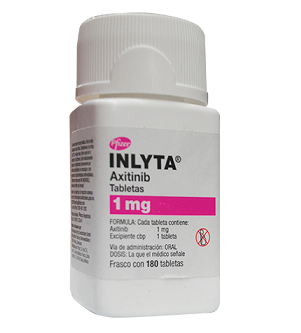 Mechanism of effect
Axitinib selectively blocks the tyrosine kinase receptors VEGFR-1 (vascular endothelial growth factor receptor), VEGFR-2, and VEGFR-3.
Pharmacodynamic
Axitinib prevents the progression of cancer by inhibiting angiogenesis and blocking tumor growth.
Pharmacokinetics
Bioavailability: 58%
Peak Plasma Time: 2.5-4.1 hr
Peak Plasma Concentration: 27.8 ng/mL
AUC: 265 ng•h/mL
Protein Bound: >99% (mostly to albumin, moderately to alpha1-acid glycoprotein)
Vd: 160 L
Metabolized primarily by CYP3A4/5 and to a lesser degree by CYP1A2, CYP2C19, and UGT1A1
Metabolites: Plasma levels detected the N-glucuronide metabolite (50%), sulfoxide metabolite (20%), and 20% unchanged drug
Half-life: 2.5-6.1
Total body clearance: 38 L/h
Excretion: feces 41% (12% unchanged), urine 23% (as carboxylic acid and sulfoxide metabolites)
Dosage
Adult
Renal Cell Carcinoma
Indicated for treatment of advanced renal cell carcinoma after failure of 1 prior systemic therapy
Initial dose: 5 mg PO q12hr
Dose increase or reduction based on individual safety and tolerability
Dose escalation
Criteria: Tolerated for at least 2 consecutive weeks with no adverse reactions (ie, not exceeding grade 2 toxicities) and are normotensive and not receiving antihypertension medications
First dose increase: 7 mg PO BID
Second dose increase: Using the same criteria, may further increase to 10 mg PO BID
Dose reduction or discontinuation
Hypertension: If persistent hypertension occurs despite antihypertensive medications, reduce dose; discontinue if hypertension is severe and persists despite dose reduction
Hypertensive crisis: Discontinue axitinib
Hemorrhage: If any bleeding requires medical intervention, temporarily interrupt axitinib dose
Surgery: Discontinue at least 24 hr prior to scheduled surgery
Reversible posterior leukoencephalopathy syndrome: Discontinue axitinib
Moderate-to-severe proteinuria: Reduce dose or temporarily interrupt treatment
Strong CYP3A4/5 inhibitors: Avoid coadministration if possible, if axitinib must be coadministered, decrease dose by ~50% and then adjust according to safety and tolerance; if strong CYP3A4/5 inhibitor is discontinued, may increase to prior axitinib dose after waiting 3-5 half-lives of the inhibitor
Pediatric
<18 years: Safety and efficacy not established
Side effects
anemia
,
Diarrhea
,
Hemorrhoid
,
Nosebleeds
,
Headache
,
Proteinuria
,
weight decrease
,
nausea
,
vomiting
,
vertigo
,
Hypertension
,
dyspepsia
,
hypothyroidism
,
pulmonary embolism
,
myalgia
,
rectal hemorrhage
,
Pain
,
itching
,
dry skin
,
lethargy
,
tiredness
,
shortness of breath
,
Abdominal pain
,
redness
,
Rash
Interactions
Ergotamine-C
,
Drospirenone
,
Modafinil
,
Amiodarone
,
Aprepitant
,
Erythromycin
,
Oxecarbazepin
,
Itraconazole
,
Isoniazid
,
nafcillin
,
Eslicarbazepine acetate
,
Ivacaftor
,
Tipranavir
,
Nicardipine
,
Delavirdine
,
Apalutamide
,
conivaptan
,
Lopinavir
,
Palifermin
,
Indinavir
,
Armodafinil
,
Fosphenytoin
,
Idelalisib
,
dronedarone
,
ritonavir
,
saquinavir
,
nelfinavir
,
nevirapine
,
Fosamprenavir
,
Atazanavir
,
Darunavir
,
Quinidine
,
Grapefruit
,
Pentobarbital
,
Nefazodone
,
Clobazam
,
Clotrimazole
,
Clozapine
,
Bicalutamide
,
Rifabutin
,
Rifapentine
,
Haloperidol
,
Verapamil
,
Voriconazole
,
Carbamazepine
,
Ketoconazole
,
Clarithromycin
,
Cyclosporine
,
Fluconazole
,
Phenobarbital
,
Phenytoin
,
Lapatinib
,
Lidocaine
,
Desipramine
,
Dexamethasone
,
Diltiazem
,
Rifampin
,
Cimetidine
,
Sertraline
,
Imatinib
,
Bosentan
,
Primidone
,
Posaconazole
,
Tetracycline
,
Doxycycline
,
Felbamate
,
pilocarpine oral
,
Efavirenz
,
Etravirine
,
Mibefradil
,
cobicistat
,
Dexlansoprazole
,
pexidartinib
,
Lopinavir and Ritonavir
,
oleandomycin
,
Remdesivir
,
Artesunate
Alerts
Hypertension and hypertensive crisis reported in clinical trials, typically within the first month of treatment; blood pressure increases may appear as early as 4 days after initiating; blood pressure should be well controlled before starting therapy; dosage modification or discontinuation of treatment may be required (see Dosage Modification)
May cause thyroid dysfunction; monitor thyroid function before initiating and periodically throughout therapy
May cause proteinuria; monitor proteinuria before initiating and periodically throughout therapy
Elevated liver enzymes reported; monitor ALT, AST, and bilirubin
Moderate hepatic impairment requires dose reduction
Coadministration with strong CYP3A4/5 inhibitors or inducers should be avoided if possible
Cardiac failure reported with axitinib use; monitor for signs or symptoms of cardiac failure throughout treatment; may require permanent discontinuation of axitinib
Points of recommendation
Avoid grapefruit and grapefruit juice.
This medicine may affect how wounds heal. If you need to have surgery, you may need to stop axitinib before surgery. Start taking it again after surgery as you have been told by your doctor. Talk with your doctor.
If you are a man and have sex with a female who could get pregnant, protect her from pregnancy. Use birth control that you can trust.
This medicine may cause harm to the unborn baby if you take it while you are pregnant.
Use birth control that you can trust to prevent pregnancy while taking axitinib.
If you are pregnant or you get pregnant while taking axitinib, call your doctor right away.
Take with or without food.
Swallow whole with a full glass of water.
If you throw up after taking a dose, do not repeat the dose. Take your next dose at your normal time.
To gain the most benefit, do not miss doses.
Keep taking axitinib as you have been told by your doctor or other health care provider, even if you feel well.
Skip the missed dose and go back to your normal time.
Do not take 2 doses at the same time or extra doses.
Related drugs
Sunitinib
,
Sorafenib
,
Pazopanib
,
Cabozantinib
,
vandetanib
,
Regorafenib
,
Dabrafenib
,
Acalabrutinib
,
Nintedanib
,
Binimetinib
,
Avapritinib
,
tucatinib