Drug information of Panobinostat
Panobinostat
Panobinostat is an oral deacetylase inhibitor (DAC) approved on February 23, 2015 by the FDA for the treatment of multiple myeloma.
Panobinostat acts as a non-selective histone deacetylase inhibitor (pan-HDAC inhibitor) and is known as the DAC inhibitor on the market.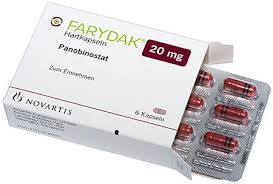 Mechanism of effect
Panobinostat is a deacetylase (DAC) inhibitor. DACs, also known as histone DACs (HDAC), are responsible for regulating the acetylation of about 1750 proteins in the body; their functions are involved in many biological processes including DNA replication and repair, chromatin remodelling, transcription of genes, progression of the cell-cycle, protein degradation and cytoskeletal reorganization. In multiple myeloma, there is an overexpression of DAC proteins. Panobinostat inhibits class I (HDACs 1, 2, 3, 8), class II (HDACs 4, 5, 6, 7, 9, 10) and class IV (HDAC 11) proteins. Panobinostat's antitumor activity is believed to be attributed to epigenetic modulation of gene expression and inhibition of protein metabolism. Panobinostat also exhibits cytotoxic synergy with bortezomib, a proteasome inhibitor concurrently used in treatment of multiple myeloma.
Pharmacokinetics
Panobinostat
was extensively metabolized to 77 metabolites. Unchanged panobinostat recovered in urine and feces was 2% and 3%, respectively. Primary metabolic pathways of panobinostat are reduction, hydrolysis, oxidation, and glucuronidation processes. CYP and non-CYP enzymes were found to play significant role in metabolism, CYP2D6 and CYP2C19 playing minor roles
:Half-life
30 hours
Drug indications
It is used to treat multiple myeloma.
Dosage
Typical adult dose for multiple myeloma:
Initial dose: 20 mg orally once daily for 3 doses per week (on days 1, 3, 5, 8, 10, 12) in weeks 1 and 2 of each 21-day cycle, up to 8 cycles.
Duration of treatment: maximum 16 periods (48 weeks)
Dose settings in case of liver disorders:
Mild hepatic impairment (bilirubin 1.0 or less x ULN and AST greater than 1.0 to 1.5 x ULN, each AST): Reduce the dose by 15 mg orally.
Moderate hepatic impairment (bilirubin greater than 1.5 to 3.0 x ULN, any AST): Reduce the dose to 10 mg orally.
- Severe severe hepatic impairment: Do not use.
Drug contraindications
There are no contraindications listed in the manufacturer's labeling.
Side effects
The most common ones that require medical care:
Abdominal or stomach pain or tenderness - black stools - bloating or swelling of the face, arms, hands, lower legs or feet - colored stools - confusion - cough or sore throat - dark or bloody urine - loss of appetite
Decreased number or frequency of urination - dizziness, fainting, or dizziness, especially when getting up suddenly from lying down or sitting - heart rate or rapid, irregular, throbbing, or racing
Fever, chills or sweating-Headache-Increased thirst-Itching or skin rash-Loss of appetite-Back or side pain-Muscle spasm or torsion-Nausea or vomiting-Nervousness-Painful or difficult urination-Red spots Specify on the skin - palpitations in the ears - rapid and frequent breathing - seizures
Severe diarrhea - Slow or fast heartbeat - Swelling of the face, fingers, toes or feet - Tingling in the hands or feet - Breathing - Wounds, sores or white spots in the mouth - Unusual bleeding or bruising - Fatigue or unusual weakness - Increased Or unusual weight loss - yellow eyes or skin

Most common do not require medical attention:
Acidic or Sour Stomach-Biting or Passing-Changing or Losing Taste-Depression-Dry Mouth
Hair Loss - Heartburn or Indigestion - Ignition or Abdominal Sound - Fatigue or lethargy
Redness of the skin

Less common:
Chest pain or discomfort - Coughing up blood - Difficulty swallowing - Increased menstrual flow or vaginal bleeding
Nosebleed - pain in the shoulders, arms, jaw or neck - paralysis
Interactions
Carbamazepine
,
Ranolazine
,
Apomorphine
,
Desirudin
,
Dolasetron
,
Palonosetron
,
vandetanib
,
Droperidol
,
Chloroquine
,
sparfloxacin
,
Procainamide
,
Dofetilide
,
Promazine
,
Vasopressin
,
Arsenic trioxide
,
Efavirenz
,
Etravirine
,
Dabrafenib
,
Antithrombin III
,
Halofantrine
,
Grepafloxacin
,
Mibefradil
,
Dexfenfluramine
,
cobicistat
,
Delavirdine
,
Terfenadine
,
Abarelix
,
Asenapine
,
Arformoterol
,
Alfuzosin
,
Paliperidone
,
Pazopanib
,
Binimetinib
,
Perflutren
,
Betrixaban
,
Ramucirumab
,
Apalutamide
,
Crizotinib
,
Pitolisant
,
Entrectinib
,
Oxaprozin
,
gilteritinib
,
glasdegib
,
Urokinase
,
Eliglustat
,
oleandomycin
,
Bepridil
,
bedaquiline
,
Dasatinib
,
Gemtuzumab
,
Remdesivir
,
nafcillin
,
vemurafenib
,
Meningococcal conjugate vaccine
,
cangrelor
,
defibrotide
Points of recommendation
CBC with differential and platelets (prior to treatment initiation then weekly or more often if clinically indicated during treatment); serum electrolytes, including potassium and magnesium prior to treatment and during treatment (in the clinical trial, electrolytes were monitored prior to the start of each cycle, after the fifth panobinostat dose in week 2 through cycle 8 and then at the beginning of cycles 9 to 16); liver function tests at baseline and regularly during treatment; pregnancy test (in women of reproductive potential, rule out pregnancy prior to and intermittently during treatment); ECG (prior to treatment initiation and periodically as clinically indicated during treatment); hydration status; monitor for gastrointestinal toxicity (eg, diarrhea, nausea, vomiting), signs/symptoms of hemorrhage and/or infection.
Pregnancy level
Forbidden
Animal studies have shown evidence of jaundice and maternal toxicity, including death.
Animal data also suggest that the drug may impair male and female fertility.
There is no controlled data on human pregnancy.
It should be avoided during pregnancy because this drug can harm the fetus.
Also, the possibility of pregnancy should be ruled out before starting treatment with this drug.
Breast feeding warning
Discontinue breastfeeding or discontinue the drug, taking into account the importance of the drug to the mother.