Drug information of Daptomycin
Daptomycin
Daptomycin is a lipopeptide antibiotic that kills susceptible gram positive bacteria by disrupting their membrane potential. It is a naturally-occurring compound found in the soil bacterium Streptomyces roseosporus. Antibiotics are used in the treatment of infections caused by bacteria. They work by killing bacteria or preventing their growth.
Daptomycin will not work for colds, flu, or other virus infections. It was approved in September 2003 for the treatment of complicated skin and soft tissue infections. It has a safety profile similar to other agents commonly administered to treat gram-positive infections.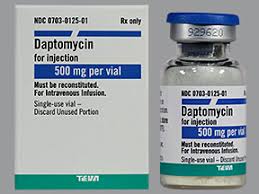 Mechanism of effect
Daptomycin appears to bind or insert into the outer membrane of gram positive bacteria. The binding and integration of daptomycin into the cell membrane is calcium dependent. Calcium ions cause a conformational change in daptomycin, augmenting its amphipathicity (hydrophilic head group and hydrophobic tail group), leading to incorporation into the cell membrane.
This binding causes rapid depolarisation, resulting in a loss of membrane potential leading to inhibition of protein, DNA and RNA synthesis, which results in bacterial cell death. The bactericidal activity of daptomycin is concentration-dependent. There is in vitro evidence of synergy with β-lactam antibiotics.
Pharmacodynamic
Daptomycin is a 13 member amino acid cyclic lipopeptide antibiotic active against Gram-positive bacteria only. It has proven in vitro activity against enterococci (including glycopeptide-resistant Enterococci (GRE)), staphylococci (including methicillin-resistant Staphylococcus aureus), streptococci and corynebacteria. Daptomycin is derived from the fermentation product of Streptomyces roseosporus.
Pharmacokinetics
Peak plasma time:0.5-0.8 hr
Peak plasma concentration
4 mg/kg dose: 58 mcg/mL
6 mg/kg dose: 94 mcg/mL
Protein bound: 92%
Vd: 0.1 L/kg
Half-life: 8 hr
Dialyzable: 11-15% of dose removed by continuous ambulatory peritoneal dialysis/hemodialysis
Renal clearance: 3.7-4.8 mL/hr/kg
Total body clearance: 8-9 mL/hr/kg
(Excretion: Urine (78%
Dosage
Adult
Staphylococcus Aureus Bacteremia
6 mg/kg IV infusion q24hr for at least 2-6 weeks
Complicated Skin & Skin Structure Infections
4 mg/kg IV q24hr for 7-14 days
Pediatric
Staphylococcus Aureus Bacteremia
<1 year: Safety and efficacy not established
≥1 year
12-17 years: 7 mg/kg IV q24hr
7-11 years: 9 mg/kg IV q24hr
1-6 years: 12 mg/kg IV q24hr
Duration of therapy: Up to 42 days
Complicated Skin & Skin Structure Infections
<1 year: Safety and efficacy not established
≥1 year
12-17 years: 5 mg/kg IV q24hr
7-11 years: 7 mg/kg IV q24hr
2-6 years: 9 mg/kg IV q24hr
1 to <2 years: 10 mg/kg IV q24hr
Duration of therapy: Up to 14 days
Side effects
Insomnia
,
Diarrhea
,
Headache
,
edema
,
chest pain
,
dizziness
,
Dyspnea
,
Hypertension
,
Urinary tract infection
,
itching
,
sweating
,
Abdominal pain
,
Rash
Alerts
Anaphylaxis/hypersensitivity reactions have been reported and may be life-threatening; discontinue the drug and institute appropriate therapy if allergic reaction occurs
May cause eosinophilic pneumonia characterized by fever, cough, shortness of breath, and difficulty breathing; may result in progressive respiratory failure and is potentially fatal; prompt medical evaluation, and treatment should be discontinued immediately if signs/symptoms develop; treatment with systemic steroids is recommended
Prolonged use may result in fungal or bacterial superinfection Perform susceptibility testing and rule out sequestered foci of infection if persisting or relapsing S. aureus bacteremia/endocarditis occurs
Avoid use in pediatric patients <12 months; potential nervous system or muscular system effects
Decreased efficacy reported in patients with moderate baseline renal impairment
Fever, dyspnea with hypoxic respiratory insufficiency, and diffuse pulmonary infiltrates or organizing pneumonia
Cases of peripheral neuropathy have been reported during the daptomycin postmarketing experience; monitor and consider discontinuation
(Clostridium difficile-associated diarrhea (CDAD
CDAD has been reported and may range in severity from mild diarrhea to fatal; CDAD must be considered in all patients who present with diarrhea following antibacterial use
Careful medical history is necessary because CDAD has been reported to occur more than 2 months after the administration of antibacterial agents
If CDAD is suspected/confirmed, ongoing antibacterial use not directed against C. difficile may need to be discontinued
Appropriate fluid and electrolyte management, protein supplementation, antibacterial treatment of C. difficile, and surgical evaluation should be instituted as clinically indicated
Myopathy and rhabdomyolysis
Use cautiously in patients with peripheral neuropathies and myopathy; monitor for neuropathy and consider discontinuation
Discontinue with symptoms of myopathy and CPK >1000 U/L (>5x ULN), or no symptoms and CPK >2000 U/L (>10x ULN)
CPK elevations more prevalent if dosed more frequently than q24hr
Consider suspending statins during daptomycin therapy; theoretical risk of additive myopathy
Renal function and CPK should be monitored more frequently than once weekly in adult patients with renal impairment
Points of recommendation
This medicine may affect certain lab tests. Tell all of your health care providers and lab workers that you take daptomycin.
Have blood work checked as you have been told by the doctor. Talk with the doctor.
Do not use longer than you have been told. A second infection may happen.
Allergic reactions have happened with daptomycin. Rarely, some reactions can be very bad or life-threatening. Talk with the doctor.
Muscle aches or weakness has happened with daptomycin. Rarely, a very bad muscle problem with or without very bad kidney problems has also happened with daptomycin. Talk with the doctor.
Tell your doctor if you are pregnant or plan on getting pregnant. You will need to talk about the benefits and risks of using daptomycin while you are pregnant.
Tell your doctor if you are breast-feeding. You will need to talk about any risks to your baby.
Pregnancy level
HAVE NOT BEEN ESTABLISHED