Drug information of Ropinirole
Ropinirole
Ropinirole is a dopamine agonist of the non-ergoline class of medications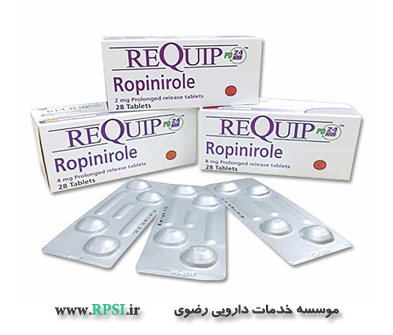 Mechanism of effect
Potent nonergoline dopamine agonist specific for D2 and D3 subtypes, possibly within caudate putamen in brain
Pharmacodynamic
Ropinirole is thought to work by stimulating dopamine receptors in the brain, although its precise mechanism of action is unknown.
Parkinson's Disease is due to a deficiency in dopamine .
Pharmacokinetics
• ABSORPTION
Bioavailability: 55%
Peak plasma time: Immediate release, 1-2 hr; extended release, 6-10 hr
• DISTRIBUTION
Protein bound: 40%
Vd: 525 L
• METABOLISM
Metabolized in liver by CYP1A2
• ELIMINATION
Half-life: 6 hr (extended release)
Total body clearance: 47 L/hr
• Excretion : Urine

Dosage
• PARKINSON DISEASE
Immediate releas
0.25 mg PO q8hr for 1 week initially, then increased weekly by 0.25 mg q8hr; if necessary, after week 4, may be increased weekly by 1.5 mg/day up to 9 mg/day, then increased weekly by 3 mg/day up to 24 mg/day .
Extended release
2 mg/day PO initially for 1-2 weeks; increased by 2 mg/day at intervals >1 week; not to exceed 24 mg/day .
• RESTLESS LEG SYNDROME (MODERATE-SEVERE)
Immediate release:
0.25 mg/day PO 1-3 hr before bedtime; after day 2, may be increased to 0.5 mg/day PO; at end of week 1, increased to 1 mg/day, then increased weekly by 0.5 mg/day up to 4 mg/day
Interactions
Sodium Oxybate
,
propoxyphene
,
Chlorpromazine
,
teriflunomide
,
Zileuton
,
Droperidol
,
Butalbital and Acetaminophen
,
Amisulpride
,
Paliperidone
,
Ramelteon
,
Secobarbital
,
Tolcapone
,
Clorazepate
,
Quazepam
,
Opium
,
Bromopride
,
Cannabidiol
,
ethotoin
Alerts
Falling Asleep during Activities of Daily Living and Somnolence .
Patients treated with Ropinirole tablets have reported falling asleep while engaged in activities of daily living, including driving or operating machinery, which sometimes resulted in accidents.
• Syncope
Syncope, sometimes associated with bradycardia, was observed in association with treatment with Ropinirole in both patients with Parkinson's disease and patients with RLS.
• Hypotension/Orthostatic Hypotension
Patients with Parkinson's disease may have impaired ability to respond normally to a fall in blood pressure after standing from lying down or seated position .
• Dyskinesia
Ropinirole tablets may cause or exacerbate pre-existing dyskinesia in patients treated with L-dopa for Parkinson's disease .
• Impulse Control/Compulsive Behaviors
Case reports suggest that patients can experience intense urges to gamble, increased sexual urges, intense urges to spend money, binge or compulsive eating, and/or other intense urges .
• Melanoma
Epidemiological studies have shown that patients with Parkinson's disease have a higher risk (2- to approximately 6-fold higher) of developing melanoma than the general population .
Points of recommendation
• Advise patients about the potential for developing a hypersensitivity/allergic reaction including manifestations such as urticaria, angioedema , rash, and pruritus when taking any Ropinirole product .
• Alert patients to the potential sedating effects caused by Ropinirole tablets , including somnolence and the possibility of falling asleep while engaged in activities of daily living .
• Advise patients that they may experience syncope and may develop hypotension with or without symptoms such as dizziness, nausea, syncope, and sometimes sweating while taking Ropinirole tablets , especially if they are elderly .
• Inform patients that they may experience hallucinations (unreal visions, sounds, or sensations), and that other psychotic-like behavior can occur while taking Ropinirole tablets
• Inform patients that Ropinirole tablets may cause and/or exacerbate pre-existing dyskinesias [see Warnings and Precautions
• Advise patients that they may experience impulse control and/or compulsive behaviors while taking 1 or more of the medications (including Ropinirole tablets) that increase central dopaminergic tone, that are generally used for the treatment of Parkinson's disease .
• Advise patients to contact their healthcare provider if they wish to discontinue Ropinirole tablets or decrease the dose of Ropinirole tablets
• Advise patients with Parkinson's disease that they have a higher risk of developing melanoma.
• Inform patients with RLS that augmentation and/or rebound may occur after starting treatment with Ropinirole tablets
Pregnancy level
Not assigned