Drug information of lisdexamfetamine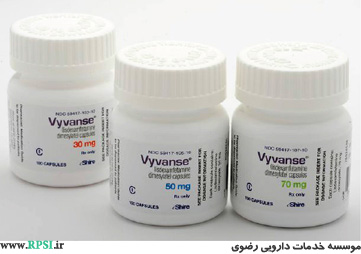 Mechanism of effect
Lisdexamfetamine is a pro-drug of dextroamphetamine. Amphetamines are thought to block the reuptake of norepinephrine and dopamine into the presynaptic neuron and increase the release of these monoamines into the extraneuronal space.
Norepinephrine and dopamine contribute to maintaining alertness, increasing focus, and sustaining thought, effort, and motivation. However, the exact therapeutic action in ADHD is not known.
Pharmacodynamic
Lisdexamfetamine is a pro-drug of dextroamphetamine. It works primarily by inducing the release of the neurotransmitters dopamine and norepinephrine from their storage areas in nerve terminals. Both of these transmitters contribute to maintaining alertness, increasing focus, and sustaining thought, effort, and motivation.
Pharmacokinetics
Rapid absorption
Peak plasma time: 1 hr
Vd: 3.5-4.6 L/kg; distributes into CNS
Metabolism: Lisdexamfetamine is converted to dextroamphetamine and L-lysine, which is believed to occur by first-pass intestinal and/or hepatic metabolism. Lisdexamfetamine is not metabolized by cytochrome P450 enzymes.
Half-life elimination: 10-13 hr (dextroamphetamine); < 1hr (lisdexamphetamine)
Excretion: Urine (96%), feces (minimal)
Dosage
Adult
Attention Deficit Hyperactivity Disorder
Starting/switching treatment: 30 mg PO qAM
Dose adjustment: Increase by 10- to 20-mg/day increments approximately qWeek
Not to exceed 70 mg qDay
Binge Eating Disorder
Indicated for moderate-to-severe binge eating disorder (BED) in adults
Starting dose: 30 mg/day PO, THEN
Target dose: Titrate in increments of 20 mg at ~1 week intervals to achieve the recommended target dose of 50-70 mg/day
Not to exceed 70 mg/day
Discontinue if BED does not improve
Pediatric
Attention Deficit Hyperactivity Disorder
<6 years: Safety and efficacy not established
≥6 years: 30 mg PO qAM initially; may increase by 10- to 20-mg/day increments approximately qWeek; not to exceed 70 mg qDay
Side effects
Insomnia
,
Diarrhea
,
Headache
,
nausea
,
dry mouth
,
Tachycardia
,
vomiting
,
Seizures
,
vertigo
,
anorexia
,
Tremor
,
Rash
Interactions
Desmopressin
,
Sibutramine
,
Tapentadol
,
Amitriptyline
,
Isoflurane
,
Imipramine
,
Procarbazine
,
Trazodone
,
Tranylcypromine
,
Ergoloid Mesylate
,
Dosulepin
,
Mianserin
,
lofepramine
,
safinamide
,
rasagiline
,
protriptyline
,
Methoxyflurane
,
Vilazodone
,
Enflurane
,
ergonovine
,
Linezolid
,
Phenelzine
,
Desflurane
,
Amoxapine
,
isocarboxazid
,
Maprotiline
,
Methylergonovin
,
Nortriptyline
,
Cabergoline
,
Clomipramine
,
ergotamine
,
Trimipramine
,
Desipramine
,
Doxepin
,
Dihydroergotamine
,
Selegiline
,
Sevoflurane
,
Sodium phosphate for bowel
,
Lorcaserin
,
Doxapram
,
Ammonium chloride
,
Dexfenfluramine
,
Dexlansoprazole
,
tedizolid
,
Droxidopa
Alerts
Use with caution in hyperthyroidism, glaucoma, mild to severe hypertension, advanced arteriosclerosis, symptomatic CVD, agitated states, history of psychosis or drug abuse
May cause psychotic or manic symptoms in patients with no prior history, or exacerbation of symptoms in patients with pre-existing psychosis; evaluate for bipolar disorder prior to stimulant use
Misuse of dextroamphetamine may cause sudden death and serious cardiovascular adverse events
Monitor blood pressure and pulse; consider benefits and risks before use in patients for whom blood pressure increases may be problematic
avoid use in patients with known structural cardiac abnormalities, cardiomyopathy, serious heart arrhythmia, or coronary artery disease
Monitor growth of children ages 7 to 10 years during treatment with stimulants; may need to interrupt therapy in patients not growing or gaining weight as expected
discontinue therapy in the presence of seizures
Use with caution in patients who use other sympathomimetic drugs Amphetamines may exacerbate motor and phonic tics and Tourette's syndrome; perform clinical evaluation for tics and Tourette's syndrome in children and their families prior to treating with stimulant medications
Associated with peripheral vasculopathy, including Raynaud phenomenon
Difficulties with accommodation and blurring of vision have been reported with stimulant treatment
Use of stimulants may suppress appetite, especially in children, which may cause weight loss and slows the rate of growth
Rare instances of prolonged and sometimes painful erections (priapism), sometimes requiring surgical intervention, reported with methylphenidate products; typically not reported during initiation, but often subsequent to an increase in dose; seek immediate medical attention for abnormally sustained or frequent and painful erections
Serotonin syndrome
Serotonin syndrome, a potentially life-threatening reaction, may occur when amphetamines are used in combination with other drugs that affect the serotonergic neurotransmitter systems (eg, MAOIs, SSRIs, SNRIs, triptans, TCAs, fentanyl, lithium, tramadol, tryptophan, buspirone, St John's Wort)
Discontinue therapy with any concomitant serotonergic agents immediately if symptoms of serotonin syndrome occur, and initiate supportive symptomatic treatment; concomitant use with other serotonergic drugs or CYP2D6 inhibitors should be used only if potential benefit justifies the potential risk
If clinically warranted, consider initiating therapy with lower doses, monitoring patients for emergence of serotonin syndrome during drug initiation or titration, and informing patients of increased risk for serotonin syndrome
Black Box Warnings
Dextroamphetamine has a high potential for abuse; particular attention should be paid to the possibility of patients obtaining dextroamphetamine for nontherapeutic use or distribution to others, and the drugs should be prescribed or dispensed sparingly
Administration of dextroamphetamine for prolonged periods of time may lead to drug dependence and must be avoided
Points of recommendation
Follow all directions on your prescription label. Your doctor may occasionally change your dose. Do not take this medicine in larger or smaller amounts or for longer than recommended.
Lisdexamfetamine may be habit-forming. Never share lisdexamfetamine with another person, especially someone with a history of drug abuse or addiction. Keep the medication in a place where others cannot get to it. Selling or giving away this medicine is against the law.
Take lisdexamfetamine with or without food, first thing in the morning.
The chewable tablet must be chewed before you swallow it.
Do not crush, chew, break, or divide a lisdexamfetamine capsule. Swallow it whole.
To make swallowing easier, you may open the lisdexamfetamine capsule and sprinkle the medicine into a glass of water or orange juice, or mix it with yogurt. After the medicine has dissolved, drink or eat the mixture right away. Do not save for later use.
While using this medicine, your doctor will need to check your progress at regular visits. Tell any doctor who treats you that you are using this medicine.
Take the missed dose as soon as you remember, but not late in the day. Skip the missed dose if it is almost evening. Do not take extra medicine to make up the missed dose.