Drug information of magnesium chloride
magnesium chloride
Magnesium is a mineral that is important for normal bone structure in the body. People get magnesium from their diet, but sometimes magnesium supplements are needed if magnesium levels are too low.
Dietary intake of magnesium may be low, particularly among women. Magnesium deficiency is also not uncommon among African Americans and the elderly. Low magnesium levels in the body have been linked to diseases such as osteoporosis, high blood pressure, clogged arteries, hereditary heart disease, diabetes, and stroke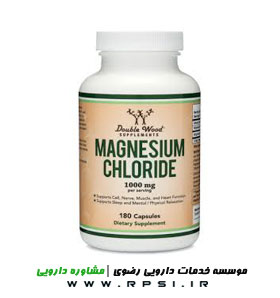 Mechanism of effect
Mechanism of action of magnesium chloride studied in 10 adult volunteers. Results suggested magnesium ion in duodenum is relatively weak stimulus to pancreas and gall bladder.
It is weak stimulant to cholecystokinin release and inhibits net jejunal water absorption. The oral administration of a single 800 mg dose of magnesium chloride in healthy volunteers resulted in a diminished rate of intraluminal lipid and protein digestion. The most pronounced effect of magnesium chloride, however, was a decreased gastric emptying rate of both test meals. After correction for gastric emptying, no differences were noted in intraluminal lipid or protein digestion. Therefore, the lower lipid levels noted after magnesium supplementation are unlikely to be the result of altered lipid assimilation. Magnesium chloride slows gastric emptying but does not influence lipid digestion
Pharmacodynamic
Magnesium is important as a cofactor in many enzymatic reactions in the body involving protein synthesis and carbohydrate metabolism (at least 300 enzymatic reactions require magnesium). Actions on lipoprotein lipase have been found to be important in reducing serum cholesterol and on sodium/potassium ATPase in promoting polarization (eg, neuromuscular functioning)
Pharmacokinetics
Absorption
Oral: Inversely proportional to amount ingested; 40% to 60% under controlled dietary conditions; 15% to 36% at higher doses
Volume of distribution
Bone (50% to 60%); extracellular fluid (1% to 2%)
Protein binding
30%, to albumin
Metabolism
Magnesium levels are efficiently regulated by the kidneys. Magnesium also undergoes efficient enterohepatic circulation
Route of elimination
Magnesium is excreted in urine. Unabsorbed magnesium is excreted in feces
Half life
Elimination half-life has been reported to be 27.7 hours following an overdose of 400 mEq magnesium in an adult.
Clearance
Maximum magnesium clearance is directly proportional to creatinine clearance.
Drug indications
This medication is a mineral supplement used to prevent and treat low amounts of magnesium in the blood. Some brands are also used to treat symptoms of too much stomach acid such as stomach upset, heartburn, and acid indigestion. Magnesium is very important for the normal functioning of cells, nerves, muscles, bones, and the heart. Usually, a well-balanced diet provides normal blood levels of magnesium. However, certain situations cause your body to lose magnesium faster than you can replace it from your diet. These situations include treatment with "water pills" (diuretics such as furosemide, hydrochlorothiazide), a poor diet, alcoholism, or other medical conditions (e.g., severe diarrhea/vomiting, stomach/intestinal absorption problems, poorly controlled diabetes).
Dosage
Recommended Daily Average (Elemental Magnesium)
Males: 400-420 mg orally each day
Females 18-30
310 mg orally each day
Pregnancy: 350 mg orally each day
Lactating: 310 mg orally each day
Females over 30
320 mg/day
Pregnantwomen: 360 mg/day
Lactating women: 320 mg/day
Children:
Infants under 6 months: 30 mg/day
Infants 6-12 months: 75 mg/day
Children 1-3 years: 80 mg/day
Children 3-8 years: 130 mg/day
Children 8-13 years: 240 mg/day
Children 13-18 years: 410 mg/day (men); 360 mg/day (women); 400 mg/day (pregnant women); 360 mg/day (lactating women)
Hypomagesemia
4 g (in 250 ml D5W) intravenousinfusion; no more than 3 ml/min
Usual range: 1-40 g intravenously each day
Use serumlevels as guide to continue therapy
Drug contraindications
Renalimpairment
Significant myocardial disease
Comatose patients
Side effects
respiratory depression
low core body temperature(hypothermia)
flushing
significant decrease in blood pressure
stupor
sweating
Interactions
intralipid
,
Drospirenone
,
Dextrose
,
Demeclocycline
,
Sodium Polystyrene Sulfonate
,
Tetracycline
,
Doxycycline
,
Minocycline
,
Lymecycline
,
Oxytetracycline
,
Eltrombopag
,
Blonanserin
Alerts
This medication contains magnesium chloride. Do not take MgCl or MgCl2 if you are allergic to magnesium chloride or any ingredients contained in this drug.
Keep out of reach of children
In case of overdose, get medical help or contact a Poison Control Center immediately
Points of recommendation
Liquids, powders, or some other forms of this product may contain sugar and/or aspartame. Liquid products may also contain alcohol. Caution is advised if you have diabetes, alcohol dependence, liver disease, phenylketonuria (PKU), or any other condition that requires you to limit/avoid these substances in your diet. Ask your doctor or pharmacist about using this product safely.
Pregnancy level
During pregnancy, this product should be used only when clearly needed. Discuss the risks and benefits with your doctor.
Breast feeding warning
It is not known whether this product passes into breast milk. Consult your doctor before breast-feeding.