Drug information of Promazine
Promazine
A phenothiazine with actions similar to chlorpromazine but with less antipsychotic activity. It is primarily used in short-term treatment of disturbed behavior and as an antiemetic. It is currently not approved for use in the United States.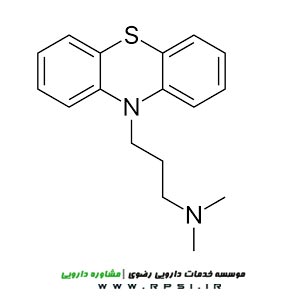 Mechanism of effect
Promazine is an antagonist at types 1, 2, and 4 dopamine receptors, 5-HT receptor types 2A and 2C, muscarinic receptors 1 through 5, alpha(1)-receptors, and histamine H1-receptors. Promazine's antipsychotic effect is due to antagonism at dopamine and serotonin type 2 receptors, with greater activity at serotonin 5-HT2 receptors than at dopamine type-2 receptors
Pharmacodynamic

Promazine belongs to a group of medications known as the phenothiazine antipsychotics. It acts by blocking a variety of receptors in the brain, particularly dopamine receptors. Dopamine is involved in transmitting signals between brain cells. When there is an excess amount of dopamine in the brain it causes over-stimulation of dopamine receptors. These receptors normally act to modify behaviour and over-stimulation may result in psychotic illness. Promazine hydrochloride blocks these receptors and stops them becoming over-stimulated, thereby helping to control psychotic illness.
Pharmacokinetics
Absorption may be erratic and peak plasma concentrations show large interindividual differences.
Protein binding:94%
Metabolism:Hepatic, primarily to N-desmethylpromazine and promazine sulfoxide.
Drug indications
psychoses
Adult:Agitated State
Pediatric:Psychosis
Dosage
Adult: IM: 50-150 mg, depending on the degree of severity.
May give additional doses in 30 minutes up to a total of 300 mg. Once control is obtained, administer orally.
Oral or IM: 10-200 mg every 4-6 hours.
Pediatric: Child > 12 years: Oral or IM: 10-25 mg every 4-6 hours.
Drug contraindications
cardiac failure
,
angle-closure glaucoma
PROMAZINE IS CONTRAINDICATED IN STUPOROUS OR PRECOMATOSE PT, AS WELL AS IN THOSE WITH CARDIAC OR CEREBROVASCULAR INSUFFICIENCY. ANTICHOLINERGIC-LIKE ACTIONS OF PROMAZINE MAY BE DETRIMENTAL IN PT WITH ANGLE-CLOSURE GLAUCOMA.
Side effects
nausea
,
dry mouth
,
somnolence
,
Agranulocytosis
,
Gynecomastia
,
Excessive salivation
drowsiness, dystonia, akathisia, athetoid movements and other extrapyramidal effects. Mutism,tardive dyskinesia, neuroleptic malignant syndrome,Withdrawal symptoms ,intravenous and inadvertent intra-arterial injection of promazine have been associated with distal necrosis ,nausea, vomiting, constipation, excessive salivation, dry mouth,hyperprolactinemia, galactorrhea, amenorrhea, gynecomastia, hyponatremia ,agranulocytosis ,priapism, urinary incontinence, nocturnal enuresis, spontaneous ejaculation ,Raynaud's phenomenon ,lupus-like syndrome,nonspecific EKG changes of uncertain clinical significance, orthostatic hypotension, tachycardia, syncope ,endometrial adenocarcinoma
Interactions
Acetylcholine
,
Amiodarone
,
Iopamidol
,
Pimozide
,
Tetrabenazine
,
Tramadol
,
Topiramate
,
lefamulin
,
hydromorphone
,
nalbuphine
,
Ceritinib
,
Pasireotide
,
bedaquiline
,
levomethadyl acetate
,
vemurafenib
,
ozanimod
,
Iloperidone
,
ivosidenib
,
Crizotinib
,
Deutetrabenazine
,
Cabozantinib
,
Siponimod
,
Halofantrine
,
Grepafloxacin
,
aminolevulinic acid oral
,
Metrizamide
,
Amisulpride
,
Butorphanol
,
Ibutilide
,
Hydrocodone
,
Anagrelide
,
Arsenic trioxide
,
Efavirenz
,
Gatifloxacin
,
sparfloxacin
,
Mesoridazine
,
Procainamide
,
Panobinostat
,
Ribociclib
,
Dofetilide
,
vandetanib
,
Sufentanil
,
Alfentanil
,
Droperidol
,
Osimertinib
,
Chloroquine
,
Pentazocine
,
dronedarone
,
saquinavir
,
Ivabradine
,
Mifepristone
,
Dolasetron
,
Ziprasidone
,
propoxyphene
,
morphine
,
meperidine
,
codeine
,
iohexol (Omnipaque)
,
Toremifene
,
Quinidine
,
Tapentadol
,
Remifentanil
,
Levorphanol
,
Oxycodone
,
Clozapine
,
escitalopram
,
fentanyl
,
potassium citrate
,
Buprenorphine
,
Sodium Oxybate
,
Methadone
,
Metoclopramide
,
Moxifloxacin
,
Nilotinib
,
Haloperidol
,
Hydroxychloroquine
,
Thioridazine
,
Disopyramide
,
Zonisamide
,
Sotalol
,
Cisapride
,
Fingolimod
,
Floxuridine
,
upadacitinib
,
Edetate Calcium Disodium
,
Carmustine
,
Oxymorphone
,
Temsirolimus
,
glycopyrrolate topical
,
Blinatumomab
,
Bepridil
,
Venetoclax
Alerts
- There is a higher chance of death in older adults who take promazine for mental problems caused by dementia. Most of the deaths were linked to heart disease or infection. This medicine is not approved to treat mental problems caused by dementia.
-tell your doctor:
If you are allergic to promazine; any part of promazine;
If you are very sleepy.
If you have an adrenal gland tumor called pheochromocytoma.
If you are taking any drugs that can cause a certain type of heartbeat that is not normal (prolonged QT interval)
If you have recently drunk a lot of alcohol or taken a big amount of drugs that may slow your actions like phenobarbital or some pain drugs like oxycodone.
- Low white blood cell counts have happened with drugs like this one. This may lead to a higher chance of infection. Rarely
- Dizziness, sleepiness, and feeling less stable may happen with promazine. These may lead to falling
- SINCE THESE AGENTS HAVE ANTIEMETIC PROPERTIES, THEY MAY MASK SIGNS OF DRUG OVERDOSAGE & OBSCURE SYMPTOMS OF BRAIN TUMOR OR INTESTINAL OBSTRUCTION. ALSO BE USED WITH EXTREME CAUTION IN PT WITH CARDIOVASCULAR DISEASE, IMPAIRED LIVER FUNCTION, OR WITH HISTORY OF GASTRIC ULCER.
Points of recommendation
Avoid driving and doing other tasks or actions that call for you to be alert until you see how promazine affects you.
Avoid drinking alcohol while taking promazine.
Tell your doctor if you have signs of high or low blood sugar
You may get sunburned more easily. Avoid sun, sunlamps, and tanning beds. Use sunscreen and wear clothing and eyewear that protects you from the sun.
Pregnancy level
There are no controlled data in human pregnancy. Promazine should only be given during pregnancy when benefit outweighs risk.
Breast feeding warning
There are no data on the excretion of promazine into human milk.
Drug forms
Sparine