Drug information of Sulfamethoxazole
Sulfamethoxazole
Sulfamethoxazole is a sulfonamide bacteriostatic antibiotic that is most commonly used in combination with trimethoprim as the drug Bactrim. Sulfamethoxazole competitively inhibits dihydropteroate synthase preventing the formation of dihydropteroic acid, a precursor of folic acid which is required for bacterial growth.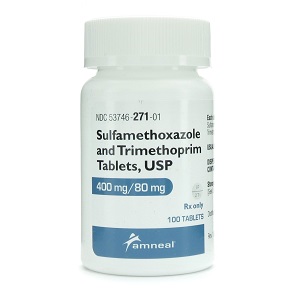 Mechanism of effect
Sulfamethoxazole is only found in individuals that have used or taken this drug. It is a bacteriostatic antibacterial agent that interferes with folic acid synthesis in susceptible bacteria. Its broad spectrum of activity has been limited by the development of resistance. (From Martindale, The Extra Pharmacopoeia, 30th ed, p208)Sulfonamides inhibit the enzymatic conversion of pteridine and p-aminobenzoic acid (PABA) to dihydropteroic acid by competing with PABA for binding to dihydrofolate synthetase, an intermediate of tetrahydrofolic acid (THF) synthesis. THF is required for the synthesis of purines and dTMP and inhibition of its synthesis inhibits bacterial growth. Pyrimethamine and trimethoprim inhibit dihydrofolate reductase, another step in THF synthesis, and therefore act synergistically with the sulfonamides.
Drug indications
This medication is a combination of two antibiotics: sulfamethoxazole and trimethoprim. It is used to treat a wide variety of bacterial infections (such as middle ear, urine, respiratory, and intestinal infections). It is also used to prevent and treat a certain type of pneumonia (pneumocystis-type).
This medication should not be used in children less than 2 months of age due to the risk of serious side effects.
This medication treats only certain types of infections. It will not work for viral infections (such as flu). Unnecessary use or misuse of any antibiotic can lead to its decreased effectiveness.
Side effects
Nausea, vomiting, diarrhea, and loss of appetite may occur. If any of these effects persist or worsen, tell your doctor or pharmacist promptly.
Remember that your doctor has prescribed this medication because he or she has judged that the benefit to you is greater than the risk of side effects. Many people using this medication do not have serious side effects.
Tell your doctor right away if you have any serious side effects, including: muscle weakness, mental/mood changes, signs of kidney problems (such as change in the amount of urine, blood in the urine), extreme drowsiness, signs of low blood sugar (such as sudden sweating, shaking, fast heartbeat, hunger, blurred vision, dizziness, or tingling hands/feet).
Get medical help right away if you have any very serious side effects, including: persistent headache, neck stiffness, seizures, slow/irregular heartbeat.
Interactions
Drospirenone
,
atovaquone/proguanil
,
Glucarpidase
,
Amantadine
,
Enalapril
,
Indomethacin
,
Cyclosporine
,
Lisinopril
,
Methotrexate
,
quinapril
,
Hydrochlorothiazide
,
Pyrimethamine
,
Ramipril
,
Chlorthalidone
,
Leucovorin
,
Benazepril
,
Remdesivir
,
Typhoid vaccine (live), oral
,
Aminohippurate Sodium
Some products that may interact with this drug include: "blood thinners" (such as warfarin), dofetilide, methenamine, methotrexate.
Alerts
You should not use this medicine if you are allergic to sulfamethoxazole or trimethoprim, or if you have:
severe liver disease;

kidney disease that is not being treated or monitored;

anemia (low red blood cells) caused by folic acid deficiency;

a history of low blood platelets after taking trimethoprim or any sulfa drug; or

if you take dofetilide (Tikosyn).
Do not use if you are pregnant. Use effective birth control, and tell your doctor if you become pregnant.
Do not breastfeed while using this medicine.
This medicine should not be given to a child younger than 2 months old.
Tell your doctor if you have ever had:
kidney or liver disease;

a folate (folic acid) deficiency;

asthma or severe allergies;

a thyroid disorder;

HIV or AIDS;

malnourishment;

alcoholism;

high levels of potassium in your blood;

porphyria, or glucose-6-phosphate dehydrogenase (G6PD) deficiency; or

if you use a blood thinner (such as warfarin) and you have routine "INR" or prothrombin time tests.