Drug information of EMTRICITABINE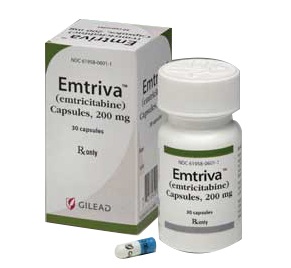 Mechanism of effect
Emtricitabine is always used in combination with other HIV medicines. Emtricitabine belongs to a class (group) of HIV drugs called nucleoside reverse transcriptase inhibitors (NRTIs). ... By blocking reverse transcriptase, NRTIs prevent HIV from multiplying and can reduce the amount of HIV in the body.
EMTRICITABINE does not cure HIV infection or AIDS, but it can hold off the damage to the immune system and the development of infections andiseases associated with AIDS.
Pharmacokinetics
Absorption:
Emtricitabine is rapidly and extensively absorbed following oral administration with peak plasma concentrations occurring at 1–2 hours post-dose.
Effects of Food on Oral Absorption:
EMTRIVA Capsules and Oral Solution may be taken with or without food.
Elimination:
The plasma emtricitabine half-life is approximately 10 hours.The most part of elimination done with kidneys.
Drug indications
emtricitabine is an antiviral medicine that prevents human immunodeficiency virus (HIV) from multiplying in your body. Emtriva is used to treat HIV, the virus that can cause acquired immunodeficiency syndrome (AIDS).
Dosage
Emtriva is available as capsules (200 mg) and as a solution (10 mg/ml) to be taken by mouth. The
usual dose of Emtriva is one capsule once a day for patients who weigh 33 kg or more. The oral solution is for patients who weigh less than 33 kg, and those who cannot swallow the capsules. The usual dose of oral solution is 6 mg per kilogram body weight once a day, up to a maximum of 240 mg(24 ml). The dose may need to be adjusted in patients who have problems with their kidneys.
Drug contraindications
EMTRIVA is contraindicated in patients with previously demonstrated
hypersensitivity to any of the components of the products.
Side effects
dizziness
,
vomiting
,
fatigue
,
irregular or fast heart rate
,
asthenia
,
Chills
,
myalgia
,
yellowing of the skin
,
yellowing of the eyes
,
Abdominal pain
,
indigestion
Interactions
Stavudine
,
Simeprevir
,
Iron polysaccharide
,
Etravirine
,
Dabrafenib
,
carbonyl iron
,
Netilmicin
,
Halofantrine
,
Grepafloxacin
,
Abacavir
,
Avanafil
,
Remdesivir
Do not take Emtriva if you also use other medicines that contain emtricitabine or lamivudine
Alerts
Emtricitabine should not be used to treat hepatitis B virus infection (HBV; an ongoing liver infection). Tell your doctor if you have or think you may have HBV. Your doctor may test you to see if you have HBV before you begin your treatment with emtricitabine.
If you have HBV and you take emtricitabine, your condition may suddenly worsen when you stop taking emtricitabine. Your doctor will examine you and order lab tests regularly for several months after you stop taking emtricitabine to see if your HBV has worsened.
Points of recommendation
emtricitabine have caused serious damage to the liver and a life-threatening condition called lactic acidosis (buildup of lactic acid in the blood) when they were used alone or in combination with other medications that treat human immunodeficiency virus (HIV) or acquired immunodeficiency syndrome (AIDS)
tell your doctor and pharmacist if you are allergic to emtricitabine or any other medications.
tell your doctor and pharmacist what other prescription and nonprescription medications, vitamins, nutritional supplements, and herbal products you are taking or plan to take. Your doctor may need to change the doses of your medications or monitor you more carefully for side effects.
tell your doctor if you have any type of infection that does not go away or that comes and goes such as tuberculosis (TB; a type of lung infection) or cytomegalovirus (CMV; a viral infection that may cause symptoms in patients with weak immune systems) or kidney disease.
tell your doctor if you are pregnant or plan to become pregnant. If you become pregnant while taking emtricitabine, call your doctor. Tell your doctor if you are breast-feeding. You should not breast-feed if you are infected with HIV or if you are taking emtricitabine.
you should know that your body fat may increase or move to different areas of your body such as your breasts and upper back.