Drug information of bazedoxifene/conjugated estrogens
bazedoxifene/conjugated estrogens
Bazedoxifene and conjugated estrogens is a combination medicine used short-term in women after menopause to treat moderate to severe hot flashes, and to prevent osteoporosis. bazedoxifene and conjugated estrogens is used in women who have NOT had a hysterectomy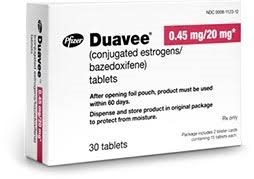 Mechanism of effect
Bazedoxifene: Selective estrogen receptor modulator (SERM); estrogen-like effects on bone (increase bone density) and lipids (decrease LDL); antiestrogenic in uterus and breast (reduces risk of endometrial hyperplasia that can occur with conjugated estrogens)
Conjugated estrogens: Replaces endogenous estrogen
Pharmacokinetics
Absorption
Conjugated estrogens: Well-absorbed from the gastrointestinal tract
Distribution
Bazedoxifene: Vd: ~15 L/kg
Metabolism
Bazedoxifene: Metabolized via glucuronidation; forms metabolites; little or no CYP mediated metabolism; undergoes hepatic recirculation
Conjugated estrogens: Hepatic via CYP3A4; estradiol is converted to estrone and estriol; also undergoes enterohepatic recirculation; estrone sulfate is the main metabolite in postmenopausal females
Excretion
Conjugated estrogens: Urine (primarily estriol, also as estradiol, estrone, and conjugates)
Bazedoxifene: Biliary; feces (~85%); urine (<1%)
Onset of Action
Relief of vasomotor symptoms: A significant reduction in the number and severity of moderate/severe hot flashes was observed after 4 weeks of therapy .
Osteoporosis: A significant increase in BMD measured at the lumbar spine and hip was observed at 12 months of therapy (Lindsay, 2009).
Time to Peak
Bazedoxifene: ~2.5 hours
Total estrone: ~6.5 hours
Half-Life Elimination
Bazedoxifene: ~30 hours
Total estrone: ~17 hours
Protein Binding
Bazedoxifene: 98% to 99%; does not bind to sex-hormone binding globulin
Conjugated estrogens: Binds to sex-hormone-binding globulin and albumin
Drug indications
-Osteoporosis, prevention
-Vasomotor symptoms
Dosage
20 mg/0.45 mg (1 tablet) PO qDay
Drug contraindications
pregnancy
,
Breast feeding
,
Hypersensitivity
,
abnormal uterine bleeding of undetermined origin
-Undiagnosed abnormal uterine bleeding
-Known, suspected, or past history of breast cancer
-Known or suspected estrogen-dependent neoplasia
-Active DVT, PE, or history of these conditions
-Active arterial thromboembolic disease (eg, stroke, MI) or history of these conditions
-Hypersensitivity (eg, anaphylaxis, angioedema) to estrogens, bazedoxifene, or any ingredients
-Known hepatic impairment or disease
-Known protein C, protein S, or antithrombin deficiency or other known thrombophilic disorders
-Pregnancy, women who may become pregnant, and nursing mothers; may cause fetal harm when administered to a pregnant woman
Interactions
Protamine sulfat
,
Dalteparin
,
Erythromycin
,
Enoxaparin
,
Itraconazole
,
Thalidomide
,
Tranexamic acid
,
Rifampin
,
Antithrombin alfa
,
Bemiparin
,
fondaparinux
,
st. john's wort
,
anastrozole
,
Argatroban
,
carfilzomib
,
Lenalidomide
,
pomalidomide
,
ospemifene
,
Antithrombin III
,
Rifabutin
,
Quinidine
,
Nefazodone
,
Dantrolene
,
Phenindione
,
Bivalirudin
,
Cimetidine
,
Heparin
,
Warfarin
,
Carbamazepine
,
Ketoconazole
,
Clarithromycin
,
fluoroestradiol F 18
Alerts
-Should not take progestins, additional estrogens, or additional estrogen agonist/antagonists
-Estrogens and estrogen agonist/antagonists are known to increase risk of thromboembolism, including DVT, PE, and stroke
-Discontinue 4-6 weeks before surgery that is associated with increased risk of thromboembolism, or during periods of prolonged immobilization
-Absolute risk of dementia and of gallbladder disease
-Retinal vascular thrombosis reported
-Substantial increases in blood pressure described in a small number of case reports in women receiving estrogens; this effect was not observed in a large, randomized, placebo-controlled clinical study
-Estrogens may exacerbate pre-existing hypertriglyceridemia and lead to pancreatitis
-Caution with history of cholestatic jaundice associated with past estrogen use or with pregnancy
-Estrogen administration leads to increased thyroid-binding globulin (TBG) levels; women dependent on thyroid hormone replacement therapy who are also receiving estrogens may require increased thyroid hormone doses;
-May cause fluid retention
-May exacerbate asthma, diabetes mellitus, epilepsy, migraine, porphyria, systemic lupus erythematosus, and hepatic hemangiomas
-Estrogens are metabolized partially by CYP3A4 and therefore coadministration with inhibitors and inducers of this isoenzyme may increase risk of toxicity or alter therapeutic effect
-Bazedoxifene undergoes metabolism by UGT enzymes in the intestinal tract and liver; coadministration with UGT inducers may reduce bazedoxifene exposure/efficacy and therefore increase risk of endometrial hyperplasia
-Do not use with conditions that predispose to hyperkalemia
-Retinal vascular thrombosis reported in patients receiving estrogens; discontinue medication pending examination if there is sudden partial or complete loss of vision, or a sudden onset of proptosis, diplopia, or migraine;
-There are, possible risks that may be associated with use of progestins with estrogens compared to estrogen-alone regimens, including a possible increased risk of breast cancer, adverse effects on lipoprotein metabolism (e.g., lowering HDL, raising LDL), and impairment of glucose tolerance
-Use caution in individuals with severe hypocalcemia
-Increased risk of endometrial cancer in a woman with a uterus who uses unopposed estrogens; bazedoxifene/conjugated estrogens has been shown to reduce the risk of endometrial hyperplasia, which may be a precursor to endometrial cancer
-Adequate diagnostic measures, including directed or random endometrial sampling when indicated, should be undertaken to rule out malignancy in postmenopausal women with undiagnosed persistent or recurring abnormal genital bleeding
-Estrogens should be prescribed at the lowest effective doses and for the shortest duration consistent with treatment goals and risks for the individual woman
Points of recommendation
-Should be used for the shortest duration consistent with treatment goals and risks for the individual woman
-May take with or without food
-Swallow tablet whole, do not chew, crush, or split
-If a dose is missed, instruct patients to take it as soon as remembered unless it is almost time for the next scheduled dose; do not take 2 doses at the same time
-You should not use bazedoxifene and conjugated estrogens if you are allergic to bazedoxifene or conjugated estrogens, or if you have:
unusual vaginal bleeding that has not been checked by a doctor;
liver disease;
a history of heart attack, stroke, or blood clot;
an increased risk of having blood clots due to a heart problem or a hereditary blood disorder; or
a history of hormone-related cancer, or cancer of the breast, uterus/cervix, or vagina.
Pregnancy level
X
Contraindicated for use in pregnant women; not indicated for use in females of reproductive potential
Breast feeding warning
Use is contraindicated
-Estrogen administered to nursing women decreases the quantity and quality of the milk.
Drug forms
Duavee