Drug information of Cefamandole
Cefamandole
Cefamandole is also known as cephamandole. It is a parenterally administered broad-spectrum cephalosporin antibiotic. It is generally formulated as a formate estercefamandole nafate. It is no longer marketed in the United States.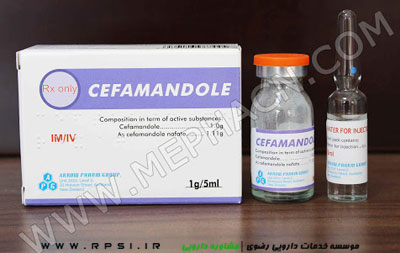 Mechanism of effect
Like all beta-lactam antibiotics, cefamandole binds to specific penicillin-binding proteins (PBPs) located inside the bacterial cell wall, causing the inhibition of the third and last stage of bacterial cell wall synthesis. Cell lysis is then mediated by bacterial cell wall autolytic enzymes such as autolysins; it is possible that cefamandole interferes with an autolysin inhibitor.
Pharmacokinetics
Absorption
Not Available
Distribution
Not Available
Half life
The half-life after an intravenous dose is 32 minutes; after intramuscular administration, the half-life is 60 minutes.
Drug indications
For the treatment of serious infections caused by susceptible strains of microorganisms.
Dosage
Usual Adult Dose for Pneumonia
500 mg intramuscularly or IV every 6 hours.
Usual Adult Dose for Skin or Soft Tissue Infection
500 mg intramuscularly or IV every 6 hours.
Usual Adult Dose for Urinary Tract Infection
Uncomplicated: 500 mg intramuscularly or IV every 8 hours.
Complicated: 1 g intramuscularly or IV every 8 hours.
Usual Adult Dose for Surgical Prophylaxis
Preoperative: 1 to 2 g IV or intramuscularly 30 to 60 minutes prior to surgical incision.
Postoperative: 1 to 2 g IV or intramuscularly every 6 hours for 24 to 48 hours (72 hours for prosthetic arthroplasty).
Cesarean section: the initial dose may be administered just prior to surgery or immediately after the cord is clamped.
Usual Pediatric Dose for Surgical Prophylaxis
> 3 months:
50 to 100 mg/kg/day in divided doses IV or intramuscularly 30 to 60 minutes prior to surgical incision and every 6 hours for 24 to 48 hours.
Side effects
Gastrointestinal
Gastrointestinal side effects, such as nausea and vomiting, are rare, and are more likely to occur if the patient consumes alcohol. This is due to inactivation of aldehyde dehydrogenase by cefamandole, which causes an accumulation of acetaldehyde and a disulfiram-like reaction in the presence of alcohol. Pseudomembranous colitis has been associated with cefamandole therapy.[Ref]
Hepatic
Hepatic abnormalities, such as increases in serum transaminases, are usually mild and transient, and return to normal within two weeks after therapy is stopped. In most cases these changes do not necessitate drug discontinuation.[Ref]
Hypersensitivity
Toxic epidermal necrolysis (TEN) is reported with cefamandole therapy. In one case, TEN occurred approximately ten days following a ten-day course of cefamandole for pneumonia. Intravenous steroids were initiated; however, the patient again developed pneumonia and succumbed to septic shock.
Erythema multiforme is also associated with cefamandole therapy. One affected patient had known allergies to penicillin and sulfonamides and a history of eczematous dermatitis. She was given cefamandole for fever of unknown origin. Within three days of starting therapy, she developed red, tender plaques, some of which progressed to large bullae. Treatment with intravenous steroids improved her skin condition.
A case of occupational contact dermatitis due to cephalosporin allergy has been reported in a nurse who prepared cephalosporin solutions for administration to patients. The dermatitis resolved after the nurse stopped preparing the solutions.
Hypersensitivity reactions, such as rash, may occur. Cross-reactivity may occur in penicillin allergic patients. Toxic epidermal necrolysis and erythema multiforme have been reported in cefamandole treated patients.[Ref]
Hematologic
Hematologic side effects can be clinically significant. Cefamandole-induced hypoprothrombinemia may be associated with clinically significant bleeding. Vitamin K may correct the coagulopathy, although in most cases, substitution with another antibiotic will be necessary. In rare cases, transfusion of fresh frozen plasma or whole blood may be needed.
Renal
New or worsened renal insufficiency has only rarely been associated with cefamandole.
Interactions
Protamine sulfat
,
Phenindione
,
Dalteparin
,
Tinzaparin
,
Amikacin
,
Streptomycin
,
Gentamicin
,
Rifampin
,
Furosemide
,
Mycophenolate mofetil
,
Anisindione
,
Entecavir
,
Typhoid vaccine (live), oral
,
givosiran
,
Neomycin
,
Pemetrexed
,
Tipranavir
,
Netilmicin
,
Plazomicin
,
cholera vaccine live
,
BCG vaccine
,
Ethinyl Estradiol
,
ritonavir
,
Mycophenolic acid
,
Tobramycin
,
Bumetanide
,
Nimodipine
,
Heparin
,
Chloramphenicol
,
probenecid
,
Kanamycin
,
ethacrynic acid
,
Aminohippurate Sodium
amikacin, amikacin liposome, anisindione, bcg, black cohosh, bumetanide, chloramphenicol,cholera vaccine, live, dicumarol,entecavir,estradiol,ethacrynic acid,ethanol,ethinyl estradiol,furosemide, gentamicin, givosiran, heparin, indium oxyquinoline in-111,kanamycin, mycophenolate mofetil, mycophenolic acid, neomycin, netilmicin,nimodipine, pemetrexed, plazomicin, probenecid, rifampin, ritonavir, streptomycin,tipranavir, tobramycin, torsemide, typhoid vaccine, livewarfarin.
Points of recommendation
Treatment should be continued for a minimum of 48 to 72 hours after the patient becomes asymptomatic or after evidence of bacterial eradication has been obtained. A minimum of 10 days of treatment is recommended in infections caused by group A beta-hemolytic streptococci in order to guard against the risk of rheumatic fever or glomerulonephritis.
Pregnancy level
B
Cefamandole has been assigned to pregnancy category B by the FDA. Animal studies failed to reveal evidence of fetal harm. There are no controlled data in human pregnancies. Cefamandole should only be given during pregnancy when need has been clearly established.
Breast feeding warning
Cefamandole is excreted into human milk in small amounts. Adverse effects in the nursing infant are unlikely. The American Academy of Pediatrics classifies other cephalosporins as compatible with breast-feeding.
Drug forms
Actavis, Lithuania