Drug information of Abiraterone
Abiraterone
Abiraterone is a derivative of steroidal progesterone and is an innovative drug that offers clinical benefit to patients with hormone refractory prostate cancer. Abiraterone is administered as an acetate salt prodrug because it has a higher bioavailability and less susceptible to hydrolysis than abiraterone itself.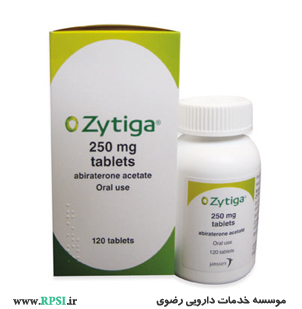 Mechanism of effect
Abiraterone is an orally active inhibitor of the steroidal enzyme CYP17A1 (17 alpha-hydroxylase/C17,20 lyase). It inhibits CYP17A1 in a selective and irreversible manner via covalent binding mechanism. CYP17A1 is an enzyme that catalyzes the biosynthesis of androgen and is highly expressed in testicular, adrenal, and prostatic tumor tissue.
More specifically, abiraterone inhibits the conversion of 17-hydroxyprognenolone to dehydroepiandrosterone (DHEA) by the enzyme CYP17A1 to decrease serum levels of testosterone and other androgens.
Pharmacodynamic
Abiraterone is associated with decreases in PSA levels, tumor shrinkage (as evaluated by RECIST criteria), radiographic regression of bone metastases and improvement in pain. Levels of adrenocorticotropic hormones increased up to 6-fold but this can be suppressed by dexamethasone.
Pharmacokinetics
Absorption: Abiraterone itself is poorly absorbed and is susceptible to hydrolysis by esterases. The salt form, abiraterone acetate, is a prodrug which has a much higher oral bioavailability and is also esterase resistant. Peak drug concentrations of abiraterone were reached in 1.5 - 4 hours. Abiraterone acetate was rapidly and completely deacetylated into abiraterone-the parent salt form was not detectable in early pharmacokinetic studies. Food and high fat meals increases absorption 4.4-fold.
Protein binding: >99% protein bound to alpha-1-acid glycoprotein and albumin.
Metabolism: Abiraterone acetate is hydrolyzed into active metabolite abiraterone via esterases. CYP3A4 and SULT2A1 further metabolizes abiraterone into two inactive metabolites called abiraterone sulfate and N-oxide abiraterone sulfate.
Route of elimination: Excreted via feces (~88%) and urine (~5%)
Half life: Terminal elimination half-life = 5-14 hours.
Dosage
Usual Adult Dose for Prostate Cancer
1,000 mg orally once a day on an empty stomach (in combination with prednisone 5 mg orally 2 times a day)
Comments: No food should be consumed for at least 1 hours before the dose and for at least 2 hour after the dose of this drug.
Side effects
Insomnia
,
Diarrhea
,
edema
,
flushing
,
Hypertension
,
myalgia
,
hypertriglyceridemia
,
Hypokalemia
,
Hyperglycemia
,
tiredness
,
increased liver enzymes in the blood
Interactions
Dolasetron
,
vandetanib
,
Dofetilide
,
Itraconazole
,
Thioridazine
,
Rifampin
,
Phenobarbital
,
Phenytoin
,
Voriconazole
,
Telithromycin
,
Indinavir
,
Halofantrine
,
Grepafloxacin
,
Edoxaban
,
Carbamazepine
,
Ketoconazole
,
Clarithromycin
,
Tamoxifen
,
Nefazodone
,
ritonavir
,
Rofecoxib
,
ELBASVIR/GRAZOPREVIR
,
Eliglustat
,
Bepridil
,
bedaquiline
,
Cannabidiol
Alerts
Adrenocortical insufficiency: Concurrent infection, stress, or interruption of daily corticosteroids is associated with reports of adrenocortical insufficiency. Monitor closely for signs and symptoms of adrenocorticoid insufficiency, which could be masked by adverse events associated with mineralocorticoid excess. Diagnostic testing for adrenal insufficiency may be clinically indicated. Increased corticosteroid doses may be required before, during, and after stress.
Hepatotoxicity: Severe hepatotoxicity (eg, fulminant hepatitis, acute liver failure, and death) has been reported. Significant increases in liver enzymes have also been observed (higher likelihood in patients with baseline elevations), generally occurring in the first 3 months of treatment. May require dosage reduction, treatment interruption, and/or discontinuation. ALT, AST, and bilirubin should be monitored prior to treatment, every 2 weeks for 3 months and monthly thereafter; patients with hepatic impairment, elevations in liver function tests, or experiencing hepatotoxicity require more frequent monitoring. Evaluate liver function promptly with signs or symptoms of hepatotoxicity. The safety of retreatment after significant elevations (ALT or AST ≥20 times the upper limit of normal [ULN] and/or total bilirubin ≥10 times ULN) has not been evaluated.
Mineralocorticoid excess: Increased mineralocorticoids due to CYP17 inhibition may result in hypertension, hypokalemia, and fluid retention (including grade 3 and 4 events). Monitor at least monthly for hypertension, hypokalemia, and fluid retention. Concomitant administration with corticosteroids reduces the incidence and severity of these adverse events.
Cardiovascular disease: May cause hypertension, hypokalemia, and fluid retention. Control hypertension and correct hypokalemia prior to and during treatment. Use with caution in patients with cardiovascular disease, particularly with heart failure, recent MI, or ventricular arrhythmia. Patients with left ventricular ejection fraction (LVEF) <50% or NYHA class II, III, or IV heart failure were excluded from clinical trials. Monitor at least monthly for hypertension, hypokalemia, and fluid retention.
Hepatic impairment: Do not use in patients with preexisting severe hepatic impairment (Child-Pugh class C); dosage reduction is recommended in patients with baseline moderate impairment.
Drug-drug interactions: Potentially significant interactions may exist, requiring dose or frequency adjustment, additional monitoring, and/or selection of alternative therapy. Consult drug interactions database for more detailed information.
Food: Abiraterone must be administered on an empty stomach (administer at least 1 hour before and 2 hours after any food); abiraterone AUC (exposure) may be increased up to 10-fold if administered with a meal.
Points of recommendation
You should not use abiraterone if you are allergic to it, or if you have ever had:
To make sure abiraterone is safe for you, tell your doctor if you have:
liver disease;
heart disease, high blood pressure;
problems with your adrenal gland or pituitary gland;
low levels of potassium in your blood;
fluid retention;
a heart attack; or
if you take medicine to treat seizures, tuberculosis, HIV or AIDS.
While you are taking abiraterone and for at least 1 week after your treatment ends:
If your sexual partner is pregnant--Use a condom to prevent transfer of this medication to her.
If your sexual partner could become pregnant--Use a condom plus another form of effective birth control to prevent pregnancy.
Although abiraterone is not for use by women, this medicine can harm an unborn baby or cause birth defects. Abiraterone tablets should not be handled by a woman who is pregnant or who may become pregnant. If this cannot be avoided, the woman should wear latex gloves.
It is not known whether abiraterone passes into breast milk or if it could harm a nursing baby. Abiraterone should not be used by a woman who is breast-feeding a baby.
Abiraterone is not approved for use by anyone younger than 18 years old.
Abiraterone is usually taken once per day while also taking prednisone two times per day. Follow all directions on your prescription label. Do not take this medicine in larger or smaller amounts or for longer than recommended.
Your prednisone dosage needs may change if you have surgery, are ill, or are under stress. Do not change your medication dose or schedule without your doctor's advice.
Take abiraterone on an empty stomach. Do not eat anything for at least 2 hours before you take abiraterone and for at least 1 hour after you have taken the medicine.
Do not crush, chew, or break an abiraterone tablet. Swallow it whole with a full glass of water.
Your blood pressure will need to be checked often, and you may need frequent blood tests at your doctor's office.
You should not stop using abiraterone or prednisone suddenly. Follow your doctor's instructions about tapering your prednisone dose.
Store at room temperature away from moisture and heat.
Skip the missed dose and take the medicine the following day on an empty stomach (no food for at least 1 hours before or 2 hour after you take abiraterone). Do not take extra medicine to make up the missed dose.
Call your doctor for instructions if you miss more than one dose of abiraterone.