Drug information of Acemetacin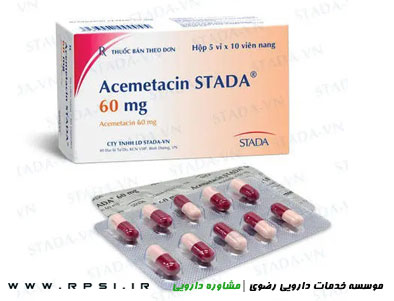 Mechanism of effect
Acemetacin is a non-selective inhibitor of the production of pro-inflammatory mediators derived from the action of the enzyme COX. COX is essential for the synthesis of prostaglandin E2 and F2 which are molecules derived from fatty acids and stored in the cell membrane.
Acemetacine is metabolized and forms its major metabolite indometacin which is also a non-selective inhibitor of COX and exhibits the capacity to inhibit the motility of polymorphonuclear leukocytes and decreased cerebral flow by modulating the nitric oxide pathway and vasoconstriction.
Pharmacodynamic
The effect of acemetacin causes a weak reduction of prostaglandin synthesis which generates an anti-inflammatory and analgesic effect. The weak inhibition of prostaglandin reduces significantly the damage caused in the mucous membrane of the gastrointestinal tract.
Studies have shown that acemetacin strongly inhibits the release of histamine from mast cells and the generation of hyperthermia. Acemetacin effect also causes changes in systolic and diastolic blood pressure as well as inhibition of platelet aggregation.
Pharmacokinetics
Absorption: After 8 days of oral administration twice daily of acemetacin there was an age-dependant Cmax of 276.8 ng/ml in elderly compared to 187 ng/ml for younger individuals. There was also a Tmax of 2.5 h and AUC in a range of 483-712 ng h/ml. The bioavailability of acemetacin after repeated doses is aproximately 66% in plasma and 64% in urine.
Volume of distribution: 0.5-0.7 L/kg.
Protein binding: higher than 90%
Metabolism:Acemetacin is highly metabolized and degraded by esterolytic cleavage to form its major and active metabolite indometacin. It presents other inactive metabolites made by reaction of O-demethylation, N-desacylation and part of them are also transformed by conjugation with glucuronic acid.
Route of elimination: renal 40% , feces 60%
Half life: 4.5 hours.
Clearance: 4.59 ml min/kg
Dosage
Adults
The recommended daily dose range is 60 –180 mg Acemetacin, divided into 1 to 3 single doses.
Children and adolescents:
acemetacin is not recommended for use in children and adolescents due to insufficient data
on safety and efficacy in this patient group.
Side effects
Nerve
,
Crohn's disease
,
High Blood Pressure
,
Diarrhea
,
Headache
,
nausea
,
vomiting
,
vertigo
,
dyspepsia
,
edema
,
syncope
,
itching
,
flatulence
,
mouth ulcers
,
cardiac failure
,
difficulty urinating
,
tiredness
,
Abdominal pain
,
increased liver enzymes in the blood
,
gastrointestinal hemorrhage
Interactions
Protamine sulfat
,
Tanacetum parthenium , Feverfew
,
Drospirenone
,
Naproxen
,
Doxazosin
,
Ginkgo biloba
,
fenoprofen
,
Digoxin
,
Cyclosporine
,
Phenytoin
,
Furosemide
,
Warfarin
,
probenecid
,
sulfinpyrazone
,
lithium
,
Triamterene
,
Diflunisal
,
dicloxacillin
,
Bromfenac
,
Cordyceps
,
Netonal
,
Blonanserin
,
Aminohippurate Sodium
other NSAIDs
digoxin, phenytoin or lithium
diuretics and antihypertensives (e.g. ACE-inhibitors and angiotensin 2 antagonists).
Potassium sparing diuretics
Glucocorticosteroids, platelet aggregation inhibitors (such as acetylsalicylic acid) and selective serotonin reuptake inhibitors (SSRIs)
When taken within 24 hours before or after administration of methotrexate cyclosporine
anti-coagulants (anti-clotting medicinal products, e.g. warfarin)
penicillin antibiotics
probenecid or sulfinpyrazone Furosemide
triamterene (a diuretic agent)

Alerts
Gastrointestinal bleeding, ulceration or perforation, which can be fatal, have been reported
with all NSAIDs, and may occur at any time during treatment, with or without warning
symptoms or a previous history of serious gastrointestinal events. The risk is higher with
increasing NSAID doses, in patients with a history of ulcer, particularly if complicated with
haemorrhage or perforation, in patients with a history of gastrointestinal disease (e.g.
ulcerative colitis, Crohn's disease) and in elderly patients.
If you experience gastrointestinal bleeding or ulceration during the treatment with acemetacin, the treatment should be withdrawn.
Serious skin reactions (e.g. exfoliative dermatitis, Stevens-Johnson-Syndrome and toxic epidermal necrolysis) are very rare during the use of NSAIDs. You must discontinue the use
of acemetacin at the first appearance of any sign of severe hypersensitivity, skin rash,
mucosal lesions or any other sign of allergic reaction.
Headache may occur as a result of long-term treatment with analgesics. You should not treat
this headache with higher doses of analgesics.
In general, habitual use of analgesics, especially the combination of different analgesic
substances, may lead to irreversible kidney impairment with the risk of kidney insufficiency
(analgesic induced nephropathy).
Points of recommendation
Always take this medicine exactly as your doctor has told you.
acemetacin is dosed according to the severity of the disease Please swallow acemetacin unchewed and with a sufficient amount of liquid. You should not take acemetacin on an empty stomach.
If you have a sensitive stomach you should take acemetacin during a meal.
Related drugs
Ibuprofen
,
Indomethacin
,
Piroxicam
,
Tolmetin
,
Diclofenac
,
Mefenamic acid
,
etodolac
,
Meloxicam
,
Ketorolac
,
Ketoprofen
,
fenoprofen
,
Sulindac
,
Nabumetone
,
Bromfenac