Drug information of Celecoxib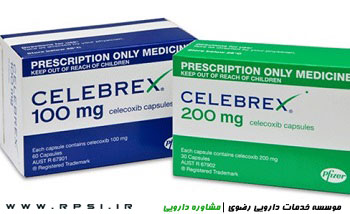 Mechanism of effect
Unlike most NSAIDs, which inhibit both types of cyclooxygenases (COX-1 and COX-2), celecoxib is a selective noncompetitive inhibitor of cyclooxygenase-2 (COX-2) enzyme.
The mechanism of action of celecoxib is the inhibition of prostaglandin synthesis through COX-2 inhibition.COX-2 is expressed heavily in inflamed tissues where it is induced by inflammatory mediators. COX-2 also plays physiological roles in a limited number of tissues, including those of the female reproductive tract, the kidney, and possibly the vascular endothelium .
Pharmacodynamic
The inhibition of prostaglandin E2 synthesis which (a mediator of pain) results from the inhibition of COX-2, and helps to alleviate pain symptoms.
Celecoxib is used to treat rheumatoid arthritis, osteoarthritis, and familial adenomatous polyposis (FAP). Due to its lack of platelet effects, celecoxib is not a substitute for aspirin for cardiovascular prophylaxis
Pharmacokinetics
Peak plasma time: ≤3 hr
Peak plasma concentration: 705 ng/mL
Protein bound: 97% (principally to albumin; to a lesser extent, to alpha1-acid glycoprotein)
Vd: 400 L
Metabolism: Metabolized in liver by CYP2C9
Metabolites: Carboxylic acid (SC-62807), glucuronide
Half-life: Mild hepatic impairment, 11 hr; chronic renal insufficiency or moderate hepatic impairment, 13.1 hr
Dialyzable: Undetermined
Clearance: 500 mL/min
Excretion: Feces (57%), urine (27%)
Dosage
Adult
Acute Pain & Primary Dysmenorrhea
400 mg PO initially, then 200 mg PRN on first day; 200 mg q12hr PRN on subsequent days
Ankylosing Spondylitis
200 mg PO once daily or divided q12hr; if no effect after 6 weeks, may increase to 400 mg/day; if no adequate resonse observed after 6 weeks of taking 400 mg/day consider discontinuing therapy
Osteoarthritis
200 mg PO once daily or divided q12hr
Rheumatoid Arthritis
100-200 mg PO q12hr
Pediatric
Juvenile Rheumatoid Arthritis
<2 years: Safety and efficacy not established
≥2 years and 10-25 kg: 50 mg PO q12hr
≥2 years and >25 kg: 100 mg PO q12hr
Side effects
Sinusitis
,
High Blood Pressure
,
Diarrhea
,
Headache
,
nausea
,
vomiting
,
vertigo
,
dyspepsia
,
Peripheral edema
,
fever
,
flatulence
,
Abdominal pain
Interactions
Protamine sulfat
,
Tanacetum parthenium , Feverfew
,
Drospirenone
,
Doxazosin
,
Mipomersen
,
Meglumine Compound
,
Apixaban
,
Travoprost
,
Ginkgo biloba
,
Peginterferon alfa-2b
,
Pemetrexed
,
Enalapril
,
Thioridazine
,
Lisinopril
,
Methotrexate
,
Captopril
,
Ketorolac
,
Moexipril
,
quinapril
,
Fosinopril
,
Ramipril
,
Trandolapril
,
Perindopril
,
Benazepril
,
aminolevulinic acid oral
,
Aminolevulinic acid topical
,
Diatrizoate (Amidotrizoic acid)
,
Bromfenac
,
Ioxaglate
,
Cordyceps
,
Netonal
,
Iothalamate Meglumine
,
Glycerol Phenylbutyrate
,
Urokinase
,
Eliglustat
,
Methyl aminolevulinate
,
Remdesivir
,
Cannabidiol
,
vortioxetine
,
Aminohippurate Sodium
Alerts
Congestive heart failure, hypertension
Caution in asthma (bronchial), bleeding disorder, bronchospasm, duodenal/gastric/peptic ulcer, renal impairment
Long-term administration of NSAIDs may result in renal papillary necrosis and other renal injury; patients at greatest risk include elderly individuals; those with impaired renal function, hypovolemia, heart failure, liver dysfunction, or salt depletion, and those taking diuretics, angiotensin-converting enzyme inhibitors, or angiotensin-receptor blockers
Anemia may occur; monitor hemoglobin or hematorcrit in long term treatment patients
Use caution in pediatrics with systemic-onset juvenile idiopathic arthritis; serious adverse reactions, including disseminated intravascular coagulation reported
NSAIDs may cause serious skin reacitons including exfoliative dermatitis, Stevens-Johnson syndrome, and toxic epidermal necrolysis, may occur without warning or without prior known sulfa allergy; discontinue at first sign of rash
Heart Failure(HF) risk
NSAIDS have the potential to trigger HF by prostaglandin inhibition that leads to sodium and water retention, increased systemic vascular resistance, and blunted response to diuretics
NSAIDS should be avoided or withdrawn whenever possible
Black Box Warnings
Cardiovascular risk
Nonsteroidal anti-inflammatory drugs (NSAIDs) may increase risk of serious cardiovascular thrombotic events, myocardial infarction (MI), and stroke, which can be fatal
Risk may increase with duration of use
Patients with existing cardiovascular disease or risk factors for such disease may be at greater risk
NSAIDs are contraindicated for perioperative pain in setting of coronary artery bypass graft (CABG) surgery
Gastrointestinal risk
NSAIDs increase risk of serious gastrointestinal (GI) adverse events, including bleeding, ulceration, and gastric or intestinal perforation, which can be fatal
GI adverse events may occur at any time during use and without warning symptoms
Elderly patients are at greater risk for serious GI events
Points of recommendation
Take celecoxib exactly as prescribed by your doctor. Follow all directions on your prescription label and read all medication guides. Use the lowest dose that is effective in treating your condition.
You may take celecoxib with or without food.
If you cannot swallow a capsule whole, open it and sprinkle the medicine into a spoonful of applesauce. Swallow the mixture with water. You may save this applesauce mixture for later use in a refrigerator for up to 6 hours.
Store at room temperature away from moisture and heat.
Pregnancy level
C
category: C; D at ≥30 weeks' gestation (may cause premature closure of ductus arteriosus)
Related drugs
Naproxen
,
Tolfenamic Acid
,
Parecoxib
,
Ibuprofen
,
Indomethacin
,
Piroxicam
,
Tolmetin
,
Diclofenac
,
Mefenamic acid
,
etodolac
,
Meloxicam
,
Ketorolac
,
Ketoprofen
,
fenoprofen
,
Sulindac
,
Nabumetone
,
Rofecoxib
,
Bromfenac