Drug information of Necitumumab
Necitumumab
Necitumumab is an intravenously administered recombinant monoclonal IgG1 antibody used in the treatment of non-small cell lung cancer (NSCLC) as an EGFR antagonist.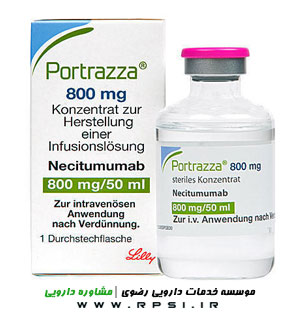 Mechanism of effect
Necitumumab is an EGFR antagonist that functions by binding to epidermal growth factor receptor (EGFR) and prevents binding of its ligands, a process that is involved in cell proliferation, metastasis, angiogenesis, and malignant progression.
Binding of necitumumab to EGFR induces receptor internalization and degradation, thereby preventing further activation of EGFR which is beneficial in NSCLC as many patients have increased protein expression of EGFR. and degradation.
Pharmacokinetics
Time to steady state: ~100 days
Total systemic clearance at steady-state: 14.1 mL/hr
Vd: 7 L
Half-life: ~14 days
Dosage
Adult
Non-small Cell Lung Cancer
800 mg IV infused over 1 hr on days 1 and 8 of each 3-week cycle prior to gemcitabine and cisplatin infusion
Pediatric
Safety and efficacy not established
Side effects
Diarrhea
,
Acne
,
Headache
,
weight decrease
,
vomiting
,
pulmonary embolism
,
itching
,
dry skin
,
Rash
,
Hypocalcemia
,
conjunctivitis
,
Hypophosphatemia
,
Hypomagnesemia
,
Dermatitis acneiform
Alerts
Discontinue if severe venous or arterial thrombosis occurs
Dermatologic toxicities, including rash, dermatitis acneiform, acne, dry skin, pruritus, generalized rash, skin fissures, maculopapular rash and erythema, occurred in 79% of patients, typically within the first 2 weeks of therapy; limit sun exposure and discontinue for severe toxicity
Infusion-related reactions may occur; discontinue for severe reactions
Not indicated for nonsquamous NSCLC; increased toxicity and increased mortality occurred when necitumumab was added to pemetrexed and cisplatin therapy for these patients
Based on animal data and its mechanism of action, can cause fetal harm when administered to a pregnant woman
Black Box Warnings
Cardiopulmonary arrest and/or sudden death occurred in 3% of patients treated with necitumumab in combination with gemcitabine and cisplatin
Closely monitor serum electrolytes, including serum magnesium, potassium, and calcium, with aggressive replacement when warranted during and after necitumumab (administer drug through dedicated IV line; do not mix with electrolyte or dextrose solutions)
Hypomagnesemia occurred in 83% of patients receiving necitumumab in combination with gemcitabine and cisplatin, and was severe in 20% of patients
Monitor patients for hypomagnesemia, hypocalcemia, and hypokalemia prior to each dose during treatment and for at least 8 weeks following completion
Withhold drug for grade 3 or 4 electrolyte abnormalities
Replete electrolytes as medically appropriate
Points of recommendation
Necitumumab can cause your electrolytes to become unbalanced. This can lead to serious heart problems, including cardiac arrest. You will need frequent blood tests to check your electrolytes (calcium, potassium, and magnesium).
Your doctor may recommend that you take mineral supplements to keep your electrolytes from getting too low. Follow your doctor's dosing instructions very carefully.
Necitumumab can have long-lasting effects on your body. You may need frequent medical tests for at least 8 weeks after you stop using this medicine.
Pregnancy level
X
Use should be avoided.