Drug information of taliglucerase alfa
taliglucerase alfa
Taliglucerasealfa is the recombinant active form of the human lysosomal enzyme, β-glucocerebrosidase.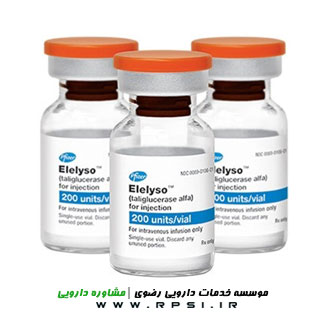 Mechanism of effect
Taliglucerasealfa is different from human glucocerebrosidase by two amino acids at the N terminal and up to 7 amino acids at the C terminal. This recombinant enzyme allows the hydrolysis reaction of glucocerebroside to glucose and ceramide that naturally occurs in healthy individuals.
Pharmacodynamic
Patient's with Type 1 Gaucher disease have a long-term deficiency in the enzyme, glucocerebrosidase. Taliglucerasealfa is a modified form of glucocerebrosidase and is provided to counter this enzyme deficiency, resulting in smaller liver and spleen size, and improved thrombocytopenia and anemia.
Pharmacokinetics
Vd: 7.3-11.7 L
Half-life: 18.9-28.7 minutes
Systemic clearance: 20 L/hr (for 60 units/kg dose)
Dosage
Adult
Gaucher Disease
60 units/kg IV q2weeks initially
Pediatric
Gaucher Disease
<4 years: Safety and efficacy not established
≥4 years: 60 units/kg IV q2weeks initially
Alerts
Anaphylaxis reported; if anaphylaxis occurs, discontinue infusion immediately and initiate appropriate treatment
Allergic and infusion reactions are common and include headache, chest pain or discomfort, asthenia, fatigue, urticaria, erythema, increased blood pressure, back pain, arthralgia, and flushing; if allergic or infusion reactions occur, decrease the infusion rate or temporarily stop the infusion; antihistamines and/or antipyretics may be administered; medical support should be readily available when taliglucerasealfa administered; observe patients closely for an appropriate period of time after administration; reactions have occurred up to 3 hr after the start of infusion
Consider risks and benefits of re-administering taliglucerasealfa in patients who have experienced severe reaction associated with taliglucerasealfa; use caution upon rechallenge; appropriate medical support should be readily available
As with all therapeutic proteins, development of IgG anti-drug antibodies (ADA) has been reported (53%); unknown if presence of ADA is associated with higher risk of infusion reactions or immunogenicity
Monitor patients that have had an immune response to other enzyme replacement therapies or who are switching to taliglucerasealfa; unknown if these patients are at higher risk of infusion reactions
Dizziness and fatigue reported; caution patients against performing dangerous tasks that require mental alertness, including driving heavy machinery