Drug information of meglitol
meglitol
Miglitol delays the digestion of carbohydrates (forms of sugar) in your body. This decreases the amount of sugar that passes into your blood after a meal and prevents periods of hyperglycemia (high blood sugar).
Miglitol is used together with diet and exercise to improve blood sugar control in adults with type 2 diabetes.
Miglitol may also be used for purposes not listed in this medication guide.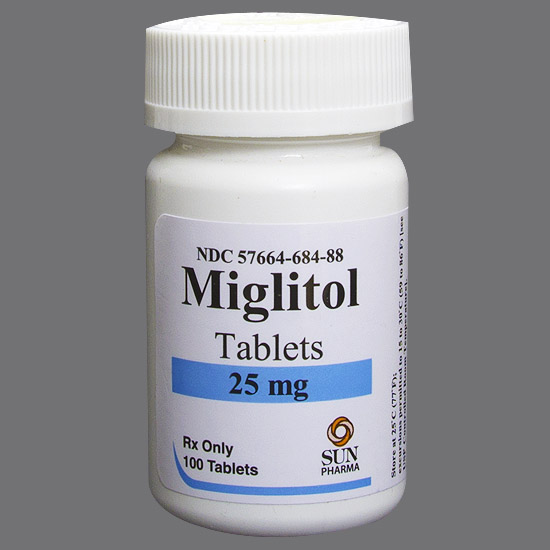 Mechanism of effect
miglitol does not enhance insulin secretion; the antihyperglycemic action of miglitol results from a reversible inhibition of membrane-bound intestinal alpha-glucosidases which hydrolyze oligosaccharides and disaccharides to glucose and other monosaccharides in the brush border of the small intestine. In patients with diabetes, this enzyme inhibition results in delayed glucose absorption and lowering of postprandial hyperglycemia
Pharmacokinetics
Absorption: Saturable at high doses: 25 mg dose: Completely absorbed; 100 mg dose: 50% to 70% absorbed
Distribution: Vd: 0.18 L/kg
Protein binding: <4%
Metabolism: None
Half-life elimination: ~2 hours
Time to peak: 2-3 hours
Excretion: Urine (as unchanged drug)
Drug indications
Diabetes mellitus, type 2 (noninsulin-dependent, NIDDM)
Dosage
Diabetes mellitus, type 2:
Oral: Initial: 25 mg 3 times daily at the start of each meal or may consider 25 mg once daily with gradual titration to 25 mg 3 times daily to minimize GI intolerance. After 4 to 8 weeks dose should be titrated to maintenance dose of 50 mg 3 times daily and continue for ~3 months; if glycosylated hemoglobin is not satisfactory, may further increase to maximum recommended dose: 100 mg 3 times daily. As tolerated, the lowest effective dose should be maintained
Side effects
Diarrhea
,
flatulence
,
skin rush
abdominal pain, diarrhea, gastrointestinal signs and symptoms, and flatulence. Other side effects include: decreased serum iron, and skin rash. See below for a comprehensive list of adverse effects.
acarbose

(teriflunomide)

Bactroban (mupirocin topical)

Claravis (isotretinoin)

digoxin

Gilenya (fingolimod)

Imdur (isosorbide mononitrate)

Jardiance (empagliflozin)

Lexapro (escitalopram)

Librax (chlordiazepoxide / clidinium)

Malarone (atovaquone / proguanil)

metformin

Metoprolol Succinate ER (metoprolol)

Metoprolol Tartrate (metoprolol)

miglustat

Moxeza (moxifloxacin ophthalmic)

Oracea (doxycycline)

Prolensa (bromfenac ophthalmic)

Quillivant XR (methylphenidate)

Suprep Bowel Prep Kit (magnesium sulfate / potassium sulfate / sodium sulfate)

Triumeq (abacavir / dolutegravir / lamivudine)

Ulesfia (benzyl alcohol topical)

Viberzi (eluxadoline)

Vistaril (hydroxyzine)
Alerts
GI symptoms: Most common reactions are gastrointestinal related; incidence of abdominal pain and diarrhea tend to diminish considerably with continued treatment
Hypoglycemia: Hypoglycemia is unlikely to occur with miglitol monotherapy but may occur with combination therapy (eg, sulfonylurea, insulin). In patients taking miglitol, oral glucose (dextrose) should be used instead of sucrose
Points of recommendation
You should not use miglitol if you are allergic to it, or if you have:
an inflammatory bowel disease, ulcerative colitis, Crohn's disease;

a chronic intestinal disorder that affects your digestion;

blockage in your intestines;

a stomach disorder that causes excess gas; or

diabetic ketoacidosis (call your doctor for treatment with insulin).
To make sure miglitol is safe for you, tell your doctor if you have kidney disease.
Miglitol is not expected to harm an unborn baby. Tell your doctor if you are pregnant or plan to become pregnant while using miglitol.
Miglitol can pass into breast milk and may harm a nursing baby. You should not breast-feed while using this medicine.
Do not give this medication to anyone under 18 years old without medical advice
Pregnancy level
Poorly controlled diabetes during pregnancy can be associated with an increased risk of adverse maternal and fetal outcomes, including diabetic ketoacidosis, preeclampsia, spontaneous abortion, preterm delivery, delivery complications, major birth defects, stillbirth, and macrosomia
Drug forms
Glyset