Drug information of Lorcaserin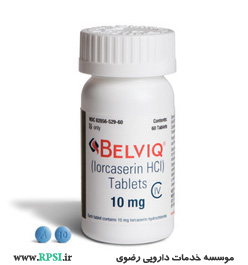 Mechanism of effect
Although the exact mechanism is unknown, it is believed to involve the selective activation of 5-HT2C receptors in the anorexigenic pro-opiomelanocortin neurons in the arcuate nucleus of the hypothalamus. This results in decreased food intake and satiety by promoting the release of alpha-melanocortin stimulating hormone, which acts on melanocortin-4 receptors.
Pharmacodynamic
Lorcaserin produced a dose-dependent weight loss over a 12-week period by promoting satiety and decreasing food consumption.
Pharmacokinetics
Peak Plasma Time: 1.5-2 hr (delayed by 1 hr when administered with food, but not clinically significant)
Peak Plasma Concentration: Increased ~9% with food
AUC: Increased ~5% with food
Protein Bound: 70%
Distributed into CSF and CNS
Metabolism: Metabolized by liver by multiple pathways (extensive)
Metabolites: lorcaserin sulfamate is the major circulating metabolite , N-carbamoyl glucuronide lorcaserin is the major urinary metabolite
Principal metabolites exert no pharmacological activity at serotonin receptors
Half-life: 11 hr
Excretion: Urine 92.3% (mostly as metabolites), feces 2.2%
Dosage
Adult
Obesity
Indicated as an adjunct to a reduced-calorie diet and exercise for chronic weight management with initial BMI ≥30 kg/m² (obese) or ≥27 kg/m² (overweight) with 1 weight-related comorbid condition (eg, hypertension, dyslipidemia, type 2 diabetes mellitus)
Tablets: 10 mg PO q12hr, OR
Extended-release tablets: 20 mg PO qDay
Pediatric
Safety and efficacy not established
Interactions
Sibutramine
,
Tapentadol
,
Phenylpropanolamine
,
Pergolide
,
Amitriptyline
,
Isoniazid
,
Imipramine
,
Buspirone
,
Paroxetine
,
perphenazine
,
Eliglustat
,
eletriptan
,
Mirtazapine
,
cocaine
,
Vilazodone
,
lisdexamfetamine
,
Milnacipran
,
Nefazodone
,
Dextroamphetamine
,
Naratriptan
,
Almotriptan
,
Frovatriptan
,
Methamphetamine
,
Phenelzine
,
isocarboxazid
,
Ziprasidone
,
rasagiline
,
protriptyline
,
meperidine
,
Nortriptyline
,
Venlafaxine
,
Clomipramine
,
Zolmitriptan
,
escitalopram
,
Linezolid
,
Rizatriptan
,
Sertraline
,
Selegiline
,
Fluvoxamine
,
Fluoxetine
,
Lithium carbonate
,
Trazodone
,
Tramadol
,
Tranylcypromine
,
Desipramine
,
Duloxetine
,
Doxepin
,
Desvenlafaxine
,
Dexfenfluramine
,
Levomilnacipran
,
Naltrexone and Bupropion
Alerts
Monitor for serotonin syndrome or NMS-like reactions
Studies suggest possibility of regurgitant valvular heart disease (not likely); monitor if patient has congestive heart failure
Advise patient to take caution when operating hazardous machinery Monitor for worsening of depression, suicidal thoughts or behavior, or any other unusual changes in mood or behavior
Monitor for hypoglycemia with type 2 diabetes mellitus; if hypoglycemia occurs while on therapy; adjust antidiabetic drug regimen
Caution in men with predisposed conditions to priapism (eg sickle cell anemia, multiple myeloma, or leukemia) or anatomical deformation of the penis
Caution with bradycardia or a history of heart block
May cause decrease in white blood cell count and other hematological changes; consider periodic monitoring of CBC
Moderately elevates prolactin levels; obtain prolactin levels if hyperprolactinemia symptoms (eg, gynecomastia) occur
May cause pulmonary hypertension (insufficient data)
May cause confusion, somnolence, fatigue and cognitive impairment; use caution when operating heavy machinery or tasks that require mental alertness
Use in patients with severe hepatic impairment not studied; use caution
Use not recommended in patients with severe renal impairment or end stage renal disease; use caution in moderate renal impairment
Points of recommendation
Follow all directions on your prescription label. Do not take this medicine in larger or smaller amounts or for longer than recommended.
Do not crush, chew, or break an extended-release tablet. Swallow it whole.
You may take lorcaserin with or without food.
You should lose at least 5% of your starting weight during the first 12 weeks of taking lorcaserin and eating a low calorie diet. Call your doctor if you do not lose at least 5% of your starting weight after taking the medicine for 12 weeks.
Lorcaserin is only part of a complete program of treatment that also includes diet, exercise, weight control, and possibly testing your blood sugar. Follow your diet, medication, and exercise routines very closely.
Store at room temperature away from moisture and heat.
Do not share lorcaserin with another person. Keep the medication in a place where others cannot get to it.
Take the missed dose as soon as you remember. Skip the missed dose if it is almost time for your next scheduled dose. Do not take extra medicine to make up the missed dose.