Drug information of Demeclocycline
Demeclocycline
A tetracycline analog having a 7-chloro and a 6-methyl. Because it is excreted more slowly than tetracycline, it maintains effective blood levels for longer periods of time.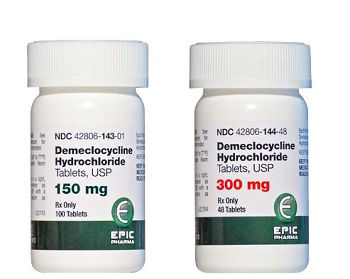 Mechanism of effect
Demeclocycline inhibits cell growth by inhibiting translation. It binds (reversibly) to the 30S and 50S ribosomal subunit and prevents the amino-acyl tRNA from binding to the A site of the ribosome, which impairs protein synthesis by bacteria. The binding is reversible in nature.
Pharmacodynamic
The use in SIADH actually relies on a side-effect of tetracycline antibiotics; many may cause diabetes insipidus (dehydration due to the inability to concentrate urine). It is not completely understood why demeclocycline impairs the action of antidiuretic hormone, but it is thought that it blocks the binding of the hormone to its receptor.
Because it is excreted more slowly than tetracycline, it maintains effective blood levels for longer periods of time.
Pharmacokinetics
Bioavailability: 60-80% (fasting); reduced by ≥50% or more by food or milk
Peak plasma concentration: 0.9-1.2 mcg/mL (150 mg x 1); 1.5-1.7 mcg/mL (300 mg x 1)
Half-life: 11-17 hr; 42-68 hr (severe renal impairment)
Excretion: 44% urine; 31% feces
Dosage
Adult
Susceptible Infections
150 mg PO QID or 300 mg PO BID
Pediatric
Susceptible Infections
≤8 years: Safety and efficacy not established (see Cautions)
>8 years: 6.6-13.2 mg/kg/day PO divided BID/TID
Alternatively, 300 mg/m&sup2/day PO divided BID/TID
Interactions
Tretinoin
,
Succinylcholine
,
Calcium citrate
,
Succinylcholine Chloride
,
Oxacillin
,
Magnesium hydroxide
,
Iron
,
ampicillin
,
Isotretinoin
,
Penicillin G
,
Penicillin V
,
Sodium bicarbonate
,
Iron sucrose
,
nafcillin
,
magnesium citrate
,
dicloxacillin
,
Ferrous Gluconate
,
Pivmecillinam
,
Tubocurarine
,
flucloxacillin
,
magnesium chloride
,
Rocuronium
,
Strontium Ranelate
,
carbonyl iron
,
aminolevulinic acid oral
,
Rapacuronium
,
temocillin
,
Pancuronium
,
Methoxyflurane
,
Calcium acetate
,
Calcium chloride
,
sodium citrate + citric acid
,
Aluminium hydroxide
,
Cis atracurium
,
Magnesium oxide
,
Magnesium sulfate
,
acitretin
,
Ticarcillin
,
Vecuronium
,
Iron polysaccharide
,
Aminolevulinic acid topical
,
Aluminium Mg
,
cholera vaccine live
,
etertinate
,
Iron Dextran Complex
,
Typhoid vaccine (live), oral
,
Bacampicillin
Alerts
Photosensitivity may occur with prolonged exposure to sunlight or tanning equipment
Reduce dose in renal impairment
Consider drug serum level determinations in prolonged therapy
Tetracycline use during tooth development (last one-half of pregnancy through age 8 y) can cause permanent discoloration of teeth
Fanconilike syndrome may occur with outdated tetracyclines
Points of recommendation
Avoid driving and doing other tasks or actions that call for you to be alert until you see how demeclocycline affects you.
Do not use longer than you have been told. A second infection may happen.
You may get sunburned more easily. Avoid sun, sunlamps, and tanning beds. Use sunscreen and wear clothing and eyewear that protects you from the sun.
This medicine may cause a change in tooth color to yellow-gray-brown in children younger than 8 years old. If this change of tooth color happens, it will not go away. Talk with the doctor.
Birth control pills and other hormone-based birth control may not work as well to prevent pregnancy. Use some other kind of birth control also like a condom when taking demeclocycline.
This medicine may cause harm to the unborn baby if you take it while you are pregnant. If you are pregnant or you get pregnant while taking demeclocycline, call your doctor right away.
To gain the most benefit, do not miss doses.
Keep using demeclocycline as you have been told by your doctor or other health care provider, even if you feel well.
Take on an empty stomach. Take 1 hour before or 2 hours after meals.
Take with a full glass of water.
Drink lots of noncaffeine liquids unless told to drink less liquid by your doctor.
Do not take bismuth, calcium, iron, magnesium, zinc, multivitamins with minerals, colestipol, cholestyramine, didanosine, or antacids within 2 hours of demeclocycline.
Take a missed dose as soon as you think about it.
If it is close to the time for your next dose, skip the missed dose and go back to your normal time.
Do not take 2 doses at the same time or extra doses.