Drug information of Chlorzoxazone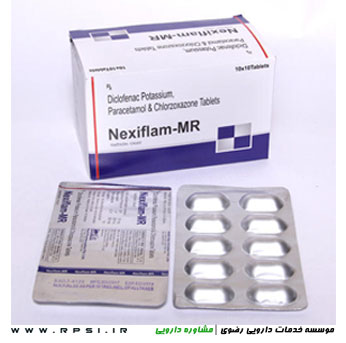 Mechanism of effect
Chlorzoxazone inhibits degranulation of mast cells, subsequently preventing the release of histamine and slow-reacting substance of anaphylaxis (SRS-A), mediators of type I allergic reactions. Chlorzoxazone also may reduce the release of inflammatory leukotrienes. Chlorzoxazone may act by inhibiting calcium and potassium influx which would lead to neuronal inhibition and muscle relaxation. Data available from animal experiments as well as human study indicate that chlorzoxazone acts primarily at the level of the spinal cord and subcortical areas of the brain where it inhibits multisynaptic reflex arcs involved in producing and maintaining skeletal muscle spasm
Pharmacodynamic
Chlorzoxazone, a synthetic compound, inhibits antigen-induced bronchospasms and, hence, is used to treat asthma and allergic rhinitis. Chlorzoxazone is used as an ophthalmic solution to treat conjunctivitis and is taken orally to treat systemic mastocytosis and ulcerative colitis.
Chlorzoxazone is also a centrally-acting agent for painful musculoskeletal conditions. Data available from animal experiments as well as human study indicate that chlorzoxazone acts primarily at the level of the spinal cord and subcortical areas of the brain where it inhibits multisynaptic reflex a.c. involved in producing and maintaining skeletal muscle spasm of varied etiology. The clinical result is a reduction of the skeletal muscle spasm with relief of pain and increased mobility of the involved muscles.
Pharmacokinetics
Half-life: 66 min
Onset: 1 hr
Duration: 6-12 hr
Peak Plasma Time: 1-4 hr
Peak Plasm Concentration: 9-20 mcg/mL
Metabolism: Rapid hepatic glucuronidation
Metabolites: 6-hydroxychlorzoxazone (inactive; rapidly excreted in urine)
Excretion: Urine (primarily)
Dosage
Adult
Musculoskeletal Pain
250-750 mg PO q6-8hr
Pediatric
Muscle Spasms
20 mg/kg/day PO divided q6-8hr or 600 mg/m²/day PO divided q6-8hr
Alerts
May cause drowsiness/dizziness
May take with food to avoid stomach upset
Poor tolerance by the elderly
Points of recommendation
Avoid driving and doing other tasks or actions that call for you to be alert until you see how chlorzoxazone affects you.
Talk with your doctor before you drink alcohol or use other drugs and natural products that slow your actions.
This medicine is used with rest, PT (physical therapy), pain drugs, and other therapies.
Rarely, chlorzoxazone may change the color of the urine. This is normal and not a cause for concern.
Tell your doctor if you are pregnant or plan on getting pregnant. You will need to talk about the benefits and risks of using chlorzoxazone while you are pregnant.
Tell your doctor if you are breast-feeding. You will need to talk about any risks to your baby.
Take with or without food. Take with food if it causes an upset stomach.
If you take chlorzoxazone on a regular basis, take a missed dose as soon as you think about it.
If it is close to the time for your next dose, skip the missed dose and go back to your normal time.
Do not take 2 doses at the same time or extra doses.