Drug information of Tipranavir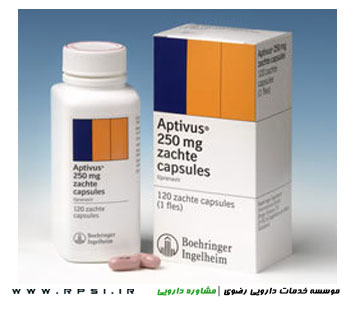 Mechanism of effect
Tipranavir (TPV) is a non-peptidic HIV-1 protease inhibitor that inhibits the processing of the viral Gag and Gag-Pol polyproteins in HIV-1 infected cells, thus preventing formation of mature virions. Two mechanisms are suggested in regards to the potency of tipranavir:
Tipravanir may bind to the active site of the protease enzyme with fewer hydrogen bonds than peptidic protease inhibitors, which results in increased flexibility, allowing it to fit into the active site of the enzyme in viruses that have become resistance to other protease inhibitors.
This also enables tipranavir to adjust to amino acid substitutions at the active site. 2. Tipranavir's strong hydrogen bonding interaction with the amide backbone of the protease active site Asp30 may lead to its activity against resistant viruses.
Pharmacodynamic
Tipranavir is a non-peptidic protease inhibitor (PI) of HIV. HIV-1 protease is an enzyme required for the proteolytic cleavage of the viral polyprotein precursors into the individual functional proteins found in infectious HIV-1. This inhibition prevents cleavage of the viral polyproteins resulting in the formation of immature non-infectious viral particles. Protease inhibitors are almost always used in combination with at least two other anti-HIV drugs.
Pharmacokinetics
Bioavailability: Increased by food
Protein Bound: 99.9%
Vd: 7.7-10 L
Half-Life: 5.5-6 hr
Metabolism: primarily by liver CYP3A4
Excretion: Feces (82.3% ); urine (4%)
Peak plasma time: 3 hr
Dosage
Adult
HIV Infection
500 mg PO q12hr; coadministration with ritonavir 200 mg PO q12hr is required (boosted therapy)
Pediatric
HIV Infection
<2 years: Safety and efficacy not established
≥2 years: 14 mg/kg plus ritonavir 6 mg/kg PO q12hr, OR
375 mg/m² plus ritonavir 150 mg/m² PO q12hr
Not to exceed adult dose of 500 mg plus ritonavir 200 mg PO q12hr
Side effects
anemia
,
Diarrhea
,
Nosebleeds
,
Headache
,
weight decrease
,
nausea
,
vomiting
,
fever
,
myalgia
,
tiredness
,
shortness of breath
,
Abdominal pain
,
Rash
Interactions
Medroxyprogesterone
,
Midazolam
,
fentanyl
,
Axitinib
,
saquinavir
,
fenoprofen
,
Copanlisib
,
Alprazolam
,
Amiodarone
,
Erythromycin
,
Itraconazole
,
Irinotecan
,
Paroxetine
,
lurasidone
,
st. john's wort
,
Venetoclax
,
riociguat
,
conivaptan
,
bosutinib
,
bedaquiline
,
neratinib
,
vemurafenib
,
Edoxaban
,
Cabozantinib
,
Cobimetinib
,
Ceritinib
,
Eliglustat
,
Ruxolitinib
,
Ergoloid Mesylate
,
Palbociclib
,
Ibrutinib
,
Pimavanserin
,
trabectedine
,
Avanafil
,
Simeprevir
,
Etravirine
,
Acalabrutinib
,
Nintedanib
,
Terfenadine
,
Alfuzosin
,
Ribociclib
,
Idelalisib
,
brigatinib
,
Triazolam
,
Regorafenib
,
Ponatinib
,
Ivabradine
,
Afatinib
,
Eluxadoline
,
Lopinavir
,
Osimertinib
,
Mefloquine
,
Oxycodone
,
Lomitapide
,
Ethinyl Estradiol
,
meperidine
,
eletriptan
,
Vilazodone
,
ledipasvir and sofosbuvir
,
ergotamine
,
Rifabutin
,
Rifapentine
,
Quinidine
,
Dabigatran
,
Ketoconazole
,
Clarithromycin
,
Flecainide
,
Disulfiram
,
Daclatasvir
,
Sofosbuvir
,
Fluvoxamine
,
Fluoxetine
,
Lovastatin
,
Voriconazole
,
Cabergoline
,
Carbamazepine
,
Disopyramide
,
Rifampin
,
Cimetidine
,
Cisapride
,
Simvastatin
,
Fluticasone
,
Propafenone
,
Pimozide
,
Tamsulosin
,
Thioridazine
,
Duloxetine
,
Dihydroergotamine
,
Tositumomab
,
Ibritumomab tiuxetan
,
Dabrafenib
,
Dolutegravir
,
Antithrombin III
,
Sofosbuvir and velpatasvir
,
Binimetinib
,
Ixazomib
,
Tasimelteon
,
Betrixaban
,
Ramucirumab
,
raltegravir
,
Cefamandole
,
Flibanserin
,
Entrectinib
,
ELBASVIR/GRAZOPREVIR
,
Abemaciclib
,
Urokinase
,
Triphasic
,
Dasatinib
,
Cannabidiol
,
Sarecycline
,
vorapaxar
,
cangrelor
,
defibrotide
Alerts
Caution in mild hepatic impairment
Risk of severe, potentially fatal hepatotoxicity
Not recommended in treatment-naive patients
May have antiplatelet/anticoagulant action
Risk of immune reconstitution syndrome if used in combination with other antiretroviral drugs
Fat redistribution with "cushingoid appearance" and "buffalo hump" may occur
Autoimmune disorders (such as Graves' disease, polymyositis, and Guillain-Barré syndrome) have also been reported to occur in the setting of immune reconstitution; however, the time to onset is more variable, and can occur many months after initiation of treatment
Must be coadministered with ritonavir
Sulfonamide allergy
Coadministration with other CYP3A4 substrates (ritonavir inhibits CYP3A4 and increases toxicity risk for drugs metabolized by CYP3A4)
Increased risk of rash, especially with hormonal contraceptives
Use of drug may reduce efficacy of estrogen-based oral contraceptives; advise patients to use alternative methods of nonhormonal contraception
Risk of large increase in total cholesterol and triglycerides
Contains 116 IU/mL vitamin E (>RDA); limit supplemented vitamin E
Black Box Warnings
Hepatitis and hepatic decompensation, including some fatalities, reported; extra vigilance warranted with chronic hepatitis B or hepatitis C coinfection because of increased risk of hepatotoxicity
Intracranial hemorrhage, both fatal and nonfatal, reported
Points of recommendation
This medicine interacts with many other drugs. The chance of this medicine (tipranavir capsules)'s side effects may be raised or how well this medicine (tipranavir capsules) works may be lowered. The chance of the other drugs' side effects may also be raised. This may include very bad, life-threatening, or deadly side effects. Check with your doctor and pharmacist to make sure that it is safe for you to take this medicine (tipranavir capsules) with all of your other drugs (prescription or OTC, natural products, vitamins).
High blood sugar has happened with this medicine (tipranavir capsules). This includes diabetes that is new or worse. Talk with the doctor.
Check your blood sugar as you have been told by your doctor.
Some people with hemophilia have had times of more bleeding when taking drugs like this one. If you have hemophilia, talk with your doctor.
This medicine may cause high cholesterol and triglyceride levels. Talk with the doctor.
Have blood work checked as you have been told by the doctor. Talk with the doctor.
This medicine is not a cure for HIV. Stay under the care of your doctor.
This medicine may make you sunburn more easily. Use care if you will be in the sun. Tell your doctor if you sunburn easily while taking this drug.
This medicine does not stop the spread of diseases like HIV or hepatitis that are passed through blood or having sex. Do not have any kind of sex without using a latex or polyurethane condom. Do not share needles or other things like toothbrushes or razors. Talk with your doctor.
Birth control pills and other hormone-based birth control may not work as well to prevent pregnancy. Use some other kind of birth control also like a condom when taking this medicine (tipranavir capsules).
Tell your doctor if you are pregnant or plan on getting pregnant. You will need to talk about the benefits and risks of using this medicine (tipranavir capsules) while you are pregnant.
If your child's weight changes, talk with the doctor. The dose of this medicine (tipranavir capsules) may need to be changed.
Swallow whole. Do not chew, open, or crush.
This medicine must be taken with another drug called ritonavir. If you take ritonavir capsules or liquid (solution), take this medicine (tipranavir capsules) with or without meals. If you take ritonavir tablets, take this medicine (tipranavir capsules) with meals.
Do not take didanosine within 2 hours of this medicine (tipranavir capsules).
Keep taking this medicine (tipranavir capsules) as you have been told by your doctor or other health care provider, even if you feel well.
It is important that you do not miss or skip a dose of this medicine (tipranavir capsules) during treatment.
Take a missed dose as soon as you think about it.
If it is close to the time for your next dose, skip the missed dose and go back to your normal time.
Do not take 2 doses at the same time or extra doses.