Drug information of Ibandronate
Ibandronate
Ibandronate is a nitrogen-containing bisphosphonate in the same class as alendronate and risedronate. Ibandronate inhibits osteoclast-mediated bone resorption. All of the bisphosphonates prevent the breakdown of bone by bone cells called osteoclasts. In persons who are at high risk for osteoporosis, bisphosphonates not only result in increased amounts of bone and bone strength, they also reduce the risk of hip fractures and other bone fractures.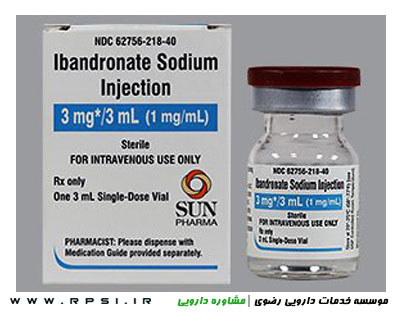 Mechanism of effect
The action of ibandronate on bone tissue is based partly on its affinity for hydroxyapatite, which is part of the mineral matrix of bone. Nitrogen-containing bisphosphonates (such as pamidronate, alendronate, risedronate, ibandronate and zoledronate) appear to act as analogues of isoprenoiddiphosphate lipids, thereby inhibiting farnesyl pyrophosphate (FPP) synthase, an enzyme in the mevalonate pathway.
Inhibition of this enzyme in osteoclasts prevents the biosynthesis of isoprenoid lipids (FPP and GGPP) that are essential for the post-translational farnesylation and geranylgeranylation of small GTPasesignalling proteins. This activity inhibits osteoclast activity and reduces bone resorption and turnover. In postmenopausal women, it reduces the elevated rate of bone turnover, leading to, on average, a net gain in bone mass.
Pharmacodynamic
. In persons who are at high risk for osteoporosis, bisphosphonates not only result in increased amounts of bone and bone strength, they also reduce the risk of hip fractures and other bone fractures.
Pharmacokinetics
Half-Life for 150 mg tablet: 37-157 hours
Peak Plasma Time: 1 hr
Bioavailability: 0.6% compared with IV dosing
Protein Bound: 90-99%
Vd: 90 L
Metabolism: none
Clearance:
Total body: 84-160 mL/min
Renal: 42-80 mL/min
Excretion: Urine (50-60%), feces (unabsorbed drug)
Dosage
Adult
Osteoporosis
Indicated for treatment and prevention of osteoporosis in postmenopausal women; increases BMD and reduces vertebral fracture incidence
150 mg PO every month OR
3 mg IV every 3 months administered over 15-30 seconds (Treatment only)
Interactions
Zinc
,
Selenium
,
Meglumine Compound
,
Iron
,
Iopamidol
,
Iopromide
,
Iodixanol
,
Tacrolimus
,
Tenofovir
,
Deferasirox
,
Iothalamate Meglumine
,
botulism immune globulin
,
Cytomegalovirus immune globulin (CMV IG)
,
Sirolimus
,
Lamivudine
,
iohexol (Omnipaque)
,
Cidofovir
,
Metrizamide
,
Diatrizoate (Amidotrizoic acid)
,
Ioxaglate
Alerts
Potential for esophagitis, dysphagia & esophageal ulcers
Severe esophageal risk greater in patients who lie down after taking oral bisphosphonates and/or who fail to swallow it with the recommended full glass (6-8 oz) of water
Do not continue to take oral bisphosphonates after developing symptoms suggestive of esophageal irritation
Food decreases bioavailability
Ensure adequate intake of calcium, vitamin D; correct hypocalcemia before use
Osteonecrosis of the jaw, can occur spontaneously and is generally associated with tooth extraction and/or local infection with delayed healing; known risk factors include invasive dental procedures (e.g., tooth extraction, dental implants, boney surgery), diagnosis of cancer, concomitant therapies (e.g., chemotherapy, corticosteroids, angiogenesis inhibitors), poor oral hygiene, and co-morbid disorders; risk of osteonecrosis of the jaw may increase with duration of exposure to bisphosphonates
Risk of severe bone, joint and/or muscle pain; consider discontinuing if symptoms develop
Possible increased risk for atypical subtrochanteric and diaphyseal femur fractures; consider periodic reevaluation of need for continued bisphosphonate therapy, particularly if treatment >5 years; patients with new thigh or groin pain should be evaluated to rule out a femoral fracture
Not recommended in severe renal impairment (CrCl<30 mL/min)
Avoid concomitant multivalent cation-containing drugs or food
Esophageal cancer risk
Instruct patients to contact their healthcare provider if they develop symptoms of esophagitis (eg, swallowing difficulties, chest pain, new or worsening heartburn, trouble or pain when swallowing)
Points of recommendation
Worsening of asthma has happened in people taking drugs like this one. Talk with the doctor.
Very bad and sometimes deadly allergic side effects have rarely happened. Talk with your doctor.
This medicine may raise the chance of a broken leg. Talk with the doctor.
Have a bone density test as you have been told by your doctor. Talk with your doctor.
Have blood work checked as you have been told by the doctor. Talk with the doctor.
This medicine may affect certain lab tests. Tell all of your health care providers and lab workers that you take ibandronate injection.
Follow the diet and workout plan that your doctor told you about.
This medicine works best when used with calcium/vitamin D and weight-bearing workouts like walking or PT (physical therapy).
Have a dental exam before starting ibandronate injection.
Take good care of your teeth. See a dentist often.
Talk with your doctor before you drink alcohol.
If you smoke, talk with your doctor.