Drug information of Tocilizumab
Tocilizumab
Tocilizumab is a recombinant, humanized, anti-human interleukin 6 (IL-6) receptor monoclonal antibody that achieves a significant therapeutic response rate. The light chain is made up of 214 amino acids. The heavy chain is made up of 448 amino acids. The four polypeptide chains are linked intra- and inter-molecularly by disulfide bonds. FDA approved on January 8, 2010.
Tocilizumab (injection) was further approved by the FDA for the treatment of adults with giant cell arteritis, an inflammation of the blood vessels (vasculitis) in May, 2017. In a double-blind, placebo-controlled study, the patients achieved sustained remission from Week 12 through Week 52, which was associated with significant improvements in symptoms of giant cell arteritis, normalization of inflammatory laboratory tests and tapering the use of corticosteroids.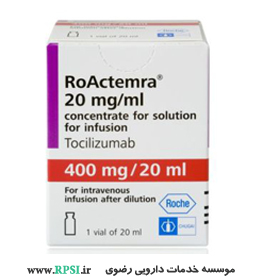 Mechanism of effect
Tocilizumab is an antagonist of the interleukin-6 (IL-6) receptor. Endogenous IL-6 is induced by inflammatory stimuli and mediates a variety of immunological responses. Inhibition of IL-6 receptors by tocilizumab leads to a reduction in cytokine and acute phase reactant production.
Pharmacodynamic
A decrease in C-reactive protein (CRP) was noted as early as week 2. Changes in pharmacodynamic parameters were observed (i.e., decreases in rheumatoid factor, erythrocyte sedimentation rate (ESR), serum amyloid A and increases in hemoglobin) with both doses, however the greatest improvements were observed with 8 mg per kg tocilizumab.
Pharmacokinetics
Absorption
Peak plasma time: 1 hr
Distribution
Vd: 6.4L
Elimination
Half-life: up to 11 days (4 mg/kg); up to 13 days (8 mg/kg)
Dosage
Injection, solution for IV infusion
20mg/mL in 4, 10, and 20mL vials
Single-use prefilled syringe for SC injection
162mg/0.9mL
Rheumatoid Arthritis
Indicated for adults with moderate-to-severe active rheumatoid arthritis with inadequate response to 1 or more DMARDs as an IV infusion or SC injection
May use alone or in combination with methotrexate or other DMARDs
IV infusion
4 mg/kg IV q4weeks initially; may increase to 8 mg/kg q4wk based on clinical response
Not to exceed 800 mg/dose q4weeks
SC injection
Weight <100 kg: 162 mg SC every other week, followed by an increase to every week based on clinical response
Weight ≥100 kg: 162 mg SC every week
Giant Cell Arteritis
Indicated for treatment of giant cell arteritis (GCA) in adults
162 mg SC once weekly in combination with a tapering course of glucocorticoids
May be used alone following discontinuation of glucocorticoids, IV administration is not approved for GCA.
Cytokine Release Syndrome
Indicated for the treatment of chimeric antigen receptor (CAR) T cell-induced severe or life-threatening cytokine release syndrome (CRS) in adults and pediatric patients aged ≥2 years
SC is not approved for CRS
8 mg/kg IV; may administer up to 3 additional doses of tocilizumab if no clinical improvement in signs/symptoms of CRS after first dose; not to exceed 800 mg/dose
Interval between consecutive doses should be >8 hr
May be administered as monotherapy or with corticosteroids
Interactions
Thymoglubin
,
Golimumab
,
Hib vaccine
,
Alprazolam
,
Amlodipine
,
Methotrexate
,
Hydroxychloroquine
,
Canakinumab
,
Basiliximab
,
Alefacept
,
Abatacept
,
Adenovirus types 4 and 7 live, oral
,
Baricitinib
,
Doravirine
,
Clorazepate
,
Rilonacept
,
Hepatitis B Vaccine
,
Cabozantinib
,
Cariprazine
,
Cobimetinib
,
Temsirolimus
,
Remdesivir
,
Typhoid vaccine (live), oral
,
Meningococcal conjugate vaccine
,
Rabies Vaccine
,
Benralizumab
,
RESLIZUMAB
,
alirocumab
Alerts
Concerns related to adverse effects:
Elevated liver enzymes: Tocilizumab is associated with transaminase elevations. Monitor transaminases. Treatment should be discontinued in patients who develop elevated ALT or AST >5 x ULN. Patients receiving concomitant hepatotoxic drugs (eg, methotrexate) are at an increased risk of developing elevated transaminases; elevations are typically reversible and do not result in clinically evident hepatic injury.
GI perforation: Use with caution in patients at increased risk for GI perforation. Monitor for new-onset abdominal symptoms; promptly evaluate if new symptoms occur.
Hematologic effects: Neutropenia and thrombocytopenia may occur; may require treatment interruption, dose or interval modification, or discontinuation. Monitor neutrophils and platelets. Do not initiate treatment in patients with giant cell arteritis, juvenile idiopathic arthritis, rheumatoid arthritis, or systemic juvenile idiopathic arthritis with platelet count <100,000/mm3; discontinue treatment for platelet count <50,000/mm3.
Hyperlipidemia: Therapy is associated with increases in total cholesterol, triglycerides, LDL, and/or HDL; monitor ~4 to 8 weeks after initiation, then approximately every 6 months. Hyperlipidemia should be managed according to current guidelines.
Hypersensitivity: May cause hypersensitivity or anaphylaxis; fatalities have been reported with IV administration; Stop immediately and permanently discontinue treatment in patients who develop a hypersensitivity reaction to tocilizumab.
Infections: Serious and potentially fatal infections (including active tuberculosis, invasive fungal, bacterial, viral, protozoal, and other opportunistic infections) have been reported in patients receiving tocilizumab; infection may lead to hospitalization or death. Most of the serious infections have occurred in patients on concomitant immunosuppressive therapy. Patients should be closely monitored for signs and symptoms of infection during and after treatment. If serious infection occurs during treatment, withhold tocilizumab until infection is controlled. The most common serious infections occurring have included pneumonia, UTI, cellulitis, herpes zoster, gastroenteritis, diverticulitis, sepsis, and bacterial arthritis.
Disease-related concerns:
Demyelinating CNS disease: Use with caution in patients with preexisting or recent onset CNS demyelinating disorders; rare cases of CNS demyelinating disorders have occurred. All patients should be monitored for signs and symptoms of demyelinating disorders.
Hepatic impairment: Use is not recommended in patients with active hepatic disease or hepatic impairment. Monitor ALT and AST. Do not initiate treatment if ALT or AST is >1.5 times ULN.
Special populations:
Elderly: Infection has been reported at a higher incidence in elderly patients compared with younger adults; use with caution in elderly patients.
Points of recommendation
Serious and sometimes fatal infections may occur during treatment with Actemra. Patients should stop using this medicine and call doctor right away if have signs of infection such as: fever, chills, body aches, flu symptoms, cough, sweating, feeling short of breath, diarrhea, weight loss, sores on your skin, painful urination, or feeling very tired.
Patients should tell doctor if they have ever had tuberculosis, if anyone in their household has tuberculosis, or if they have recently traveled to an area where certain infections are common.
It is not known whether this medicine will harm an unborn baby. Patients should tell doctor if they are pregnant or plan to become pregnant.
It is not known whether tocilizumab passes into breast milk. Patients should not breast-feed while they are using tocilizumab.
Pregnancy level
Consult a physician before using