Drug information of Reteplase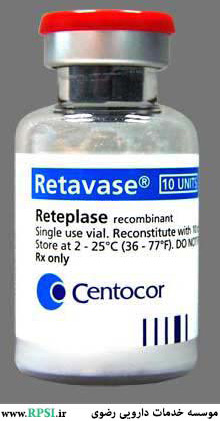 Mechanism of effect
Reteplase is a recombinant plasminogen activator which catalyzes the cleavage of endogenous plasminogen to generate plasmin. Plasmin in turn degrades the fibrin matrix of the thrombus, thereby exerting its thrombolytic action.
Pharmacokinetics
Half-Life: 13-16 min
Onset: Coronary thrombolysis occurs in 30 min, reaches peak response at 30-90 min
Metabolism: Inactivated by blood components C1 inactivator, alfa-1-antitrypsin, alfa-2-antiplasmin
Excretion: Urine and feces
Plasma clearance: 250-450 mL/min
Drug indications
ST-elevation myocardial infarction, acute.
Dosage
ST-elevation myocardial infarction (STEMI), acute: IV: 10 units IV over 2 minutes, followed by a second dose 30 minutes later of 10 units IV over 2 minutes
Side effects
edema
,
nausea
,
vomiting
,
Seizures
,
hypotension
,
cardiac arrhythmias
,
fever
,
back pain
,
hemorrhage
,
Angina pectoris
Reperfusion arrhythmias, hypotension,Dizziness, fever, severe headache,Anemia, cholesterol embolization, GI/GU bleeding, intracranial hemorrhage,Nausea, vomiting,Cardiac reinfarction,Cardiogenic shock,Muscle pain,Allergic reaction, injection site reaction
Interactions
Tanacetum parthenium , Feverfew
,
Dipyridamole
,
Dipyridamol+aspirin
,
Heparin
,
Curcuma
,
Dabigatran
,
Apixaban
,
Desirudin
,
Ginkgo biloba
,
Tositumomab
,
Ibritumomab tiuxetan
,
Human Prothrombin
,
Betrixaban
,
Ramucirumab
,
Cordyceps
,
Netonal
,
Aprotinin
,
Dasatinib
,
cangrelor
,
defibrotide
Agents with Antiplatelet Properties (e.g., P2Y12 inhibitors, NSAIDs, SSRIs, etc.) ,Anticoagulants ,
Aprotinin ,Dabigatran Etexilate ,Desirudin
Herbs (Anticoagulant/Antiplatelet Properties) (eg, Alfalfa, Anise, Bilberry) ,Limaprost ,Prostacyclin Analogues
Alerts
-Recent major surgery, cerebrovascular disease, recent GI or GU bleeding, HTN, acute pericarditis, hemostatic defects, severe thrombophlebitis, severe hepatic/renal dysfunction, currently receiving oral anticoagulants, diabetic hemorrhagic retinopathy, elderly
-Monitor potential bleeding sites
-Cholesterol embolism reported
-Ischemic Stroke: may have no benefit if used after 3 hr of onset
-Current use of warfarin and INR in high range may increase bleeding risk
- Arrhythmias: Coronary thrombolysis may result in reperfusion arrhythmias
- Internal bleeding or external bleeding
-Hypersensitivity reactions: Have been reported, including glossal edema, hypotension, and respiratory distress.
-Thromboembolic events
Points of recommendation
-Monitor all potential bleeding sites. If serious bleeding occurs, the infusion of reteplase and any other concurrent anticoagulants (eg, heparin) should be stopped and the patient should be treated appropriately.
-Antiarrhythmic therapy should be available during therapy
-If anaphylactoid reaction occurs, withhold second dose of reteplase and initiate appropriate therapy.
-Use with caution in patients with advanced age (eg, >75 years); increased risk of bleeding
-Intramuscular injections and nonessential handling of the patient should be avoided. Venipunctures should be performed carefully and only when necessary. Avoid internal jugular and subclavian venous punctures. If arterial puncture is necessary, use an upper extremity vessel that can be manually compressed.
Pregnancy level
C
Adverse events have been observed in some animal reproduction studies. The risk of bleeding may be increased in pregnant women.
Breast feeding warning
Not known whether drug crosses into breast milk, Because many drugs are excreted in human milk, the manufacturer recommends caution when reteplase is administered to nursing women.
Drug forms
Retavase