Drug information of Eravacycline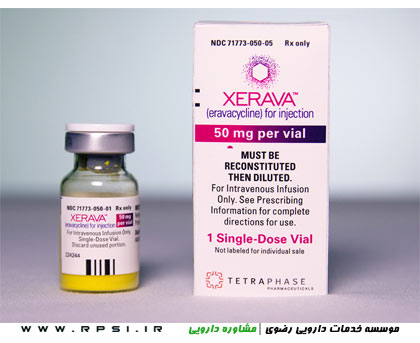 Mechanism of effect
Eravacycline is a fluorocycline antibacterial of the tetracycline class of antibacterial drugs. Eravacycline disrupts bacterial protein synthesis by binding to the 30S ribosomal subunit, preventing the incorporation of amino acid residues into elongating peptide chains.
In general, eravacycline is bacteriostatic against gram-positive bacteria (e.g., Staphylococcus aureus and Enterococcus faecalis); however, in vitro bactericidal activity has been shown against certain strains of Escherichia coli and Klebsiella pneumonia.
Pharmacodynamic
Eravacycline is an antibiotic that disrupts bacterial protein synthesis, treating complicated intraabdominal infections.
Pharmacokinetics
Absorption: Following single-dose intravenous administration, eravacycline AUC (area under the curve) and Cmax (maximum concentration) increase dose-proportionally for doses from 1 mg/kg - 3 mg/kg (3 times the approved dose). There is approximately 45% accumulation following intravenous dosing of 1 mg/kg every 12 hours.
Volume of distribution: The volume of distribution at steady-state is approximately 321 L.
Protein binding: Protein binding of eravacycline to human plasma proteins increases with increasing plasma concentrations, with 79% to 90% (bound) at plasma concentrations ranging from 100 to 10,000 ng/mL.
Metabolism: Eravacycline is metabolized primarily by CYP3A4- and FMO-mediated oxidation.
Route of elimination: Following a single intravenous dose of radiolabeled eravacycline 60 mg, approximately 34% of the dose is excreted in urine and 47% in feces as unchanged eravacycline (20% in urine and 17% in feces) and metabolites.
Half life: The mean elimination half-life is 20 hours
Clearance: 17.82 L/min
Drug indications
Eravacycline is indicated for the treatment of complicated intra-abdominal infections (cIAI) caused by susceptible microorganisms: Escherichia coli, Klebsiella pneumoniae, Citrobacter freundii, Enterobacter cloacae, Klebsiella oxytoca, Enterococcus faecalis, Enterococcus faecium, Staphylococcus aureus, Streptococcus anginosus group, Clostridium perfringens, Bacteroides species, and Parabacteroides distasonis in patients 18 years or older.
Dosage
The recommended dose regimen of ERAVACYCLINE is 1 mg/kg every 12 hours. Administer intravenous infusions of ERAVACYCLINE over approximately 60 minutes every 12 hours. The recommended duration of treatment with ERAVACYCLINE for cIAI is 4 to 14 days.
The duration of therapy should be guided by the severity and location of infection and the patient's clinical response.
Drug contraindications
Known hypersensitivity to eravacycline, tetracycline-class antibacterial drugs, or any of the excipients in ERAVACYCLINE
Side effects
nausea
,
vomiting
,
Injection-site reaction
Hypersensitivity Reactions
• Tooth Discoloration
• Inhibition of Bone Growth
• Clostridium difficile-Associated Diarrhea
• Tetracycline Class Adverse Reactions
Adverse reactions occurring at 3% or greater in patients receiving ERAVACYCLINE were infusion site reactions, nausea and vomiting.
Interactions
Effect of Strong CYP3A Inducers on ERAVACYCLINE : Concomitant use of strong CYP3A inducers decreases the exposure of eravacycline, which may reduce the efficacy of ERAVACYCLINE . Increase ERAVACYCLINE dose in patients with concomitant use of a strong CYP3A inducer.
Anticoagulant Drugs: Because tetracyclines have been shown to depress plasma prothrombin activity, patients who are on anticoagulant therapy may require downward adjustment of their anticoagulant dosage.
Alerts
Hypersensitivity Reactions: Life-threatening hypersensitivity (anaphylactic) reactions have been reported with ERAVACYCLINE . ERAVACYCLINE is structurally similar to other tetracycline-class antibacterial drugs and should be avoided in patients with known hypersensitivity to tetracycline class antibacterial drugs.
The use of ERAVACYCLINE during tooth development (last half of pregnancy, infancy and childhood to the age of 8 years) may cause permanent discoloration of the teeth (yellow-grey-brown).
The use of ERAVACYCLINE during the second and third trimester of pregnancy, infancy and childhood up to the age of 8 years may cause reversible inhibition of bone growth.
Clostridium difficile associated diarrhea (CDAD) has been reported with use of nearly all antibacterial agents, and may range in severity from mild diarrhea to fatal colitis. Treatment with antibacterial agents alters the normal flora of the colon leading to overgrowth of C. difficile.
Points of recommendation
Before using eravacycline, tell your doctor or pharmacist if you are allergic to it; or to other tetracyclines (such as doxycycline); or if you have any other allergies.
Before using this medication, tell your doctor or pharmacist your medical history, especially of liver problems.
This medication may make you more sensitive to the sun. Limit your time in the sun. Avoid tanning booths and sunlamps. Use sunscreen and wear protective clothing when outdoors.
Pregnancy level
D
ERAVACYCLINE , like other tetracycline-class antibacterial drugs, may cause discoloration of deciduous teeth and reversible inhibition of bone growth when administered during the second and third trimester of pregnancy.
Related drugs