Drug information of Doravirine
Doravirine
Doravirine is an antiviral medicine that prevents human immunodeficiency virus (HIV) from multiplying in your body.
Doravirine is used together with other medicines to treat HIV, the virus that can cause acquired immunodeficiency syndrome (AIDS). Doravirine is not a cure for HIV or AIDS.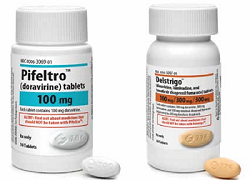 Mechanism of effect
Doravirine is a pyridinone non-nucleoside reverse transcriptase inhibitor that inhibits HIV-1 replication by noncompetitive inhibition of HIV-1 reverse transcriptase.
Pharmacokinetics
Excretion
Urine (6% [unchanged drug]); feces (minor [unchanged drug])
Metabolism
Primarily metabolized by CYP3A
Time to reach the peak
2hours
Distribution
60.5 L
Half life
15hours
Drug indications
HIV-1 infection, treatment: Treatment of HIV-1 infection in combination with other antiretroviral agents in adult patients with no prior antiretroviral treatment history or to replace the current antiretroviral regimen in those who are virologically suppressed (HIV-1 RNA <50 copies per mL) on a stable antiretroviral regimen with no history of treatment failure and no known substitutions associated with resistance to doravirine.
Dosage
Adult:
HIV-1 infection, treatment: Oral: 100 mg once daily, in combination with other antiretroviral agents.
Dosage adjustment for rifabutin coadministration: Increase doravirine to 100 mg twice daily (~12 hours apart) for the duration of rifabutin coadministration.
Drug contraindications
Concurrent administration of strong CYP3A inducers, including, but not limited to: Carbamazepine, oxcarbazepine, phenobarbital, phenytoin, enzalutamide, rifampin, rifapentine, mitotane, St John's wort
Canadian labeling: Additional contraindications (not in US labeling): Hypersensitivity to doravirine or any component of the formulation.
Side effects
Some side effects of doravirine may occur that usually do not need medical attention. These side effects may go away during treatment as your body adjusts to the medicine. Also, your health care professional may be able to tell you about ways to prevent or reduce some of these side effects. Check with your health care professional if any of the following side effects continue or are bothersome or if you have any questions about them:
More common :
Headache
nausea
unusual tiredness or weakness
Less common:
Abnormal dreams
diarrhea
dizziness
skin rash
stomach pain
trouble sleeping
Get emergency medical help if you have signs of an allergic reaction: hives; difficult breathing; swelling of your face, lips, tongue, or throat.
Doravirine affects your immune system, which may cause certain side effects (even weeks or months after you've taken doravirine). Tell your doctor if you have:
signs of a new infection--fever, night sweats, swollen glands, cold sores, cough, wheezing, diarrhea, weight loss;
trouble speaking or swallowing, problems with balance or eye movement, weakness or prickly feeling; or
swelling in your neck or throat (enlarged thyroid), menstrual changes, impotence.
Common side effects may include:
nausea, diarrhea, stomach pain;
headache, dizziness;
tiredness; or
strange dreams.
Interactions
Carbamazepine
,
brigatinib
,
Efavirenz
,
lumacaftor and Ivacaftor
,
Etravirine
,
Dabrafenib
,
Butabarbital
,
Oxecarbazepin
,
Bosentan
,
Deferasirox
,
Methadone
,
orlistat
,
Voriconazole
,
Siltuximab
,
Tocilizumab
,
Erdafitinib
,
ivosidenib
,
Lorlatinib
,
rilpivirine
,
st. john's wort
,
ergonovine
,
Rifabutin
,
Rifapentine
,
Levomethadone
,
nevirapine
,
Sarilumab
,
Apalutamide
,
pexidartinib
,
nafcillin
CYP3A4 Inducers (Moderate), CYP3A4 Inducers (Strong)
Alerts
You should not use doravirine if you are allergic to it.
Tell your doctor if you are pregnant, and use your medications properly to control your infection. HIV can be passed to your baby if the virus is not controlled during pregnancy. Your name may be listed on a registry to track any effects of antiviral medicine on the baby.
Women with HIV or AIDS should not breastfeed a baby. Even if your baby is born without HIV, the virus may be passed to the baby in your breast milk.
doravirine is not approved for use by anyone younger than 18 years old.
Use all HIV medications as directed and read all medication guides you receive. Do not change your dose or dosing schedule without your doctor's advice. Every person with HIV should remain under the care of a doctor.
Points of recommendation
1-Many drugs can interact and cause dangerous effects. Some drugs should not be used together with doravirine. Your doctor may change your treatment plan if you have used any of the following medicines in the past 4 weeks:
enzalutamide-
mitotane-
rifampin-
rifapentine-
St. John's wort; or-
seizure medicine-carbamazepine, phenobarbital, phenytoin, or oxcarbazepine-
2-Take the medicine at the same time each day, with or without food.
3-Doravirine is usually taken once per day. If you also take a medicine called rifabutin, you may need to take doravirine twice per day. Follow your doctor's dosing instructions very carefully.
Storage
Store tablets at room temperature, away from moisture and heat. Keep the tablets in their original container, along with the packet or canister of moisture-absorbing preservative
Pregnancy level
HAVE NOT BEEN ESTABLISHED
The manufacturer makes no recommendation regarding use during pregnancy.
US FDA pregnancy category: Not assigned.
Risk summary: No data available on use of this drug in pregnant women to inform a drug-related risk.
Breast feeding warning
Breastfeeding is not recommended during use of this drug; if replacement feeding is not an option, a different drug may be preferred.
Excreted into human milk: Unknown
Excreted into animal milk: Yes
Drug forms
Pifeltro