Drug information of phendimetrazine
phendimetrazine
Phendimetrazine is a sympathomimetic amine, which is similar to an amphetamine.
Phendimetrazine stimulates the central nervous system (nerves and brain), which increases your heart rate and blood pressure and decreases your appetite.
Phendimetrazine is a prescription medicine that is used together with diet and exercise to treat obesity.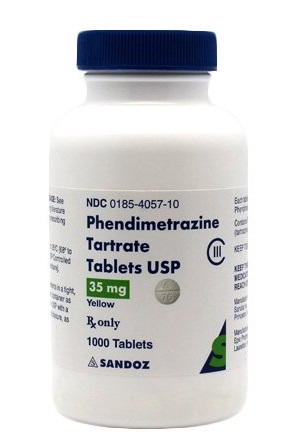 Mechanism of effect
Phendimetrazine may act in a similar way to amphetamines in that it activates the alpha-adrenergic system to induce an appetite suppressive and metabolic increase effect. The drug also acts as a norepinephrine-dopamine releasing agent (NDRA). It can bind to and reverse the NET.
Pharmacodynamic
Phendimetrazine is a phenylalkylamine sympathomimetic amine with pharmacological activity similar to the prototype drugs of this class used in obesity, the amphetamines. Actions include central nervous system stimulation and elevation of blood pressure. Tachyphylaxis and tolerance has been demonstrated with all drugs of this class in which these phenomena have been looked for. Drugs of this class used in obesity are commonly known as ''anorectics or anorexigenics." It has not been established, however, that the action of such drugs in treating obesity is primarily one of appetite suppression. Other central nervous system actions or metabolic effects, may be involved.
Pharmacokinetics
Peak plasma levels occur within 1 to 3 hours. Absorption is usually complete by 4 to 6 hours.
Approximately 30% of a given dose of phendimetrazine is metabolized into phenmetrazine, which may account for part of its anorectic effect, and probably also influences abuse potential; individuals who metabolise a greater proportion of phendimetrazine into phenmetrazine are more likely to develop problems with dependence and addiction
The major route of elimination is via the kidneys where most of the drug and metabolites are excreted.
Drug indications
Used in the management of exogenous obesity as a short term adjunct (a few weeks) in a regimen of weight reduction based on caloric restriction.
Dosage
Extended-release: 105 mg orally once a day, 30 to 60 minutes before morning meal
Drug contraindications
You should not use phendimetrazine if you have glaucoma, overactive thyroid, severe heart problems, uncontrolled high blood pressure, advanced coronary artery disease, extreme agitation, or a history of drug abuse.
Do not use this medicine if you have used an MAO inhibitor in the past 14 days, such as isocarboxazid, linezolid, methylene blue injection, phenelzine, rasagiline, selegiline, or tranylcypromine. A dangerous drug interaction could occur, leading to serious side effects
You should not use phendimetrazine if you are allergic to it
Side effects
Abnormal heart valve findings
Agitation
Blurred vision
Changes in sex drive (libido)
Constipation
Diarrhea
Difficulty sleeping (insomnia)
Dizziness
Dry mouth
Euphoria
Fast heart rate
Feeling uneasy
Flushing (warmth, redness, or tingly feeling)
Headache
Hives
Hyperactivity
Impotence
Increased blood pressure
Nausea
Painful urination
Palpitations
Primary pulmonary high blood pressure (hypertension)
Restlessness
Stomach pain
Sweating
Tremors
Unpleasant taste
Upset stomach
Serious side effects of phendimetrazine include:
Severe headache
Slurred speech
Seizures
Weakness on one side of the body
Vision changes (e.g., blurred vision)
Serious (sometimes fatal) lung or heart problems (pulmonary hypertension, heart valve problems)
Interactions
Sibutramine
,
Tapentadol
,
safinamide
,
Phenylpropanolamine
,
Doxapram
,
Dexfenfluramine
,
Levomilnacipran
,
Procarbazine
,
Tranylcypromine
,
Selegiline
,
Linezolid
,
Phenelzine
,
isocarboxazid
Severe interactions of phendimetrazine include:
iobenguane I 123
isocarboxazid
linezolid
phenelzine
procarbazine
safinamide
selegiline transdermal
tranylcypromine
Alerts
This medication contains phendimetrazine. Do not take Bontril PDM if you are allergic to phendimetrazine or any ingredients contained in this drug.
Keep out of reach of children. In case of overdose, get medical help or contact a Poison Control Center immediately
Points of recommendation
Pregnancy level
Do not use phendimetrazine in pregnancy. The risks involved outweigh potential benefits. Safer alternatives exist.
Weight loss offers no potential benefit to a pregnant woman and may result in fetal harm; a minimum weight gain, and no weight loss, is currently recommended for all pregnant women, including those who are already overweight or obese.
Breast feeding warning
Phendimetrazine use while breastfeeding is contraindicated; do not nurse if taking this drug.