Drug information of Naltrexone and Bupropion
Naltrexone and Bupropion
Bupropion is an antidepressant medicine that can also decrease appetite. Naltrexone is usually given to block the effects of narcotics or alcohol in people with addiction problems. Naltrexone may also curb hunger and food cravings.

Bupropion and naltrexone is a combination medicine used to help manage weight in obese or overweight adults with weight-related medical problems. bupropion and naltrexone is used together with diet and exercise.

Bupropion and naltrexone will not treat any weight-related medical condition, such as high blood pressure, diabetes, or high cholesterol.

Contrave is not approved to treat depression or other psychiatric conditions, or to help you quit smoking.

Bupropion and naltrexone may also be used for purposes not listed in this medication guide.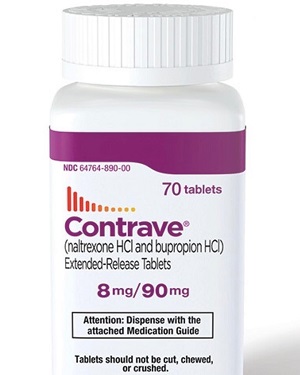 Mechanism of effect
Naltrexone is a pure opioid antagonist, and bupropion is a relatively weak inhibitor of the neuronal reuptake of dopamine and norepinephrine. The exact neurochemical effects of naltrexone/bupropion leading to weight loss are not fully understood.
Effects may result from action on areas of the brain involved in the regulation of food intake: the hypothalamus (appetite regulatory center) and the mesolimbic dopamine circuit (reward system).
Drug indications
Weight management: Adjunct to a reduced-calorie diet and increased physical activity for chronic weight management in adults with an initial body mass index (BMI) of ≥30 kg/m2 or ≥27 kg/m2 in the presence of at least one weight-related comorbid condition (eg, hypertension, type 2 diabetes mellitus, and/or dyslipidemia)
Dosage
Usual Adult Dose for Weight Loss
Each extended-release tablet contains naltrexone 8 mg/bupropion 90 mg:
Initial dose:
-Week 1: One tablet orally once a day in the morning
-Week 2: One tablet orally 2 times a day (morning and evening)
-Week 3: Two tablets orally once a day in the morning and 1 tablet orally once a day in the evening
-Week 4: Two tablets orally 2 times a day (morning and evening)
Maintenance dose: 2 tablets orally 2 times a day (morning and evening)
Maximum dose: 4 tablets/day (naltrexone 32 mg/Bupropion 360 mg)
Drug contraindications
Uncontrolled hypertension

Seizure disorder or a history of seizures

Concomitant use of other bupropion-containing products

Bulimia or anorexia nervosa

Chronic opioid or opiate agonist or partial agonists use, or acute opiate withdrawal

Patients undergoing an abrupt discontinuation of alcohol, benzodiazepines, barbiturates, and antiepileptic drugs

Concomitant, or use within 14 days of monoamine oxidase inhibitors (MAOI) including linezolid or IV methylene blue

Known allergy to active substance or any product excipient

Pregnancy
Side effects
>10%:
Central nervous system: Headache, sleep disorder
Gastrointestinal: Nausea, constipation, vomiting
1% to 10%:
Cardiovascular: Hypertension, increased blood pressure, palpitations, myocardial infarction, presyncope, tachycardia
Central nervous system: Dizziness, insomnia, depression, anxiety, fatigue, irritability, disturbance in attention, abnormal dreams, agitation, altered mental status, amnesia, derealization, emotional lability, equilibrium disturbance, feeling abnormal, feeling hot, intention tremor, jitteriness, lethargy, memory impairment, nervousness, tension, vertigo
Dermatologic: Hyperhidrosis, alopecia
Endocrine: Hot flash, dehydration, increased thirst
Gastrointestinal: Xerostomia, diarrhea, upper abdominal pain, viral gastroenteritis, abdominal pain, dysgeusia, cholecystitis, eructation, hematochezia, hernia, lower abdominal pain, motion sickness, swelling of lips
Genitourinary: Urinary tract infection, erectile dysfunction, irregular menses, urinary urgency, vaginal dryness, vaginal hemorrhage
Hematologic & oncologic: Decreased hematocrit
Hepatic: Increased liver enzymes
Infection: Kidney infection, staphylococcal infection
Neuromuscular & skeletal: Tremor, strain, herniated disk, jaw pain, weakness
Otic: Tinnitus
Renal: Increased serum creatinine
Respiratory: Pneumonia
<1%, postmarketing, and/or case reports: Increased heart rate (resting), loss of consciousness, malaise, syncope
Interactions
Atomoxetine
,
Aripiprazole
,
Iopamidol
,
Paroxetine
,
Pimozide
,
Tamsulosin
,
Nicergoline
,
Dipyrone
,
Bremelanotide
,
Mequitazine
,
Perhexiline
,
Zuclopenthixol
,
Brexanolone
,
Eliglustat
,
tropisetron
,
Brexpiprazole
,
lofexidine
,
vortioxetine
,
Iloperidone
,
Deutetrabenazine
,
Pitolisant
,
Methylnaltrexone
,
Naldemedine
,
Naloxegol
,
thiotepa
,
Lorcaserin
,
lumacaftor and Ivacaftor
,
Dabrafenib
,
Nebivolol
,
Fesoterodine
,
Tamoxifen
,
codeine
,
iohexol (Omnipaque)
,
valbenazine
,
Vilazodone
,
Mifepristone
,
Galantamine
,
Metoprolol
,
Metoclopramide
,
Clozapine
,
Dapoxetine
,
escitalopram
,
Digoxin
,
Risperidone
,
Sertraline
,
Sibutramine
,
Citalopram
,
Fluoxetine
,
Tetrabenazine
,
Tolterodine
,
Timolol
,
Thioridazine
,
Duloxetine
,
Doxorubicin
Agents With Seizure Threshold Lowering Potential, Ajmaline, Alcohol (Ethyl), Amifampridine,
Antihepaciviral Combination Products, Anti-Parkinson Agents (Dopamine Agonist), Citalopram,
ARIPiprazole, ARIPiprazole Lauroxil, AtoMOXetine, Bremelanotide, Brexanolone, Brexpiprazole,
CloZAPine, Codeine, CYP2B6 Inducers (Moderate), CYP2B6 Inducers (Weak), CYP2B6 Inhibitors (Weak), CYP2D6 Substrates (High risk with Inhibitors), Dabrafenib, Dapoxetine, Digoxin,
Deutetrabenazine, Dipyrone, DOXOrubicin (Conventional), DULoxetine, Eliglustat, Iopamidol,
Escitalopram, Fesoterodine, FLUoxetine, Galantamine, Iloperidone, Indoramin, Iomeprol,
Iobenguane Radiopharmaceutical Products, Iohexol, Lofexidine, Lorcaserin (Withdrawn From US Market), Lumacaftor and Ivacaftor, Mequitazine, Methylnaltrexone, Metoclopramide,
Metoprolol, MiFEPRIStone, Monoamine Oxidase Inhibitors, Naldemedine, Naloxegol,
Nebivolol, Nicergoline, Opioid Agonists, PARoxetine, Perhexiline, Pimozide, Pitolisant,
RisperiDONE, Sertraline, Sibutramine, Tamoxifen, Tamsulosin, Tetrabenazine, Thioridazine,
Thiotepa, Timolol (Ophthalmic), Tolterodine, Tricyclic Antidepressants, Tropisetron, Valbenazine, Vilazodone, Vortioxetine, Zuclopenthixol
Alerts
Drugs like this one have raised the chance of suicidal thoughts or actions in children and young adults. The risk may be greater in people who have had these thoughts or actions in the past. All people who take naltrexone and bupropion need to be watched closely. Call the doctor right away if signs like low mood (depression), nervousness, restlessness, grouchiness, panic attacks, or changes in mood or actions are new or worse. Call the doctor right away if any thoughts or actions of suicide occur

This medicine is not approved for use in children. Talk with the doctor

Do not use bupropion and naltrexone if you are pregnant. Weight loss during pregnancy can harm an unborn baby, even if you are overweight. Tell your doctor right away if you become pregnant

Do not use an MAO inhibitor within 14 days before or 14 days after you take bupropion and naltrexone. A dangerous drug interaction could occur. MAO inhibitors include isocarboxazid, linezolid, phenelzine, rasagiline, selegiline, and tranylcypromine

This medicine is not approved for use by anyone younger than 18 years old

Drinking alcohol with bupropion may increase your risk of seizures. If you drink alcohol regularly, talk with your doctor before changing the amount you drink. Bupropion can also cause seizures in a regular drinker who suddenly stops drinking

Do not use narcotic medication, methadone, heroin, or other street drugs while you are taking bupropion and naltrexone. Doing so could result in dangerous effects, including coma and death
Points of recommendation
You should not use this medicine if you have uncontrolled high blood pressure, seizures, an eating disorder, opioid addiction, if you are pregnant, if you take narcotic medicine or other forms of bupropion, or if you have suddenly stopped using alcohol, seizure medication, or a sedative.

Tell your doctor about all your current medicines and any you start or stop using. Many drugs can interact with bupropion and naltrexone, and some drugs should not be used together

Some young people have thoughts about suicide when first taking bupropion. Stay alert to changes in your mood or symptoms. Report any new or worsening symptoms to your doctor

You should not use this medicine if you are allergic to bupropion or naltrexone, or if you have:
untreated or uncontrolled high blood pressure
an eating disorder (anorexia or bulimia)
a history of seizures
opioid addiction or withdrawal (or if you take methadone or buprenorphine)
if you take other forms of bupropion (Wellbutrin, Aplenzin, Budeprion, Forfivo, Zyban, and others)
if you have suddenly stopped using alcohol, seizure medication, or a sedative such as Xanax, Valium, Fiorinal, Klonopin, and others)

Tell your doctor if you have ever had:
depression, bipolar disorder, or mental illness
suicidal thoughts or actions
a head injury
a tumor or infection in your brain or spinal cord
diabetes or low blood sugar
low sodium levels
liver or kidney disease
heart disease, high blood pressure, heart attack, or stroke
drug addiction, or if you normally drink a lot of alcohol

Swallow the tablet whole and do not crush, chew, or break it

Do not take more than 2 tablets at once

Do not take this medicine with a high-fat meal, or you may be more likely to have a seizure

If you need to use narcotic medicine for any reason (such as pain, surgery, or treatment for drug addiction) you may need to stop taking bupropion and naltrexone for a short time. Follow your doctor's dosing instructions very carefully

Store at room temperature away from moisture and heat

If you have not lost at least 5% of your starting weight after 16 weeks of treatment, this medicine may not be right for you


Breast feeding warning
Lactation: Not recommended
Drug forms
Contrave