Drug information of Doxapram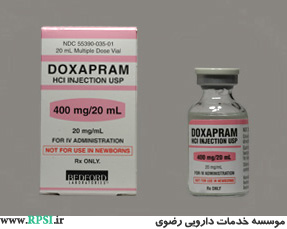 Mechanism of effect
Doxapram produces respiratory stimulation mediated through the peripheral carotid chemoreceptors. It is thought to stimulate the carotid body by inhibiting certain potassium channels.
Pharmacodynamic
Doxapram is an analeptic agent (a stimulant of the central nervous system). The respiratory stimulant action is manifested by an increase in tidal volume associated with a slight increase in respiratory rate. A pressor response may result following doxapram administration.
Provided there is no impairment of cardiac function, the pressor effect is more marked in hypovolemic than in normovolemic states. The pressor response is due to the improved cardiac output rather than peripheral vasoconstriction. Following doxapram administration, an increased release of catecholamines has been noted.
Pharmacokinetics
Onset: 20-40 sec
Duration: 5-12 min (single IV injection)
Peak Plasma Time: 1-2 min
Half-life: 3.4 hr (2.4-4.1 hr)
Dosage
Adult
COPD Associated with Acute Hypercapnia
1-2 mg/min IV infusion; not to exceed 3 mg/min or 2 hours; monitor arterial blood gases prior to initiation of infusion and at 30 min interval during the infusion to identify possible development of acidosis/CO2 retention
Respiratory Depression Postanesthesia
0.5-1 mg/kg IV injection; repeat at 5-min intervals in patients that show an initial response; not to exceed 2 mg/kg OR
Initial: 5 mg/min IV infusion (with 1 mg/mL solution) until adequate response or adverse effects occur; may reduce to 1-3 mg/min; total IV infusion not to exceed 4 mg/kg
Drug-Induced CNS Depression
Intermittent injection: 1-2 mg/kg IV injection priming dose, repeat in 1-2 hr priming dose; not to exceed 3 g/day; may repeat in 24 hr if necessary OR
IV infusion: 1-2 mg/kg IV injection, repeat in 5 min, if no response, wait 1-2 hr and repeat priming dose; if some stimulation noted, initiate infusion at 1-3 mg/min IV infusion not to exceed 2 hours; suspend infusion if patient begins to awaken; may repeat after a rest of 30-120 minutes, total dose not to exceed 3 g/day
Pediatric
<12 years
Safety & efficacy not established
>12 years
COPD Associated with Acute Hypercapnia
1-2 mg/min IV infusion; not to exceed 3 mg/min or 2 hours; monitor arterial blood gases prior to initiation of infusion and at 30 min interval during the infusion to identify possible development of acidosis/CO2 retention
Respiratory Depression Postanesthesia
0.5-1 mg/kg IV injection; repeat at 5-min intervals in patients that show an initial response; not to exceed 2 mg/kg OR
IV infusion: 1-2 mg/kg IV injection, repeat in 5 min, if no response, wait 1-2 hr and repeat priming dose; if some stimulation noted, initiate infusion at 1-3 mg/min IV infusion not to exceed 2 hours; suspend infusion if patient begins to awaken; may repeat after a rest of 30-120 minutes, total dose not to exceed 3 g/day
Drug-Induced CNS Depression
Intermittent injection: 1-2 mg/kg IV injection priming dose, repeat in 1-2 hr priming dose; not to exceed 3 g/day; may repeat in 24 hr if necessary OR
IV infusion: 1-2 mg/kg IV injection, repeat in 5 min, if no response, wait 1-2 hr and repeat priming dose; if some stimulation noted, initiate infusion at 1-3 mg/min IV infusion not to exceed 2 hours; suspend infusion if patient begins to awaken; may repeat after a rest of 30-120 minutes, total dose not to exceed 3 g/day
Side effects
chest pain
,
Seizures
,
flushing
,
Hypertension
,
fever
,
urinary retention
,
itching
,
sweating
,
hallucinations
,
mydriasis
,
shortness of breath
Interactions
Expectorant
,
Diethylpropion
,
Atracurium
,
Epinephrine
,
Etomidate
,
Ephedrine
,
Propofol
,
Procarbazine
,
phendimetrazine
,
Xylometazoline
,
Propylhexedrine
,
Dexfenfluramine
,
Rapacuronium
,
Benzphetamine
,
Tubocurarine
,
Methylenedioxymethamfetamine
,
Methamphetamine
,
Enflurane
,
Dexmethylphenidate
,
lisdexamfetamine
,
Rocuronium
,
isocarboxazid
,
Pancuronium
,
Norepinephrine
,
ISOPROTERENOL
,
Dextroamphetamine
,
Fenfluramine
,
Vecuronium
,
Linezolid
,
phentermine
,
Phenelzine
,
Ketamine
,
Desflurane
,
Succinylcholine
,
Cis atracurium
,
Phenylephrine
,
Methyl phenidate
,
Midodrine
,
Yohimbine
,
Pseudoephedrine
,
Theophyline
,
Tranylcypromine
,
Dobutamine
,
Dopamine
,
Sevoflurane
,
acrivastine+pseudoephedrine
Alerts
Narrow margin of safety
Do not use concurrently with mechanical ventilation
Contains benzyl alcohol (associated with potentially fatal "Gasping Syndrome" in neonates)
Avoid using same injection site over long period of time & avoid rapid infusion
Concurrency with sympathomimetic or MAOIs
Hepatic/renal impairment
May cause severe CNS stimulation resulting in seizures; anticonvulsants should be available
May cause dysrhythmias; monitor
If sudden hypotension develops discontinue therapy
Use caution in patients with cerebrovascular disease
Use caution when used concurrently with MAO inhibitors, volatile anesthetics, or sympathomimetics
Avoid extravasation