Drug information of Ramelteon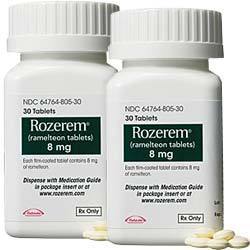 Mechanism of effect
Melatonin receptor agonist with high affinity for MT1 & MT2 receptors.
Pharmacokinetics
Absorption: 84%
Bioavailability: 1.8%
Protein bound: 82%
Extensive first-pass metabolism; mostly by hepatic CYP1A2
Excretion
Urine: 84%
Feces: 4%
Onset of Action:30 minutes
Time to Peak: Median: 0.5 to 1.5 hours
Distribution: 74 L
Drug indications
-Insomnia: Treatment of insomnia characterized by difficulty with sleep onset
-Off Label Uses: Delirium (prevention), ICU related
Dosage
Insomnia: Oral: 8 mg once daily administered within 30 minutes of bedtime. Maximum dose: 8 mg/day.
Delirium (prevention), ICU related (off-label use): 8 mg once daily at bedtime
Drug contraindications
Hypersensitivity
Severe hepatic impairment
Concomitant fluvoxamine
Side effects
Dizziness ,somnolence , fatigue , insomnia worsened , depression ,Serum cortisol decreased, Nausea , taste perversion ,Myalgia , arthralgia ,Upper respiratory infection Influenza ,Anaphylaxis, angioedema, complex sleep-related behavior (sleep-driving, cooking or eating food, making phone calls), prolactin levels increased, testosterone levels decreased
Interactions
fentanyl
,
Sodium Oxybate
,
Tapentadol
,
teriflunomide
,
Zileuton
,
Acetaminophen and benzhydrocodone
,
Brimonidine
,
Pramipexole
,
Thalidomide
,
Ropinirole
,
Zolpidem
,
Fluconazole
,
Kava kava
,
Metyrosine
,
Nabilone
,
Piribedil
,
Rufinamide
,
Cannabis
,
Suvorexant
,
Alizapride
,
Blonanserin
,
lofexidine
,
Dronabinol
,
Paraldehyde
,
Rotigotine
,
Chlorphenesin
,
Brexanolone
,
Bromperidol
,
Droperidol
,
Hydrocodone
,
Orphenadrine
,
Doxylamine
,
Trimeprazine
,
Perampanel
,
Minocycline
,
Melatonin
,
Magnesium sulfate
,
Azelastine
,
Buprenorphine
,
Oxycodone
,
Oxymorphone
,
Cannabidiol
Alcohol, Alizapride, Azelastine (Nasal), Blonanserin, Brexanolone, Brimonidine (Topical), Bromopride, Bromperidol, Buprenorphine, Cannabidiol, Cannabis, Chlormethiazole, Chlorphenesin Carbamate, CNS Depressants, CYP1A2 Inhibitors (Moderate), CYP1A2 Inhibitors (Strong), CYP3A4 Inducers (Strong), CYP3A4 Inhibitors (Strong), Dimethindene (Topical), Doxylamine, Dronabinol, Droperidol, Esketamine, Fluconazole, Flunitrazepam, HYDROcodone, HydrOXYzine, Kava Kava, Lofexidine, Magnesium Sulfate, Melatonin, Methotrimeprazine, MetyroSINE, Minocycline (Systemic), Nabilone, Opioid Agonists, Orphenadrine, Oxomemazine, OxyCODONE, Paraldehyde, Perampanel, Piribedil, Pramipexole, ROPINIRole, Rotigotine, Rufinamide, Selective Serotonin Reuptake Inhibitors, Sodium Oxybate, Suvorexant, Tapentadol, Tetrahydrocannabinol, Tetrahydrocannabinol and Cannabidiol, Thalidomide, Trimeprazine, Zolpidem
Alerts
Moderate hepatic impairment
Concomitant CYP1A2 inhibitors
Potential for cognitive & behavioral changes
May impair ability to drive/perform hazardous tasks
Hyperprolactinemia: May increase prolactin levels.
Hypersensitivity reactions
Depression: Use with caution in patients with depression; worsening of depression, including suicidal ideation has been reported with the use of hypnotics
Respiratory disease: Use with caution in patients with respiratory compromise, COPD or sleep apnea. Use is not recommended in patients with severe sleep apnea (has not been studied).
Points of recommendation
-Appropriate use: Symptomatic treatment of insomnia should be initiated only after careful evaluation of potential causes of sleep disturbance. Failure of sleep disturbance to resolve after 7 to 10 days may indicate psychiatric and/or medical illness.
- Rapid onset: Because of the rapid onset of action, administer immediately prior to bedtime.
-patients must be cautioned about performing tasks, which require mental alertness
Pregnancy level
Pregnancy Category: Adverse events were observed in some animal reproduction studies. May cause disturbances of reproductive hormonal regulation (eg, disruption of menses or decreased libido).
Available data from postmarketing reports with use in pregnant women have not identified drug-associated risk of major birth defects, miscarriage, or adverse maternal or fetal outcomes
Breast feeding warning
Lactation: There are no data regarding presence of drug or metabolites in human milk, effects on breastfed infant, or on milk production
Infants exposed to drug through breastmilk should be monitored for somnolence and feeding problems; a lactating woman may consider interrupting breastfeeding and pumping and discarding breast milk during treatment and for 25 hours (approximately 5 elimination half-lives) after drug administration in order to minimize drug exposure to a breastfed infant
Drug forms
Rozerem