Drug information of Tolfenamic Acid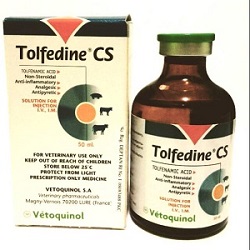 Mechanism of effect
Tolfenamic acid is a non-steroidal anti-inflammatory drug (NSAID) and cyclooxygenase inhibitor. It is used for the management of both acute and chronic pain in patients. The pharmacologic effects of tolfenamic acid are similar to those of aspirin. It inhibits prostaglandin release and has a direct inhibitory effect on prostaglandin receptors. It also decreases platelet aggregation. Tolfenamic acid is well-absorbed after oral administration. It is generally used as a once a day drug with peak levels occurring at two to four hours after administration.
Pharmacodynamic
An orally available, benzoic acid derivative and a non-steroidal anti-inflammatory drug (NSAID) with anti-inflammatory, antipyretic, analgesic and potential anti-neoplastic activities. Tolfenamic acid inhibits the activity of the enzymes cyclooxygenase (COX) I and II, resulting in a decreased formation of precursors of prostaglandins and thromboxanes. The decrease in prostaglandin synthesis results in the therapeutic effects of this agent. Tolfenamic acid also inhibits thromboxane A2 synthesis, by thromboxane synthase, which decreases platelet aggregation. In addition, this agent exerts anti-tumor effects through COX-dependent and independent pathways. Specifically, this agent induces the production of reactive oxygen species, causes DNA damage, increases nuclear factor-kappa B (NF-kB) activation and the expression of activating transcription factor 3 (ATF3) and NSAID-activated gene-1 (NAG1), and inhibits the expression of specificity proteins (Sp), which reduces the expression of Sp-dependent anti-apoptotic and growth-promoting proteins. Altogether, this enhances tumor cell apoptosis, and reduces tumor cell growth and angiogenesis.
Pharmacokinetics
tolfenamic acid pharmacokinetic is marked by a short tmax of 0.94-2.04 hours. this drug also presented a linear pharmacokinetic profile with an AUC from 13-50 mcg/ml.h if administered in a dose of 2-8 mg/kg respectively.
The oral absorption is delayed and it gives a mean lag-time to absorption of 32 min. The peak plasma concentration of 11.1 mcg/ml.6 The bioavailability of tolfenamic acid is around 75%
The first pass metabolism accounts for 20% of the administered dose of tolfenamic acid.
Urine metabolite studies have demonstrated the identification of five metabolites from which three of them are monohydroxylated, one is monohydroxylated and hydroxylated and one last metabolite that presented and oxidized methyl group to form a carboxyl group
The volume of distribution is of 1.79-3.2 L/kg. When tested intravenously, the reported steady-state volume of distribution was 0.33 L/kg.
this drug presents high protein binding properties that reaching 99.7% of the administered dose. Studies have studied the changes in protein binding depending on the presence of certain disorders These studies verify that modifications in blood creatinine, urea and bilirubin can significantly alter the concentration of unbound tolfenamic acid. The main binding structure is predicted to be related to lipid membrane structures.
Drug indications
Analgesic Activity
Tolfenamic acid is one member of a group of medicines called non-steroidal anti-inflammatory drugs (NSAIDs). NSAIDs reduce pain. Tolfenamic Acid 200mg Tablets are effective in treating the pain associated with an acute attack of migraine in adults.
Dosage
Migraine - acute attacks:
200mg when the first symptoms of migraine appear. The treatment can be repeated once after 1-2 hours if a satisfactory response is not obtained.
Drug contraindications
High Blood Pressure
,
hemorrhagic colitis
,
hepatitis
,
cardiac failure
Peptic ulcer (belching, discomfort in the stomach, vomiting)
Gastrointestinal bleeding
An allergic shock reaction (shortness of breath, rash or wheezing)
Swelling of the face, lips, tongue or throat
Serious skin reactions with bullous/blister rash, inflammation of the skin and/or the top layer
of the skin peels off e.g Stevens Johnson Syndrome and Toxic Epidermal Necrolysis (very
rare)
Lack of a type of white blood cells (flu-like symptoms, cold, high fever, sore throat)
Decrease in the number of all blood cells (flu-like symptoms, fatigue, dizziness, spontaneous
bleedings)
Meningitis (stiff neck, headache, fever, nausea, vomiting or disorientation)
Reddish or purplish spots on the skin
Hallucinations
Inflammation of the liver (yellowing of the skin or whites of the eyes)
Inflammation of the kidney and kidney failure (urination disturbances)
Bloody stool
Vomiting of blood
Allergic reactions such as asthma, aggravated asthma, wheezing, difficulty breathing
Inflammation of the pancreas (pancreatitis)
High blood pressure (hypertension)
Cardiac failure
Side effects
heart attack
,
anemia
,
Diarrhea
,
Headache
,
nausea
,
abdominal pain
,
vomiting
,
vertigo
,
Stevens-Johnson syndrome
,
Anaphylactic reaction
,
intestinal perforation
,
difficulty urinating
very common side effects of NSAIDs include:
indigestion – including stomach aches, feeling sick and diarrhoea.
stomach ulcers – these can cause internal bleeding and anaemia; extra medicine to protect your stomach may be prescribed to help reduce this risk.
headaches.
drowsiness.
dizziness.
allergic reactions.
common side effects of NSAIDs include:
indigestion – including stomach aches, feeling sick and diarrhoea.
stomach ulcers – these can cause internal bleeding and anaemia; extra medicine to protect your stomach may be prescribed to help reduce this risk.
headaches.
drowsiness.
dizziness.
allergic reactions.
RARE side effects
Blood clot .
Heart Attack .
rupture In The Wall Of The Stomach Or Intestine .
Significant Type Of Allergic Reaction Called anaphylaxis .
Skin Disorder With blistering And Peeling Skin Called Stevens - Johnson Syndrome .
Betamethasone
Dexamethasone
Probenecid
Lithium carbonate
Thiazide diuretic
and other NSAID drug interactions
Alerts
Tolfenamic acid has a relatively low acute toxicity with LD50 values in 200-1000 mg/kg. The metabolites of tolfenamic acid are reported to have an even less important toxicity. Some of the expected toxicity is related to the presence of gastrointestinal effects such as gut ulceration and renal papillitis
Pregnancy level
Abnormalities have been reported in babies whose mothers have taken non stroid anti inflamation during pregnancy.During the first and second trimester of pregnancy, tolfenamic acid should not be given unless clearly necessary.
You should not take tolfenamic acid during the last three months of pregnancy as it may affect the baby's kidney function and circulation, clotting of the blood in both the mother and baby.
Breast feeding warning
use of this drug should be avoided if you are breast feeding, as small amounts of the medicine may pass into the breast milk