Drug information of Ramipril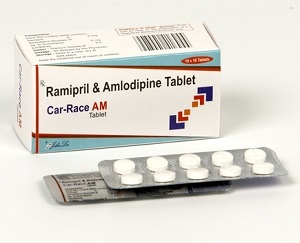 Mechanism of effect
Angiotensin converting enzyme (ACE) inhibitors dilate arteries and veins by competively inhibiting the conversion of angiotensin I to angiotensin II (a potent endogenous vasoconstrictor) and by inhibiting bradykinin metabolism; these actions result in preload and afterload reductions on the heart.
ACE inhibitors also promote sodium and water excretion by inhibiting angiotensin-II induced aldosterone secretion; elevation in potassium may also be observed.
ACE inhibitors also elicit renoprotective effects through vasodilation of renal arterioles.
ACE inhibitors reduce cardiac and vascular remodeling associated with chronic hypertension, heart failure, and myocardial infarction.
Pharmacokinetics
Bioavailability: 50-60%; not affected by food
Peak plasma time: 1 hr (ramipril); 2-4 hr (ramiprilat)
Protein bound: 73% (ramipril), 56% (ramiprilat)
Metabolized by liver through cleavage of ester group
Metabolite: Ramiprilat (active metabolite)
Half-life: 13-17 hr (ramiprilat)
Excretion: Urine (60%), feces (40%)
Onset of Action:1-2 hours
Duration of Action:24 hours
Drug indications
-Heart failure post-myocardial infarction
-Hypertension
-Reduction in risk of MI, stroke, and death from cardiovascular causes
Off Label Uses:
-Heart failure with reduced ejection fraction
-Non–ST-elevation acute coronary syndrome
-Stable coronary artery disease
-ST-elevation acute coronary syndrome
Dosage
Note: Consider discontinuation or dose reduction of concomitant diuretic when initiating ramipril. If diuretic cannot be discontinued or dose reduced, consider reduced initial ramipril dose. Monitor blood pressure closely until stabilized.
Heart failure post-myocardial infarction: Oral: Initial: 2.5 mg twice daily; may reduce dose to 1.25 mg twice daily for hypotension. Continue initial dose for one week then titrate upward every 3 weeks as tolerated to target dose of 5 mg twice daily.
Hypertension: Oral: Initial: 2.5 mg once daily; titrate dose based on patient response after 2 to 4 weeks up to 20 mg daily in 1 or 2 divided doses
Reduction in risk of MI, stroke, and death from cardiovascular causes: Oral: Initial: 2.5 mg once daily for 1 week, then 5 mg once daily for the next 3 weeks, then increase as tolerated to maintenance dose of 10 mg once daily (may administer in divided doses in hypertensive or recently post-MI patients).
Heart failure with reduced ejection fraction (off-label use): Oral: Initial: 1.25 to 2.5 mg once daily; target dose: 10 mg once daily
Dosage adjustment for patients with volume depletion: Initial: 1.25 mg once daily; titrate as tolerated to effect.
Drug contraindications
- Hypersensitivity to drug or other ACE inhibitors.
- Do not coadminister with aliskiren in patients with diabetes mellitus or with renal impairment (ie, GFR <60 mL/min/1.73 m²).
- Coadministration of neprilysin inhibitors (eg, sacubitril) with ACE inhibitors may increase angioedema risk; do not administer ACE inhibitors within 36 hr of switching to or from sacubitril/valsartan.
- idiopathic angioedema or history of angioedema related to previous treatment with an ACE inhibitor.
Side effects
Hypotension ,Increased cough ,Angina pectoris , orthostatic hypotension , syncope ,Headache , dizziness , fatigue , vertigo , noncardiac chest pain ,Hyperkalemia ,Nausea , vomiting ,Increased blood urea nitrogen , increased serum creatinine, renal insufficiency ,Abdominal pain, agitation, agranulocytosis, amnesia, anaphylactoid reaction, angioedema, anorexia, anxiety, arthralgia, arthritis, auditory impairment, bone marrow depression, cardiac arrhythmia, cerebrovascular disease, constipation, decreased hematocrit, decreased hemoglobin, depression, diaphoresis, diarrhea, drowsiness, dysgeusia, dyspepsia, dysphagia, dyspnea, edema, eosinophilia, epistaxis, erythema multiforme, gastroenteritis, hemolytic anemia, hepatitis, hypersensitivity reaction (fever, skin rash, urticaria), hyponatremia, impotence, increased serum transaminases, insomnia, malaise, myalgia, myocardial infarction, nervousness, neuralgia, neuropathy, onycholysis, palpitations, pancreatitis, pancytopenia, paresthesia, pemphigoid, pemphigus, proteinuria, purpura, seizure, sialorrhea, skin photosensitivity, Stevens-Johnson syndrome, symptomatic hypotension, thrombocytopenia, tinnitus, toxic epidermal necrolysis, tremor, visual disturbance, visual hallucination ,weight gain, xerostomia
Interactions
Amlodipine/Atorvastatine
,
Iron sucrose
,
potassium citrate
,
Doxazosin
,
Triamterene
,
Azathioprine
,
Allopurinol
,
Everolimus
,
Brimonidine
,
Pregabalin
,
pentoxifylline
,
Nicergoline
,
Obinutuzumab
,
Pholcodine
,
Quinagolide
,
Sacubitril
,
Urapidil
,
tolvaptan
,
Barbiturates
,
Benperidol
,
Lormetazepam
,
Molsidomine
,
Naftopidil
,
sodium phosphates
,
Alfuzosin
,
Ferrous Gluconate
,
Temsirolimus
,
Aprotinin
,
Bromperidol
,
Ranolazine
,
Trimethoprim
,
lithium
,
Amifostine
,
Dexmethylphenidate
,
brigatinib
,
Nicorandil
,
Heparin
,
Yohimbine
,
Dapoxetine
,
eplerenone
,
Nitroprusside sodium
,
Tacrolimus
,
Tizanidine
,
Drospirenone
,
Duloxetine
,
Diazoxide
,
Sirolimus
,
Dalteparin
,
Canagliflozin
,
Telmisartan
,
Sacubitril and valsartan
,
Celecoxib
,
Sulindac
,
Azilsartan
,
Candesartan
,
Irbesartan
,
Olmesartan
,
Aliskiren
,
Treprostinil
,
Nabumetone
,
Sulfamethoxazole
,
Iron Dextran Complex
,
Remdesivir
,
Nesiritide
,
Angiotensin II
Alfuzosiny,Aliskiren,Allopurinol,Amifostine, Amphetamines,Angiotensin II,Angiotensin II Receptor Blockers,Antipsychotic Agents (Second Generation [Atypical]),Aprotinin,AzaTHIOprine,Barbiturates,Benperidol,Brigatinib,Brimonidine (Topical),Bromperidol,Dapoxetine,Dexmethylphenidate,Diazoxide,Dipeptidyl Peptidase-IV Inhibitors,Drospirenone,DULoxetine,Eplerenone,Everolimus,Ferric Gluconate,Ferric Hydroxide Polymaltose Complex,Gelatin (Succinylated),Gold Sodium Thiomalate,Grass Pollen Allergen Extract (5 Grass Extract),Heparin,Heparins (Low Molecular Weight),Herbs (Hypertensive Properties),Herbs (Hypotensive Properties),Hypotension-Associated Agents,Icatibant,Iron Dextran Complex,Lanthanum,Levodopa-Containing Products,Lithium,LoopDiuretics,Lormetazepam,Methylphenidate,Molsidomine,Naftopidil,Nicergoline,Nicorandil, Nitroprusside,Nonsteroidal Anti-Inflammatory Agents,Obinutuzumab,Pentoxifylline,Pholcodine,Phosphodiesterase 5 Inhibitors,Potassium Salts,Potassium-Sparing Diuretics,Pregabalin,Prostacyclin Analogues,Quinagolide,Racecadotril,Ranolazine,Sacubitril,Salicylates,Sirolimus,Sodium Phosphates,Tacrolimus (Systemic),Telmisartan,Temsirolimus,Thiazide and Thiazide-Like Diuretics,TiZANidine,Tolvaptan,Trimethoprim,Urapidil,Yohimbine
Alerts
-Discontinue as soon as possible when pregnancy is detected; affects renin-angiotensin system, causing oligohydramnios, which may result in fetal injury and/or death
-Anaphylactoid and related reactions
-risk of hepatic failure, which starts as cholestatic jaundice and progresses to sometimes fatal fulminant hepatic necrosis
-Excessive hypotension if on concomitant diuretics, hypovolemia, hyponatremia; increased risk in CHF patients
-Increased hypotension risk in patients undergoing surgery or during anesthesia with agents that produce hypotension; correct by volume expansion in such situations
-Coadministration with mTOR inhibitors (eg, temsirolimus) may increased risk for angioedema
-Changes in renal function due to blockage of renin-angiotensin-aldosterone system;
-Reduction in RBC and hemoglobin content with rare cases of agranulocytosis, pancytopenia and bone marrow depression reported
-Dual blockade of the renin angiotensin system with ARBs, ACE inhibitors, or aliskiren associated with increased risk for hypotension, hyperkalemia, and renal function changes (including acute renal failure) compared to monotherapy
-Risk of hyperkalemia
-Reversible, persistent, nonproductive cough
-Patients receiving coadministration of ACE inhibitor and mTOR-inhibitor (e.g. temsirolimus, sirolimus, everolimus) therapy or a neprilysin inhibitor may be at increased risk for angioedema.
Points of recommendation
-discontinue if patient develops jaundice or marked elevations of hepatic enzymes.
-increase in BUN/SCr may occur in patients with unilateral or bilateral renal artery stenosis; monitor closely.
-In heart failure post-myocardial infarction patients, monitor for at least 2 hours after initial dose and for at least an additional hour after blood pressure has stabilized.
-Monitoring Parameters:Blood pressure; BUN, serum creatinine and potassium; if patient has collagen vascular disease and/or renal impairment, periodically monitor CBC with differentia.
Pregnancy level
Pregnancy Category: Discontinue as soon as pregnancy detected; during the second and third trimesters of pregnancy, therapy can result in fetal injury (eg, hypotension, neonatal skull hypoplasia, anuria, reversible and irreversible renal failure) and death.
Breast feeding warning
Possibly excreted in breast milk; nursing not recommended.
Drug forms
Altace