Drug information of Felodipine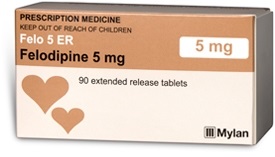 Mechanism of effect
Inhibits calcium ions from entering the "slow channels" or select voltage-sensitive areas of vascular smooth muscle and myocardium during depolarization, producing a relaxation of coronary vascular smooth muscle and coronary vasodilation; increases myocardial oxygen delivery in patients with vasospastic angina.
Pharmacokinetics
Absorption
100%; absolute: 20% due to first-pass effect
Metabolism
Hepatic; CYP3A4 substrate (major); extensive first-pass effect
Onset of Action
Antihypertensive: 2 to 5 hours
Time to reach the peak
2.5 to 5 hours
Duration of Action
Antihypertensive effect: 24 hours
Half life
Immediate release: 11 to 16 hours
Excretion
Urine (70% as metabolites); feces 10%
Drug indications
Hypertension: Management of hypertension
Dosage
Usual Adult Dose for Hypertension
Initial dose: 5 mg orally once a day
Maintenance dose: 2.5 to 10 mg orally once a day
Comments: If needed, dose adjustments should generally occur at intervals of at least 2 weeks.
Usual Geriatric Dose for Hypertension
Initial dose: 2.5 to 5 mg orally once a day
Maintenance dose: 2.5 to 10 mg orally once a day
Usual Pediatric Dose for Hypertension
(Not approved by FDA)
Drug contraindications
1-Hypersensitivity to the active component.
2-Safety and efficacy have not been established in patients younger than 18 years.
Side effects
>10%:
Cardiovascular: Peripheral edema (2% to 17%)
Central nervous system: Headache (11% to 15%)
1% to 10%: Cardiovascular: Flushing (4% to 7%), tachycardia (≤3%)
Interactions
Doxazosin
,
Dolasetron
,
Aripiprazole
,
Aprepitant
,
Brimonidine
,
Bitter almond oil
,
Cimetidine
,
Cyclosporine
,
Bromperidol
,
conivaptan
,
Atosiban
,
Barbiturates
,
Benperidol
,
Carbamazepine
,
Clopidogrel
,
Clofazimine
,
Amifostine
,
brigatinib
,
Alfuzosin
,
Betrixaban
,
Treprostinil
Alpha1-Blockers,Amphetamines, Antifungal Agents (Azole Derivatives, Systemic), Antipsychotic Agents (Second Generation [Atypical]), Calcium Channel Blockers (Nondihydropyridine), Calcium Salts
Alerts
1-Even though it may be rare, some people may have very bad and sometimes deadly side effects when taking a drug. Tell your doctor or get medical help right away if you have any of the following signs or symptoms that may be related to a very bad side effect:
Signs of an allergic reaction, like rash; hives; itching; red, swollen, blistered, or peeling skin with or without fever; wheezing; tightness in the chest or throat; trouble breathing, swallowing, or talking; unusual hoarseness; or swelling of the mouth, face, lips, tongue, or throat.
A fast heartbeat.
Very bad dizziness or passing out.
Chest pain that is new or worse.
Shortness of breath, a big weight gain, or swelling in the arms or legs.
2-Concerns related to adverse effects:
Angina/MI: Increased angina and/or MI has occurred with initiation or dosage titration of dihydropyridine calcium channel blockers; reflex tachycardia may occur resulting in angina and/or MI in patients with obstructive coronary disease especially in the absence of concurrent beta-blockade.
Hypotension/syncope: Symptomatic hypotension with or without syncope can rarely occur; blood pressure must be lowered at a rate appropriate for the patient's clinical condition.
Peripheral edema: The most common side effect is peripheral edema (dose dependent); occurs within 2 to 3 weeks of starting therapy.
3-Disease-related concerns:
Aortic stenosis: Use with extreme caution in patients with severe aortic stenosis; may reduce coronary perfusion resulting in ischemia.
Heart failure: The ACC/AHA heart failure guidelines recommend to avoid use in patients with heart failure (HF) due to lack of benefit and/or worse outcomes with calcium channel blockers in general (ACC/AHA [Yancy 2013]).
Hepatic impairment: Use with caution in patients with hepatic impairment; may require lower starting dose.
Hypertrophic cardiomyopathy (HCM) with outflow tract obstruction: Use with caution in patients with HCM and outflow tract obstruction since reduction in afterload may worsen symptoms associated with this condition.
Points of recommendation
1-To lower the chance of feeling dizzy or passing out, rise slowly if you have been sitting or lying down. Be careful going up and down stairs.
2-Talk with your doctor before using OTC products that may raise blood pressure. These include cough or cold drugs, diet pills, stimulants, ibuprofen or like products, and some natural products or aids.
3-Take good care of your teeth. See a dentist often.
4-Brush and floss your teeth.
5-Talk with your doctor before you drink alcohol.
6-If you drink grapefruit juice or eat grapefruit often, talk with your doctor.
7-Take with or without food but take the same way each time. Always take with food or always take on an empty stomach.
8-Swallow tablet whole; tablet should not be divided, crushed, or chewed. May be administered without food or with a small meal that is low in fat and carbohydrates.
Storage
Store below 30°C (86°F); protect from light.
Breast feeding warning
excretion in milk unknown/not recommended.
Drug forms
Plendil