Drug information of Fosinopril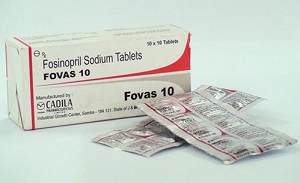 Mechanism of effect
Competitive inhibitor of angiotensin-converting enzyme (ACE); prevents conversion of angiotensin I to angiotensin II, a potent vasoconstrictor; results in lower levels of angiotensin II which causes an increase in plasma renin activity and a reduction in aldosterone secretion; a CNS mechanism may also be involved in hypotensive effect as angiotensin II increases adrenergic outflow from CNS; vasoactive kallikreins may be decreased in conversion to active hormones by ACE inhibitors, thus reducing blood pressure.
Pharmacokinetics
Absorption
36%
Metabolism
Prodrug, hydrolyzed to its active metabolite fosinoprilat by intestinal wall and hepatic esterases; fosinopril is also metabolized to a glucuronide conjugate and a p-hydroxy metabolite of fosinoprilat.
Onset of Action
1 hour
Time to Peak
Serum: ~3 hours
Half life
Serum (fosinoprilat):
Children and Adolescents 6-16 years: 11-13 hours
Adults: 12 hours
Adults with CHF: 14 hours
Excretion
Urine and feces (as fosinoprilat and other metabolites in roughly equal proportions)
Drug indications
1-Heart failure: Adjunctive treatment of heart failure (HF)
2-Hypertension: Management of hypertension
Dosage
Usual Adult Dose for Hypertension
Initial dose: 10 mg orally once a day alone or in combination with a diuretic
Maintenance dose: 20 to 40 mg orally once a day; some patients may have further response at 80 mg once a day
Usual Adult Dose for Congestive Heart Failure
Initial dose: 10 mg orally once a day
Target dose range: 20 to 40 mg orally once a day
Maximum dose: 40 mg orally once a day
Usual Pediatric Dose for Hypertension
6 to 16 years:
Greater than 50 kg: 5 to 10 mg orally once a day as monotherapy
Less than 50 kg: Appropriate dose not available
Drug contraindications
Hypersensitivity to fosinopril, any other ACE inhibitor, or any component of the formulation; angioedema related to previous treatment with an ACE inhibitor; concomitant use with aliskiren in patients with diabetes mellitus
Side effects
>10%: Central nervous system: Dizziness (1% to 2%; cardiac failure patients: ≤12%)
1% to 10%:
Cardiovascular: Orthostatic hypotension (1% to 2%), palpitations (1%)
Central nervous system: Headache (3%), noncardiac chest pain (≤2%), fatigue (1% to 2%)
Endocrine & metabolic: Hyperkalemia (3%)
Gastrointestinal: Diarrhea (2%), nausea and vomiting (1% to 2%)
Hepatic: Increased serum transaminases
Neuromuscular & skeletal: Musculoskeletal pain (≤3%), weakness (1%)
Renal: Increased serum creatinine, renal function decompensation (patients with bilateral renal artery stenosis or hypovolemia)
Respiratory: Cough (2% to 10%), upper respiratory infection (2%)
Interactions
Amlodipine/Atorvastatine
,
Iron sucrose
,
potassium citrate
,
Doxazosin
,
Triamterene
,
Azathioprine
,
Alteplase
,
Allopurinol
,
Everolimus
,
Brimonidine
,
Pregabalin
,
Bromperidol
,
tolvaptan
,
brigatinib
,
sodium phosphates
,
Alfuzosin
,
Ferrous Gluconate
,
Temsirolimus
,
Aprotinin
,
Nitroprusside sodium
,
Ranolazine
,
Trimethoprim
,
lithium
,
Amifostine
,
Dexmethylphenidate
,
Nicorandil
,
Heparin
,
Yohimbine
,
Dapoxetine
,
eplerenone
,
Levodopa
,
pentoxifylline
,
Tacrolimus
,
Drospirenone
,
Duloxetine
,
Diazoxide
,
Sirolimus
,
Canagliflozin
,
Telmisartan
,
Sacubitril and valsartan
,
Celecoxib
,
Sulindac
,
Azilsartan
,
Candesartan
,
Irbesartan
,
Olmesartan
,
Aliskiren
,
Treprostinil
,
Iron Dextran Complex
,
Remdesivir
,
Nesiritide
,
Angiotensin II
Amphetamines, Angiotensin II, Angiotensin II Receptor Blockers, Antacids, Antipsychotic Agents (Second Generation [Atypical]), Barbiturates, Benperidol, Dipeptidyl Peptidase-IV Inhibitors, Ferric Hydroxide Polymaltose Complex, Gelatin (Succinylated), Gold Sodium Thiomalate, Grass Pollen Allergen Extract (5 Grass Extract), Heparins (Low Molecular Weight), Herbs (Hypertensive Properties), Herbs (Hypotensive Properties), Hypotension-Associated Agents, Icatibant, Lanthanum, Loop Diuretics, Lormetazepam, Molsidomine, Naftopidil, Nicergoline, Nonsteroidal Anti-Inflammatory Agents, Obinutuzumab, Pholcodine, Phosphodiesterase 5 Inhibitors, Potassium Salts, Potassium-Sparing Diuretics, Prostacyclin Analogues, Quinagolide, Racecadotril, Sacubitril, Salicylates, Tacrolimus (Systemic),Thiazide and Thiazide-Like Diuretics, TiZANidine, Urapidil
Alerts
1-Do not take if you are pregnant. Use during pregnancy may cause birth defects or loss of the unborn baby. If you get pregnant or plan on getting pregnant while taking fosinopril, call your doctor right away.
2-Safety and efficacy have not been established in patients younger than 6 years.
Points of recommendation
1-What do I need to tell my doctor BEFORE I take Fosinopril?
-If you have ever had a very bad or life-threatening reaction called angioedema. Signs may be swelling of the hands, face, lips, eyes, tongue, or throat; trouble breathing; trouble swallowing; unusual hoarseness.
-If you are taking a drug that has aliskiren in it and you also have diabetes or kidney problems.
-If you have taken a drug that has sacubitril in it in the last 36 hours.
2-If you are taking a salt substitute that has potassium in it, a potassium-sparing diuretic, or a potassium product, talk with your doctor.
3-If you are on a low-salt or salt-free diet, talk with your doctor.
4-Low white blood cell counts have happened with captopril, a drug like this one. This may lead to more chance of getting an infection. Most of the time, this has happened in people with kidney problems, mainly if they have certain other health problems. Call your doctor right away if you have signs of infection like fever, chills, or sore throat.
5-If you are taking fosinopril and have high blood pressure, talk with your doctor before using OTC products that may raise blood pressure. These include cough or cold drugs, diet pills, stimulants, ibuprofen or like products, and some natural products or aids.
6-Do not take antacids within 2 hours before or 2 hours after taking fosinopril.
Storage
Store at 25°C (77°F); excursions permitted to 15°C to 30°C (59°F to 86°F). Protect from moisture.
Breast feeding warning
excreted in breast milk; not recommended.