Drug information of quinapril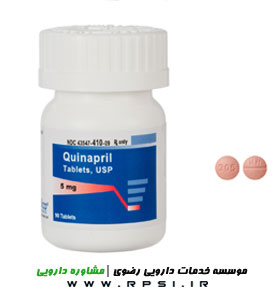 Mechanism of effect
Angiotensin II constricts coronary blood vessels and is positively inotropic, which under normal circumstances, would increase vascular resistance and oxygen consumption.
This action can eventually lead to myocyte hypertrophy and vascular smooth muscle cell proliferation. Angiotensin II also stimulates production of plasminogen activator inhibitor-1 (PAI-1), increasing the risk of thrombosis. Quinaprilat prevents the conversion of angiotensin I to angiotensin II by inhibition of angiotensin converting enzyme, and also reduces the breakdown of bradykinin. Reduced levels of angiotensin II lead to lower levels of PAI-1, reducing the risk of thrombosis, especially after a myocardial infarction.
Pharmacodynamic
Quinapril is a prodrug of an angiotensin converting enzyme (ACE) inhibitor used in the treatment of hypertension or adjunct in the treatment of heart failure. Quinapril has a wide therapeutic window and a long duration of action as it is given in doses of 10-80mg once daily
Pharmacokinetics
Absorption: Quinapril if 50-80% bioavailable.1 Quinapril has a Tmax of <1 hour,6 while quinaprilat has a Tmax of 2.5h.1 The Cmax of quinaprilat is highly variable but reaches 1526ng/mL with an AUC of 2443ng*h/mL in healthy males given a 10mg dose.1 A high fat meal reduces the absorption of quinapril by 25-30%.
Volume of distribution: The mean volume of distribution of quinaprilat is 13.9L.1
Protein binding: Quinapril and the active metabolite quinaprilat are 97% protein bound in plasma.
Metabolism: Quinapril is de-esterified to the active quinaprilat or dehydrated to form the inactive PD109488. PD109488 can undergo O-deethylation to form another inactive metabolite, PD113413.
Route of elimination: Quinaprilat is up to 96% eliminated in the urine. The eliminated metabolites PD109488 and PD113413 account for approximately 6% of a dose of quinapril each. A small fraction of the dose recovered in the urine is accounted for by unmetabolized quinapril.
Half life:
The active metabolite quinaprilat has an elimination half life of 2.3 hours
Drug indications
Congestive heart failure
Quinapril is used to treat high blood pressure. Lowering high blood pressure helps prevent strokes, heart attacks, and kidney problems. This medication is also used to treat heart failure. Quinapril belongs to a class of drugs known as ACE inhibitors.
Dosage
Usual Adult Dose for Hypertension
Initial dose: 10 or 20 mg orally once a day in patients not on diuretics
Maintenance dose: 20 to 80 mg orally per day, administered as a single dose or in two equally divided doses
Usual Adult Dose for Congestive Heart Failure
Initial dose: 5 mg orally twice a day
Maintenance dose: 20 to 40 mg orally per day administered in two equally divided doses
Usual Geriatric Dose for Congestive Heart Failure
10 mg orally once a day
Usual Geriatric Dose for Hypertension
10 mg orally once a day
Drug contraindications
pregnancy
,
Angioedema
,
Hypersensitivity
Hypersensitivity
History of hereditary or angioedema associated with previous ACE inhibitor treatment
Bilateral renal artery stenosis
Do not coadminister with aliskiren in patients with diabetes mellitus or with renal impairment (i.e., GFR less than 60 mL/minute/1.73 m²)
Pregnancy (2nd and 3rd trimesters): Significant risk of fetal/neonatal morbidity and mortality
Interactions
Amlodipine/Atorvastatine
,
Drospirenone
,
Iron sucrose
,
potassium citrate
,
Doxazosin
,
Triamterene
,
Dalteparin
,
Misoprostol
,
Canagliflozin
,
Telmisartan
,
Sacubitril and valsartan
,
Celecoxib
,
Lymecycline
,
Sulindac
,
Azilsartan
,
Candesartan
,
Irbesartan
,
Olmesartan
,
Aliskiren
,
Treprostinil
,
atovaquone/proguanil
,
Sulfamethoxazole
,
Iron Dextran Complex
,
Remdesivir
,
Bacampicillin
,
Nesiritide
,
Angiotensin II
Points of recommendation
Before taking quinapril, tell your doctor or pharmacist if you are allergic to it; or to other ACE inhibitors (such as benazepril); or if you have any other allergies. This product may contain inactive ingredients, which can cause allergic reactions or other problems. Talk to your pharmacist for more details.
Before using this medication, tell your doctor or pharmacist your medical history, especially of: history of an allergic reaction which included swelling of the face/lips/tongue/throat (angioedema), blood filtering procedures (such as LDL apheresis, dialysis), high level of potassium in the blood, liver disease.
This drug may make you dizzy. Alcohol or marijuana (cannabis) can make you more dizzy. Do not drive, use machinery, or do anything that needs alertness until you can do it safely. Limit alcoholic beverages. Talk to your doctor if you are using marijuana (cannabis).
Too much sweating, diarrhea, or vomiting may cause loss of too much body water (dehydration) and increase your risk of lightheadedness. Report prolonged diarrhea or vomiting to your doctor. Be sure to drink enough fluids to prevent dehydration unless your doctor directs you otherwise.
Before having surgery, tell your doctor or dentist about all the products you use (including prescription drugs, nonprescription drugs, and herbal products).
This product may increase your potassium levels. Before using potassium supplements or salt substitutes that contain potassium, consult your doctor or pharmacist.
Pregnancy level
Discontinue as soon as possible when pregnancy is detected; affects renin-angiotensin system causing oligohydramnios, which may result in fetal injury and/or death
Breast feeding warning
use caution