Drug information of Amikacin
Amikacin
Amikacin is an antibiotic that fights bacteria. Amikacin is used to treat severe or serious bacterial infections.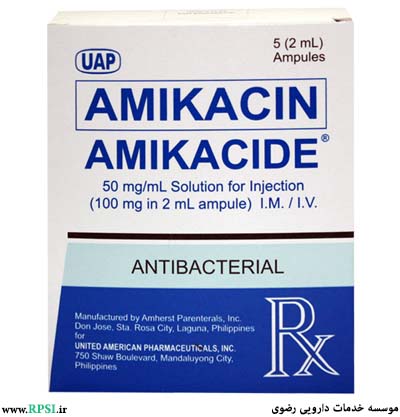 Mechanism of effect
Amikacin, an aminoglycoside, binds to the prokaryotic ribosome, inhibiting protein synthesis in susceptible bacteria. It is bactericidal in vitro against Gram-positive and Gram-negative bacteria.
Pharmacodynamic
Amikacin is an aminoglycoside antibiotic.
Pharmacokinetics
Rapidly absorbed after intramuscular administration. Rapid absorption occurs from the peritoneum and pleura. Poor oral and topical absorption. Amikacin is excreted primarily by glomerular filtration. Half life: 2-3 hours
Dosage
Usual Adult Dose for Intraabdominal Infection 15 to 22.5 mg/kg/day IV or IM in 1 to 3 divided doses, depending on severity of infection (initial maximum of 1.5 g/day, then adjust dose based on desired serum levels) Usual Pediatric Dose for Cystic Fibrosis 1 to 18 years: Higher doses and/or more frequent intervals may be required. Dosing should be individualized and based on serum concentrations. Doses of up to 35 mg/kg/day IV in 1 to 3 divided doses have been reported.
Interactions
Atracurium
,
ampicillin
,
Ibuprofen
,
Indomethacin
,
Infliximab
,
Piperacillin
,
Vancomycin
,
cefepime
,
Pancuronium
,
Succinylcholine
,
Cyclosporine
,
Furosemide
,
Mefenamic acid
,
Meloxicam
,
Cloxacillin
,
Piroxicam
,
Tenofovir
,
Diclofenac
,
Cefotaxime
,
Cefuroxime
,
Celexib
,
intralipid
,
Thalidomide
,
Zoledronic acid
,
Carboplatin
,
Carbenicillin
,
Meglumine Compound
,
Succinylcholine Chloride
,
Doxacurium
,
Mivacurium
,
Rapacuronium
,
Diatrizoate (Amidotrizoic acid)
,
Cefamandole
,
cholera vaccine live
,
Ioxaglate
,
prabotulinumtoxina
,
Cordyceps
,
Gallium Nitrate
,
Iothalamate Meglumine
,
tropisetron
,
Benorilate
,
Blonanserin
,
Typhoid vaccine (live), oral
,
Florbetapir F18
Alerts
1-Amikacin sulfate injection is potentially nephrotoxic, ototoxic and neurotoxic. 2-Increased nephrotoxicity has been reported following concomitant parenteral administration of aminoglycoside antibiotics and cephalosporins. 3-Elderly patients may have reduced renal function. Monitoring of renal function during treatment with aminoglycosides is particularly important.
Points of recommendation
1-Since Amikacin is present in high concentrations in the renal excretory system, patients should be well hydrated to minimize chemical irritation of the renal tubules. 2-Diarrhea is a common problem caused by antibiotics which usually ends when the antibiotic is discontinued. Sometimes after starting treatment with antibiotics, patients can develop watery and bloody stools (with or without stomach cramps and fever) even as late as two or more months after having taken the last dose of the antibiotic. If this occurs, patients should contact their physician as soon as possible.