Drug information of Acalabrutinib
Acalabrutinib
To date, acalabrutinib has been used in trials studying the treatment of B-All, Myelofibrosis, Ovarian Cancer, Multiple Myeloma, and Hodgkin Lymphoma, among others.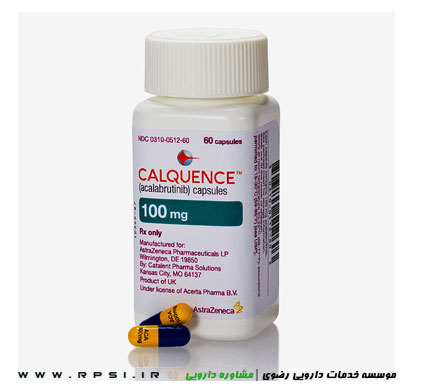 Mechanism of effect
Bruton tyrosine kinase (BTK) inhibitor; acalabrutinib and its active metabolite, ACP-5862, form a covalent bond with a cysteine residue in the BTK active site, leading to inhibition of BTK enzymatic activity
BTK is a signaling molecule of the B-cell antigen receptor (BCR) and cytokine receptor pathways; in B cells, BTK signaling results in activation of pathways necessary for B-cell proliferation, trafficking, chemotaxis, and adhesion
Pharmacodynamic
It has been shown that a single dose of acalabrutinib that is four-fold the maximum recommended single dose (ie. 100 mg) does not appear to prolong QTc interval to any clinically significant extent (ie. ≥ 10 ms).
Pharmacokinetics
Absolute bioavailability: 25%
Peak plasma time: 0.75 hr; administered under fasting conditions delayed Tmax by 1-2 hr
Peak plasma concentration: 323 ng/mL; administered under fasting conditions decreased Cmax by 73%
AUC: 1111 ng·h/mL
High-fat, high-calorie meal did not affect AUC
Protein bound: 97.5%
Vd: 34 L
Metabolism
Predominantly metabolized by CYP3A enzymes, and to a minor extent, by glutathione conjugation and amide hydrolysis, based on in vitro studies
Active metabolite: ACP-5862 with mean exposure (AUC) ~2- to 3-fold higher than the exposure of acalabrutinib; ACP-5862 is ~50% less potent than acalabrutinib with regard to BTK inhibition
Half-life: 0.9 hr; 6.9 hr (active metabolite)
Clearance: 159 L/hr
Excretion: 84% feces; 12% urine
Dosage
Adult
Mantle Cell Lymphoma
100 mg PO q12hr
Pediatric
Safety and efficacy not established
Side effects
Diarrhea
,
Nosebleeds
,
Headache
,
nausea
,
abdominal pain
,
vomiting
,
myalgia
,
Creatinine increased
,
hemorrhage
,
hematoma
,
tiredness
,
Rash
Interactions
Daunorubicin
,
Fludarabine phosphate
,
nelfinavir
,
Desirudin
,
Tirofiban
,
Tipranavir
,
Tositumomab
,
Ibritumomab tiuxetan
,
lumacaftor and Ivacaftor
,
Dabrafenib
,
Antithrombin III
,
Esomeprazole
,
Omeprazole
,
Oxecarbazepin
,
Itraconazole
,
Isoniazid
,
Imatinib
,
Delavirdine
,
Butabarbital
,
Apalutamide
,
conivaptan
,
Indinavir
,
Butalbital
,
Fosphenytoin
,
Idelalisib
,
Lumacaftor
,
cobicistat
,
saquinavir
,
nevirapine
,
mitotane
,
Fosamprenavir
,
Lopinavir
,
Palifermin
,
Darunavir
,
Grapefruit
,
Pentobarbital
,
Amobarbital
,
Nefazodone
,
ritonavir
,
Carbamazepine
,
Ketoconazole
,
Clarithromycin
,
Enzalutamide
,
Rifabutin
,
Rifapentine
,
Rabeprazole
,
Rifampin
,
Phenobarbital
,
Phenytoin
,
Lansoprazole
,
Voriconazole
,
Primidone
,
Pantoprazole
,
Posaconazole
,
Tenofovir
,
Deferiprone
,
Dexamethasone
,
Mibefradil
,
Nicardipine
,
Letermovir
,
Binimetinib
,
Betrixaban
,
Decitabine
,
Ramucirumab
,
Bromfenac
,
Anisindione
,
Urokinase
,
Dasatinib
Alerts
Serious hemorrhagic events, including fatal events, reported; the mechanism for the bleeding events is not well understood; acalabrutinib may further increase hemorrhage risk in patients receiving antiplatelet or anticoagulant therapies, and patients should be monitored for signs of bleeding; consider the benefit-risk of withholding acalabrutinib for 3-7 days presurgery and postsurgery depending on the type of surgery and the risk of bleeding
Serious infections (bacterial, viral, or fungal), including fatal events and opportunistic infections, reported; monitor for infection and consider prophylaxis in patients who are at increased risk for opportunistic infections
Cytopenias reported, including neutropenia, anemia, and thrombocytopenia; assess complete blood cell counts monthly during treatment
Second primary malignancies, including nonskin carcinomas, have occurred in patients with hematologic malignancies treated with acalabrutinib; the most frequent was skin cancer; advise patients regarding need for protection from sun exposure
Atrial fibrillation and flutter occurred (rare) during clinical trials; monitor patients and manage as appropriate
Drug interaction overview
Coadministration with CYP3A inhibitors or inducers

Acalabrutinib is predominantly metabolized by CYP3A enzymes
CYP3A inhibitors are expected to increase acalabrutinib systemic exposure
CYP3A inducers are expected to decrease acalabrutinib systemic exposure

Coadministration with gastric acid-reducing agents

Coadministration with PPIs, H2-antagonists, or antacids may decrease acalabrutinib plasma concentrations
Points of recommendation
Follow all directions on your prescription label. Do not use this medicine in larger or smaller amounts or for longer than recommended.
Take this medicine with a full glass of water.
You may take acalabrutinib with or without food.
Do not chew, break, or open the acalabrutinib capsule. Swallow it whole.
If you need surgery, tell the surgeon ahead of time that you are using acalabrutinib. You may need to stop using the medicine for a short time.
While using acalabrutinib, you may need frequent blood tests.
Store at room temperature away from moisture and heat.
Take the missed dose as soon as you remember. If you are more than 3 hours late, skip the missed dose. Do not take extra medicine to make up the missed dose.
Pregnancy level
Not assigned
Related drugs
Dabrafenib
,
Sunitinib
,
Sorafenib
,
Axitinib
,
alectinib
,
vandetanib
,
brigatinib
,
Cobimetinib
,
Ceritinib
,
Ruxolitinib
,
Regorafenib
,
Ponatinib
,
Nintedanib
,
Ibrutinib
,
Crizotinib
,
Cabozantinib
,
Binimetinib