Drug information of Zafirlukast
Zafirlukast
Zafirlukast is an oral leukotriene receptor antagonist (LTRA) for the maintenance treatment of asthma, often used in conjunction with an inhaled steroid and/or long-acting bronchodilator. It is available as a tablet and is usually dosed twice daily. Another leukotriene receptor antagonist is montelukast (Singulair), which is usually taken just once daily.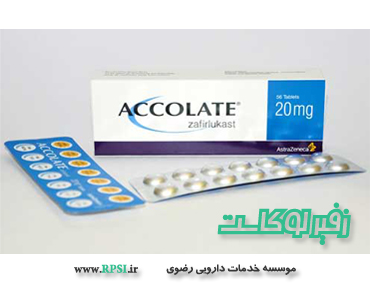 Mechanism of effect
Inhibits bronchoconstriction as competitive receptor antagonist of leukotrienes D4 & E4; receptor occupation and cysteinyl leukotriene production has been associated with the pathophysiology of asthma.
Pharmacodynamic
Zafirlukast is a synthetic, selective peptide leukotriene receptor antagonist (LTRA) indicated for the prophylaxis and chronic treatment of asthma. Patients with asthma were found in one study to be 25-100 times more sensitive to the bronchoconstricting activity of inhaled LTD4 than nonasthmatic subjects.
In vitro studies demonstrated that zafirlukast antagonized the contractile activity of three leukotrienes (LTC4, LTD4 and LTE4) in conducting airway smooth muscle from laboratory animals and humans. Zafirlukast prevented intradermal LTD4-induced increases in cutaneous vascular permeability and inhibited inhaled LTD4-induced influx of eosinophils into animal lungs.
Pharmacokinetics
Half-Life: 8-16 hr
Onset: 3-14 days
Peak plasma concentration: 326 ng/mL (healthy subjects); 568 ng/mL (asthmatics)
Peak plasm time: 3 hr (healthy subjects); 3.5 hr (asthmatics)
Clearance: 20 L/hr; significantly decreased in cirrhosis and age 65 yr
Protein bound: 99%
Vd: 70 L
Bioavailability: Reduced 40% with food
Metabolism: Hepatic CYP2C9
Excretion: Feces (90%); urine (10%)
Enzymes inhibited: Hepatic CYP2C9, CYP3A4
Dosage
Adults
20 mg PO twice daily
Pediatrics
Less than 5 years: The safety and effectiveness has not been established.

5 to 11 years:
10 mg orally twice a day, 1 hour before or 2 hours after meals

12 years or older:
20 mg orally twice a day, 1 hour before or 2 hours after meals
Interactions
Erythromycin
,
Pimozide
,
Everolimus
,
Dihydroergotamine
,
Sirolimus
,
Cisapride
,
Simvastatin
,
Lovastatin
,
silodosin
,
ergotamine
,
Ranolazine
,
Sertindole
,
Terfenadine
,
Pazopanib
,
tolvaptan
,
Phenindione
,
Peginterferon alfa-2b
,
Halofantrine
,
Methacholine
,
Gefitinib
,
Remdesivir
,
Cannabidiol
Alerts
Not immediately effective and not for acute bronchospasm
Increased risk of infection if age >55 yr
Discontinue if hepatic dysfunction suspected, do not resume if confirmed
May cause eosinophilia, eosinophilic pneumonia, or vasculitis consistent with emergence of Churg-Strauss syndrome
Behavioral changes reported with therapy
Concomitant use with warfarin can result in clinical significant increase in INR
Not for use in the treatment of acute asthma attacks, including status asthmaticus
Points of recommendation
Take even during sign-free periods.
Take on an empty stomach. Take 1 hour before or 2 hours after meals.
Take this medicine at the same time of day.
To gain the most benefit, do not miss doses.
Keep taking zafirlukast as you have been told by your doctor or other health care provider, even if you feel well.