Drug information of Dabrafenib
Dabrafenib
Dabrafenib mesylate is a reversible ATP-competitive kinase inhibitor and targets the MAPK pathway.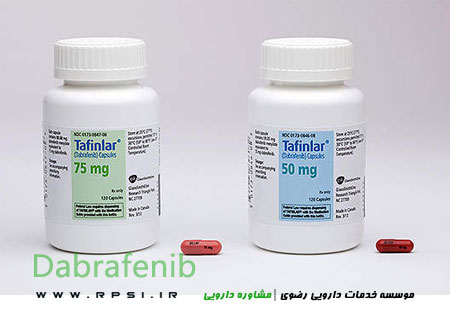 Mechanism of effect
Dabrafenib is an orally bioavailable inhibitor of B-raf (BRAF) protein with antineoplastic activity. Dabrafenib selectively binds to and inhibits the activity of B-raf, which may inhibit the proliferation of tumor cells which contain a mutated BRAF gene. B-raf belongs to the raf/mil family of serine/threonine protein kinases and plays a role in regulating the MAP kinase/Extracellular Signal-regulated Kinases signaling pathway, which may be constitutively activated due to BRAF gene mutations.
Pharmacodynamic
Dabrafenib causes an inhibition of phosphorylated extracellular signal-regulated kinase (ERK). This indicates a decrease in cell proliferation. Furthermore, within 24 hours of administration, downstream mediators of the MAPK pathway were inhibited.
Pharmacokinetics
Bioavailability: 95%
Peak plasma time: 2 hr
High-calorie meal decreased AUC by 31%, Cmax by 51%, and delayed Tmax by 3.6 hr compared with fasted state
Protein Bound: 99.7%
Vd: 70.3 L
Metabolism
Primarily mediated by CYP2C8 and CYP3A4 to form hydroxy-dabrafenib
Hydroxy-dabrafenib is further oxidized via CYP3A4 to form carboxy-dabrafenib and subsequently excreted in bile and urine
Carboxy-dabrafenib is decarboxylated to form desmethyl-dabrafenib; desmethyl-dabrafenib may be reabsorbed from the gut
Desmethyl-dabrafenib is further metabolized by CYP3A4 to oxidative metabolites
Half-life: 8 hr (parent); 10 hr (hydroxy-dabrafenib); 21-22 hr (carboxy- and desmethyl-dabrafenib)
Clearance: 17 L/hr (single dose); 34.4 L/hr (after 2 wk of BID dosing)
Excretion: 71% feces; 23% urine (as metabolites only)
Drug indications
lung cancer
,
skin cancer
• It is used to treat a type of skin cancer (melanoma). • It is used to treat lung cancer.
Dosage
Adult
Melanoma
Mutations must be detected by an FDA-approved test
BRAF V600E mutation-positive unresectable or metastatic melanoma
150 mg PO BID
Continue until disease recurrence or unacceptable toxicity
BRAF V600E or V600K mutation-positive unresectable or metastatic melanoma
150 mg PO BID plus trametinib 2 mg PO qDay
Continue until disease recurrence or unacceptable toxicity
Adjuvant treatment of BRAF V600E or V600K mutation-positive melanoma
150 mg PO BID plus trametinib 2 mg PO qDay
Continue until disease recurrence or unacceptable toxicity for up to 1 year
Non-Small Cell Lung Cancer
150 mg PO BID plus trametinib 2 mg PO qDay
Continue until disease recurrence or unacceptable toxicity
Thyroid Cancer
150 mg PO BID plus trametinib 2 mg PO qDay
Continue until disease recurrence or unacceptable toxicity
Pediatric
Safety and efficacy not established
Drug contraindications
none
Side effects
Headache
,
myalgia
,
Arthralgia
,
Rash
,
Hypophosphatemia
Alopecia , Arthralgia , Back pain , Constipation , Cough , Cutaneous squamous cell carcinoma , Headache , Hyperglycemia , Hyperkeratosis , Hyperphosphatemia , Hypersensitivity manifesting as bullous rash, Hyponatremia , Hypophosphatemia, Increased alkaline phosphatase , Interstitial nephritis , Myalgia , Nasopharyngitis , Palmar-planter erythrodysesthesia syndrome , Pancreatitis , Papilloma , Rash
Interactions
Citalopram
,
Medroxyprogesterone
,
Chlordiaze poxide
,
sparfloxacin
,
lumacaftor and Ivacaftor
,
Oxecarbazepin
,
Itraconazole
,
Isoniazid
,
Imatinib
,
Bosentan
,
Primidone
,
conivaptan
,
neratinib
,
Eslicarbazepine acetate
,
stiripentol
,
Venetoclax
,
Cariprazine
,
Cobimetinib
,
Ceritinib
,
Eliglustat
,
Elvitegravir
,
riociguat
,
Doravirine
,
trabectedine
,
Secobarbital
,
Apalutamide
,
Sonidegib
,
Cabozantinib
,
Delavirdine
,
Fostamatinib
,
Apremilast
,
Palbociclib
,
Ibrutinib
,
Ixazomib
,
Copanlisib
,
Tipranavir
,
Etravirine
,
Acalabrutinib
,
Nicardipine
,
cobicistat
,
Fosphenytoin
,
Idelalisib
,
brigatinib
,
Regorafenib
,
Efavirenz
,
EMTRICITABINE
,
Osimertinib
,
Palifermin
,
Indinavir
,
Mefloquine
,
Panobinostat
,
Ribociclib
,
paritaprevir
,
Fosamprenavir
,
Ivabradine
,
Palonosetron
,
dasabuvir
,
Lopinavir
,
Quinidine
,
Pentobarbital
,
Nefazodone
,
ritonavir
,
nelfinavir
,
nevirapine
,
Sofosbuvir
,
Rifabutin
,
Rifapentine
,
Atazanavir
,
Praziquantel
,
Darunavir
,
Voriconazole
,
Carbamazepine
,
Ketoconazole
,
Clarithromycin
,
Enzalutamide
,
Daclatasvir
,
Rifampin
,
Sorafenib
,
Sildenafil
,
Phenobarbital
,
Phenytoin
,
Warfarin
,
Posaconazole
,
Tacrolimus
,
Tenofovir
,
Gemfibrozil
,
Deflazacort
,
Dexamethasone
,
Tasimelteon
,
Dexlansoprazole
,
trametinib
,
Roflumilast
,
pexidartinib
,
upadacitinib
,
tezacaftor/ivacaftor
,
Clorazepate
,
Temsirolimus
,
ELBASVIR/GRAZOPREVIR
,
glasdegib
,
Abemaciclib
,
Naltrexone and Bupropion
,
bedaquiline
,
Gefitinib
,
Cannabidiol
,
talazoparib
,
ambrisentan
,
rolapitant
,
voxelotor
,
tucatinib
,
Netupitant
,
Capmatinib
,
Dienestrol
cariprazine, cobimetinib, daclatasvir, doravirine, elbasvir/grazoprevir, lorlatinib, lumacaftor/ivacaftor, naloxegol, ombitasvir/paritaprevir/ritonavir, ombitasvir/paritaprevir/ritonavir & dasabuvir, panobinostat, praziquantel, regorafenib, abemaciclib, acalabrutinib, apalutamide, apremilast, atazanavir, bosentan, brigatinib, cabozantinib, carbamazepine, ceritinib, clarithromycin, conivaptan, copanlisib, darunavir, deflazacort, delavirdine, dexamethasone, duvelisib, efavirenz, eliglustat, elvitegravir, elvitegravir/cobicistat/emtricitabine/tenofovir df, enzalutamide, erdafitinib, eslicarbazepine acetate, etravirine, fosamprenavir, fosphenytoin, fostamatinib, gemfibrozil, glasdegib, ibrutinib, idelalisib, imatinib, indinavir, isoniazid, itraconazole, ivabradine, ivosidenib, ixazomib, ketoconazole, larotrectinib, lopinavir, macimorelin, macitentan, mefloquine, midostaurin, naldemedine, nefazodone, nelfinavir, neratinib, netupitant/palonosetron, nevirapine, nicardipine, olaparib, osimertinib, oxcarbazepine, palbociclib, palifermin, pentobarbital, phenobarbital, phenytoin, posaconazole, primidone, quetiapine, quinidine, ribociclib, rifabutin, rifampin, rifapentine, riociguat, ritonavir, rolapitant, saquinavir, secobarbital, sildenafil, siponimod, sofosbuvir/velpatasvir, sonidegib, sorafenib, stiripentol, sulfisoxazole, tacrolimus, talazoparib, tezacaftor, tipranavir, trabectedin, valbenazine, venetoclax, vorapaxar, voriconazole, warfarin
Alerts
Increases incidence of cutaneous squamous cell carcinoma, keratoacanthoma, and new incidence melanoma; perform dermatologic evaluations prior to initiation of therapy, every 2 months while on therapy, and for up to 6 months following discontinuation
BRAF inhibitors may cause paradoxical activation of MAP-kinase signaling and increased cell proliferation in BRAF wild-type cells; confirm evidence of BRAF V600E mutation status prior to initiation
Based on its mechanism of action, dabrafenib may promote growth and development of malignancies with activation of RAS through mutation or other mechanisms
Withhold if fever >101.3°F or complicated fever occurs; incidence and severity of pyrexia increased when used in combination with trametinib
Hemorrhage, including major hemorrhages, can occur when used in combination with trametinib; permanently discontinue therapy for all Grade 4 hemorrhagic events and for any Grade 3 hemorrhagic events that do not improve; withhold therapy for Grade 3 hemorrhagic events; if improved, resume at next lower dose level
Venous thromboembolism can occur when used in combination with trametinib
Hyperglycemia reported; monitor serum glucose levels in patients with pre-existing diabetes or hyperglycemia
Risk of cardiomyopathy when used as a single agent or with trametinib; reassess LVEF after 1 month of treatment and then ~ every 2-3 months thereafter; withhold therapy for symptomatic cardiomyopathy or asymptomatic LV dysfunction of > 20% from baseline that is below institutional lower limit of normal (LLN); resume treatment at the same dose level upon recovery of cardiac function to at least the institutional LLN for LVEF and absolute decrease 10% compared to baseline
Uveitis, iritis, and retinal pigment epithelial detachment (RPED) reported; monitor patients routinely for visual symptoms
Risk of serious skin toxicity including rash, dermatitis, acneiform rash, palmar-plantar erythrodysesthesia syndrome, and erythema
Contains a sulfonamide moiety which increases the risk of hemolytic anemia in patients with G6PD deficiency
Based on its mechanism of action, dabrafenib can cause fetal harm; advise females of reproductive potential of potential risk to a fetus
Drug interaction overview
Dabrafenib may render hormonal contraceptives less effective and an alternative method of contraception should be used
Coadministration with strong inhibitors or inducers of CYP3A4 or CYP2C8 is not recommended
Drugs that increase gastric pH may decrease dabrafenib concentrations
Dabrafenib inhibits certain CYP isoenzymes; concomitant use with drugs that are sensitive substrates of CYP3A4, CYP2C8, CYP2C9, CYP2C19, or CYP2B6 may result in loss of efficacy of these drugs
Points of recommendation
Tell all of your health care providers that you take dabrafenib. This includes your doctors, nurses, pharmacists, and dentists.
Sometimes, dabrafenib is taken with trametinib. If you are taking dabrafenib with trametinib, be sure you know the side effects that can happen with each drug. When these drugs are taken together, the chance of certain side effects may be raised. These side effects can be very bad and sometimes deadly. This includes bleeding, bleeding in the brain, blood clots, eye problems, fever, heart problems (like heart failure), high blood sugar, other cancers, and skin problems. Talk with your doctor about the chance of side effects with your drugs.
Have your skin checked. Tell your doctor if you have any skin changes like a new wart, skin sore or reddish bump that bleeds or does not heal, or a change in the color or size of a mole.
Have blood work checked as you have been told by the doctor. Talk with the doctor.
If you have high blood sugar (diabetes), talk with your doctor. This medicine may raise blood sugar.
Check your blood sugar as you have been told by your doctor.
It is common to get a rash with dabrafenib but other skin reactions may also happen. Sometimes, these rashes and skin reactions can be very bad and may need treatment in the hospital. Call your doctor right away if you have acne, skin redness, or a skin rash that bothers you or does not go away. Call your doctor right away if you have redness or irritation of the palms of hands or soles of feet.
Very bad eye problems have happened with dabrafenib. Sometimes, this has led to loss of eyesight. Call your doctor right away if you have blurred eyesight, loss of eyesight, or other changes in eyesight. Call your doctor right away if you see color dots or halos or if bright lights bother you.
Be careful if you have G6PD deficiency. Anemia may happen.
This medicine may affect fertility. Fertility problems may lead to not being able to get pregnant or father a child. Talk with the doctor.
This medicine may cause harm to the unborn baby if you take it while you are pregnant.
Use birth control that you can trust to prevent pregnancy while taking dabrafenib and for at least 2 weeks after stopping the drug.
Birth control pills and other hormone-based birth control may not work as well to prevent pregnancy. Use some other kind of birth control also like a condom when taking dabrafenib and for 2 weeks after stopping dabrafenib.
If you get pregnant while taking dabrafenib or within 2 weeks after your last dose, call your doctor right away.
Take on an empty stomach. Take 1 hour before or 2 hours after meals.
Swallow whole. Do not chew, open, or crush.
Talk with your doctor about drinking lots of fluids and other ways to prevent fluid loss. If you have a lot of fluid loss, you may have more side effects from dabrafenib.
To gain the most benefit, do not miss doses.
Keep taking dabrafenib as you have been told by your doctor or other health care provider, even if you feel well.
Take a missed dose as soon as you think about it.
If it is less than 6 hours until the next dose, skip the missed dose and go back to the normal time.
Do not take 2 doses at the same time or extra doses.
Pregnancy level
Not assigned
Related drugs
brigatinib
,
Sorafenib
,
Axitinib
,
alectinib
,
vandetanib
,
Regorafenib
,
Ponatinib
,
Ruxolitinib
,
vemurafenib
,
Acalabrutinib
,
Ibrutinib
,
Crizotinib
,
Cabozantinib
,
Cobimetinib
,
Ceritinib
,
Nintedanib
,
Binimetinib