Drug information of Dolutegravir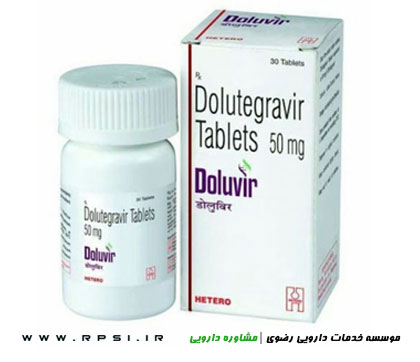 Mechanism of effect
Dolutegravir is an HIV-1 antiviral agent. It inhibits HIV integrase by binding to the active site and blocking the strand transfer step of retroviral DNA integration in the host cell. The strand transfer step is essential in the HIV replication cycle and results in the inhibition of viral activity.
Pharmacodynamic
HIV-1 infected subjects on dolutegravir monotherapy demonstrated rapid and dose-dependent reduction of antiviral activity with declines of HIV-1 RNA copies per ml. The antiviral response was maintained for 3 to 4 days after the last dose.
Pharmacokinetics
Peak plasma time: 2-3 hr
Peak plasma concentration: 3.67-4.15 mcg/mL
AUC 53.6-75.1 mcg•h/mL
Protein bound: ≥98.9%
Vd: 17.4 L; 4-232 ng/mL (CSF)
Metabolism
Metabolized by UGT1A1 with some contribution from CYP3A
Half-life: 14 hr
Clearance: 1 L/hr
Excretion: 53% feces (unchanged); 31% urine (as ether glucuronide, benzylic carbon, or N-dealkylation product); <1% urine (unchanged)
Drug indications
Infection, Human Immunodeficiency Virus I
Dosage
Adult
HIV Infection
Indicated in combination with other ARTs
Treatment-naïve or treatment-experienced INSTI-naïve: 50 mg PO qDay
INSTI-experienced with certain INSTI-associated resistance substitutions or clinically suspected INSTI resistance: 50 mg PO BID
Indicated in combination with rilpivirine
Indicated in combination with rilpivirine as a complete regimen for the treatment of HIV-1 infection to replace the current ART regimen in adults who are virologically suppressed (HIV-1 RNA <50 copies/mL) on a stable ART regimen ≥6 months with no history of treatment failure or known substitutions associated with resistance to dolutegravir or rilpivirine
50 mg PO qDay
Pediatric
HIV Infection
<30 kg: Safety and efficacy not established
≥30 kg to <40 kg: 35 mg PO qDay (ie, one 25-mg tablet and one 10-mg tablet)
≥40 kg: 50 mg PO qDay
Drug contraindications
Documented hypersensitivity Coadministration with dofetilide due to the potential for increased dofetilide plasma concentrations and the risk for serious and/or life-threatening events
Side effects
Insomnia
,
Headache
,
nausea
,
Hyper-cholesteremia
,
Increased ALT
,
Increased AST
,
Hyperbilirubinemia
,
itching
,
renal failure
,
gastrointestinal disturbances
,
tiredness
Increased cholesterol and triglycerides , Increased lipase , Hyperglycemia , Increased creatinine kinase , Increased AST , Insomnia , Increased ALT , Increased bilirubin , Headache , GI disorders , Fatigue , Hepatitis , Myositis , Renal impairment , Pruritus , Nausea
Interactions
Zinc
,
Efavirenz
,
Etravirine
,
ampicillin
,
Oxecarbazepin
,
Isoniazid
,
Potassium chloride
,
Primidone
,
Rifampin
,
منیزیم سالیسیلات
,
Tipranavir
,
Iron polysaccharide
,
carbonyl iron
,
Magaldrate
,
Aluminum carbonate
,
Ferrous Gluconate
,
nevirapine
,
Fosamprenavir
,
Dihydroxyaluminum
,
Dofetilide
,
Aluminium hydroxide
,
Fosphenytoin
,
Magnesium
,
Multivitamin
,
Carbamazepine
,
Calcium
,
Didanosine
,
Atropine
,
Sodium bicarbonate
,
Sucralfate
,
Ferrous sulfate
,
Ferrous fumarate
,
Phenobarbital
,
Phenytoin
,
Halofantrine
,
Grepafloxacin
,
Magnesium carbonate
,
aluminum hydroxide/magnesium carbonate
,
Attapulgite
,
Biolectra Magnesium
,
magnesium citrate
aluminum carbonate , aluminum hydroxide , atropine / phenobarbital , attapulgite , bisacodyl / polyethylene glycol 3350 / potassium chloride / sodium bicarbonate / sodium chloride , calcium , carbamazepine , carbonyl iron , choline salicylate / magnesium salicylate , citric acid / glucono-delta-lactone / magnesium carbonate topical , citric acid / magnesium oxide / sodium picosulfate, citric acid / potassium bicarbonate / sodium bicarbonate , citric acid / simethicone / sodium bicarbonate , didanosine , dihydroxyaluminum sodium carbonate, dofetilide , efavirenz, etravirine, ferric citrate , ferrous fumarate , ferrous gluconate , ferrous sulfate , fosamprenavir, fosphenytoin , heme iron polypeptide , iron polysaccharide , iron protein succinylate, isoniazid / rifampin, kaolin, magaldrate , magnesium , magnesium sulfate / potassium sulfate / sodium sulfate , multivitamin with iron , multivitamin with minerals , multivitamin, prenatal , nevirapine, oxcarbazepine , phenobarbital , phenytoin , primidone , prussian blue, rifampin , sodium bicarbonate , st john's wort, sucralfate, tipranavir
Alerts
Hypersensitivity reactions reported; characterized by rash, constitutional findings, and sometimes organ dysfunction, including liver injury
Hepatic adverse events reported; patients with underlying hepatitis B or C may be at increased risk for worsening or development of transaminase elevations; in some cases, transaminase elevations were consistent with immune reconstitution syndrome or hepatitis B reactivation particularly in the setting where antihepatitis therapy was withdrawn
Hepatic toxicity, including elevated serum liver biochemistries, hepatitis, and acute liver failure reported without pre-existing hepatic disease or other identifiable risk factors; drug-induced liver injury leading to liver transplant reported; monitoring for hepatotoxicity recommended
Immune reconstitution syndrome has been reported in patients treated with combination antiretroviral therapy; may develop an inflammatory response to indolent or residual opportunistic infections (eg, Mycobacterium avium infection, cytomegalovirus, Pneumocystis jiroveci pneumonia [PCP], or tuberculosis) or autoimmune disorders (eg, Graves' disease, polymyositis, and Guillain-Barre' syndrome)
May 18, 2018: The FDA issued a safety alert regarding the potential risk of neural tube birth defects
Drug interaction overview
Coadministration with certain drugs may result in known or potentially significant drug interactions, some of which may lead to loss of therapeutic effect and possible resistance, or significant adverse reactions of other from increase systemic exposure
Inducers of UGT1A1 and CYP3A (eg, oxcarbazepine, phenytoin, phenobarbital, carbamazepine, St John's wort, rifampin) decrease dolutegravir
Coadministration with medications containing polyvalent cations decrease dolutegravir systemic exposure; give dolutegravir 2 hr before or 6 hr after polyvalent cations (eg, antacids, laxatives, sucralfate, iron supplements, calcium supplements, buffered medications)
Dolutegravir may increase plasma concentrations of drugs eliminated via OCT2 or MATE1 (dofetilide and metformin)
Points of recommendation
Follow all directions on your prescription label and read all medication guides or instruction sheets. Use the medicine exactly as directed.
You may take dolutegravir with or without food.
Dolutegravir doses are based on weight in children. Your child's dose needs may change if the child gains or loses weight.
While using dolutegravir, you may need frequent blood tests.
If you've ever had hepatitis B, using dolutegravir can cause this virus to become active or get worse. You may need frequent liver function tests while using dolutegravir and for several months after you stop.
Use all HIV medications as directed and read all medication guides you receive. Do not change your dose or dosing schedule without your doctor's advice. Every person with HIV should remain under the care of a doctor.
Store at room temperature away from moisture and heat. Keep the tablets in their original container, along with any packet or canister of moisture-absorbing preservative.
Take the missed dose as soon as you can, but skip the missed dose if it is almost time for your next dose. Do not take two doses at one time.
Pregnancy level
Not Assigned