Drug information of Ferumoxytol
Ferumoxytol
Ferumoxytol is an intravenously administered iron preparation for the treatment of iron deficiency anemia in adult patients with chronic kidney disease (CKD).
It is comprised of superparamagnetic iron oxide nanoparticles which are coated by a semi-synthetic carbohydrate shell in an isotonic, neutral pH solution.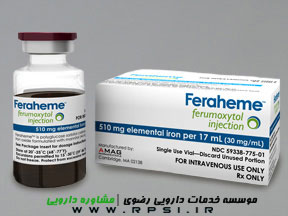 Mechanism of effect
Iron-carbohydrate complex released within macrophage vesicles; either enters intracellular iron storage (eg, ferritin) or transferred to plasma transferrin for transport to erythroid precursor cells for hemoglobin incorporation
Pharmacodynamic
Iron is a part of myoglobin and several heme-enzymes, including the cytochromes, catalase, and peroxidase. Iron is an essential component of the metalloflavoprotein enzymes and the mitochondrial enzyme alpha-glycerophosphate oxidase. In addition, iron is a cofactor for enzymes such as aconitase and tryptophan pyrrolase. Iron deficiency cause anemia and decreased oxygen delivery. This also reduces the metabolism of muscle and decreases mitochondrial activity. Iron deficiency may also cause defects in both learning or thermoregulation. Therefore, iron is important to several metabolic functions in addition to erythropoiesis.
Pharmacokinetics
Peak plasma concentration: 206 mcg/mL
Peak plasma time: 0.32 hr
Vd: 3.16 L (two 510 mg-dose administered IV within 24 hr)
Half-life: 15 hr
Clearance: 3.16 L
Dosage
Adult
Iron Deficiency Anemia
510 mg IV infused over 15 min once, followed by a second dose 3-8 days later
Pediatric
<18 years: Safety and efficacy not established
Drug contraindications
Known hypersensitivity to ferumoxytol or any of its components History of allergic reaction to any intravenous iron product
Side effects
Headache
,
nausea
,
chest pain
,
vomiting
,
vertigo
,
Diarrhea
,
edema
,
Peripheral edema
,
fever
,
itching
,
tiredness
,
shortness of breath
,
Abdominal pain
,
Rash
Alerts
Elderly patients (>65 years) or patients with multiple comorbidities who experience a serious hypersensitivity reaction due to ferumoxytol may have more severe outcomes
Risk of anaphylaxis increases in patients with multiple drug allergies
Clinically significant hypotension may occur; in a clinical study with ferumoxytol in patients with IDA, regardless of etiology, moderate hypotension was reported in 0.2% (2/997) of subjects
Excessive therapy with IV iron can lead to excess storage of iron with the possibility of iatrogenic hemosiderosis; monitor the hematologic response during IV iron therapy; do not administer ferumoxytol to patients with iron overload; within 24 hr following administration, laboratory assays may overestimate serum iron and transferrin bound iron by also measuring iron in the ferumoxytol
Can alter magnetic resonance imaging (MRI) studies
Black Box Warnings
Serious hypersensitivity/ anaphylaxis reactions
Fatal and serious hypersensitivity reactions including anaphylaxis have occurred
Initial symptoms may include hypotension, syncope, unresponsiveness, and cardiac/cardiorespiratory arrest
Only administer as IV infusion over at least 15 minutes when personnel and therapies are immediately available for the treatment of anaphylaxis and other hypersensitivity reactions
Observe for signs or symptoms of hypersensitivity reactions during and for at least 30 minutes following infusion, including monitoring of blood pressure and pulse during and after administration
Hypersensitivity reactions have occurred in patients in whom a previous dose was tolerated
Points of recommendation
Tell all of your health care providers that you take ferumoxytol. This includes your doctors, nurses, pharmacists, and dentists.
This medicine may affect an MRI for up to 3 months after the last dose. This medicine may also affect certain tests for iron in the blood. Be sure your doctor and lab workers know you have received ferumoxytol.
Have blood work checked as you have been told by the doctor. Talk with the doctor.
Tell your doctor if you are pregnant or plan on getting pregnant. You will need to talk about the benefits and risks of using ferumoxytol while you are pregnant.
Tell your doctor if you are breast-feeding. You will need to talk about any risks to your baby.