Drug information of carbonyl iron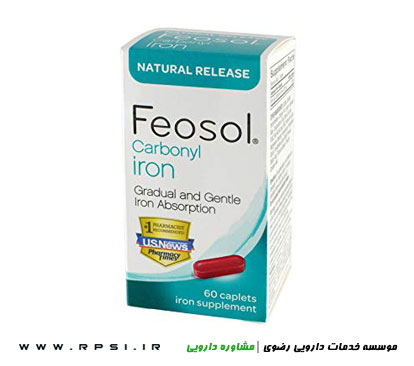 Mechanism of effect
Replacement of iron stores found in hemoglobin, myoglobin, and enzymes; works to transport oxygen via hemoglobin
Pharmacodynamic
Not available
Pharmacokinetics
Onset: 3-10 days (reticulocytosis); 2-4 weeks (hemoglobin values increase)
Absorption: 5-13% (20-30% during deficiency)
Excretion: Sweat, urine, menses, sloughing of intestinal mucosa
Dosage
Adult
Dietary Iron Supplement
Doses expressed as elemental iron unless otherwise noted
19-50 years old:
Male: 8 mg PO qDay
Female: 18 mg PO qDay
Pregnant female: 27 mg PO qDay
Lactating female 9 mg PO qDay
>50 years old: 8 mg PO qDay
Iron Deficiency Anemia
300 mg PO q12hr; may increase to 300 mg q6hr or 250 mg ER PO q12hr
Note: Dose expressed as ferrous sulfate
Prophylaxis of Iron Deficiency
300 mg PO qDay
Note: Dose expressed as ferrous sulfate
Pediatric
Dietary Iron Supplement
Doses expressed elemental iron unless otherwise noted
0-6 months old: 0.27 mg PO qDay (adequate intake)
7-12 months old: 11 mg PO qDay
1-3 years old: 7 mg PO qDay
3-8 years old: 10 mg PO qDay
8-12 years old: 8 mg PO qDay
>12 years old: Same as adult
Severe Iron Deficiency Anemia
4-6 mg/kg PO divided q8hr
Mild to Moderate Iron Deficiency Anemia
3 mg/kg PO qDay or divided q12hr
Prophylaxis
1-2 mg/kg PO; 15 mg PO maximum
Interactions
Demeclocycline
,
Dimercaprol
,
Dolutegravir
,
Eltrombopag
,
Ofloxacin
,
Tetracycline
,
Tenofovir
,
Gemifloxacin
,
Doxycycline
,
Ciprofloxacin
,
Oxytetracycline
,
baloxavir marboxil
,
Levofloxacin
,
Minocycline
,
Mycophenolate mofetil
,
Moxifloxacin
,
Fleroxacin
,
EMTRICITABINE
Alerts
Do not take within 2 hr of oral tetracycline antibiotics
Not for use in patients receiving frequent blood transfusions
Avoid in premature infants until their deficient vitamin E stores at birth are replenished
Avoid administering iron for >6 months except in patients with continuous bleeding or menorrhagia
May cause increased red cell hemolysis & hemolytic anemia in infants with low serum vitamin E concentrations
Black Box Warnings
Severe iron toxicity may occur in overdose, especially when ingested by children.
Nonintentional iron overdose is the leading cause of fatal poisoning in children younger than 6 years. Keep out of reach of children
Points of recommendation
Use exactly as directed on the label, or as prescribed by your doctor. Do not use in larger or smaller amounts or for longer than recommended.
Carbonyl iron may be taken with food if it upsets your stomach.
The chewable tablet must be chewed before you swallow it.
Shake the oral suspension (liquid) well just before you measure a dose. Measure liquid medicine with the dosing syringe provided, or with a special dose-measuring spoon or medicine cup.
If you need a blood transfusion, tell your caregivers that you are using carbonyl iron.
Do not take carbonyl iron for longer than 6 months without your doctor's advice.
Store at room temperature, away from moisture and heat. Keep this medicine out of the reach of children. An accidental overdose of iron can be fatal to a child.
Take the missed dose as soon as you remember. However, if it is almost time to take next dose, skip the dose you missed and take the next regularly scheduled dose as directed. Do not take a double dose.
Avoid taking carbonyl iron within 2 hours before or 2 hours after you take other medicines. Carbonyl iron can make it harder for your body to absorb other medicines.