Drug information of L-Tryptophan
L-Tryptophan
An essential amino acid that is necessary for normal growth in infants and for nitrogen balance in adults. It is a precursor of serotonin (hence its use as an antidepressant and sleep aid).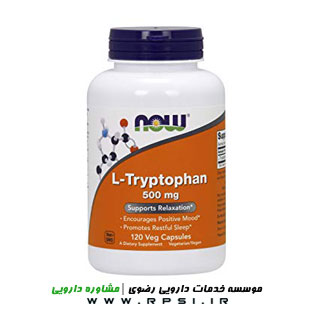 Mechanism of effect
Tryptopan serves as the precursor for the synthesis of serotonin (5-hydroxytryptamine, 5-HT) and melatonin (N-acetyl-5-methoxytryptamine).
Pharmacodynamic
Tryptophan is critical for the production of the body's proteins, enzymes and muscle tissue. It is also essential for the production of niacin, the synthesis of the neurotransmitter serotonin and melatonin. Tryptophan supplements can be used as natural relaxants to help relieve insomnia. Tryptophan can also reduce anxiety and depression and has been shown to reduce the intensity of migraine headaches. Other promising indications include the relief of chronic pain, reduction of impulsivity or mania and the treatment of obsessive or compulsive disorders. Tryptophan also appears to help the immune system and can reduce the risk of cardiac spasms. Tryptophan deficiencies may lead to coronary artery spasms. Tryptophan is used as an essential nutrient in infant formulas and intravenous feeding. Tryptophan is marketed as a prescription drug (Tryptan) for those who do not seem to respond well to conventional antidepressants. It may also be used to treat those afflicted with seasonal affective disorder (a winter-onset depression).
Pharmacokinetics
Metabolism: Converted to nicotinic acid & serotonin as well as incorporated into proteins
Dosage
Adult
Depression
8-12 g/d PO divided QID/TID
Lower dosage effective in combination with other antidepressants
Alerts
Bladder cancer
Diabetes mellitus
Achlorhydria/malabsorption
Cataract formation
Some bipolar pts are acutely sensitive & would not tolerate dosage >1-2 g/d
Clinical worsening & suicide ideation may occur despite medication
Points of recommendation
If you choose to use L-tryptophan, use it as directed on the package or as directed by your doctor, pharmacist, or other healthcare provider. Do not use more of this product than is recommended on the label.
Call your doctor if the condition you are treating with L-tryptophan does not improve, or if it gets worse while using this product.
Store at room temperature away from moisture and heat.
Skip the missed dose if it is almost time for your next scheduled dose. Do not use extra L-tryptophan to make up the missed dose.
Pregnancy level
Group c - Not adequate studies in pregnant women