Drug information of Gatifloxacin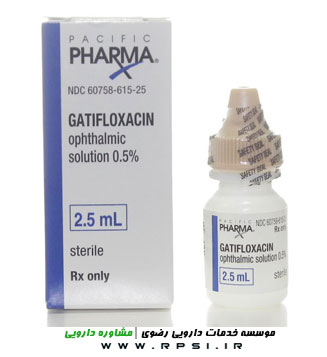 Mechanism of effect
The bactericidal action of Gatifloxacin results from inhibition of the enzymes topoisomerase II (DNA gyrase) and topoisomerase IV, which are required for bacterial DNA replication, transcription, repair, and recombination.
Pharmacodynamic
Notably the drug has 100 times higher affinity for bacterial DNA gyrase than for mammalian. Gatifloxacin is a broad-spectrum antibiotic that is active against both Gram-positive and Gram-negative bacteria. It should be used only to treat or prevent infections that are proven or strongly suspected to be caused by bacteria.
Pharmacokinetics
Absorption: undetectable systemic
Dosage
Adult and pediatric
<1 year: Safety and efficacy not established
Bacterial Conjunctivitis
Drop 0.3%
Days 1-2: Instill 1 gtt to affected eye(s) q2hr while awake, up to 8 xday
Days 3-7: Instill 1 gtt to affected eye(s) up to QID
Drop 0.5%
Day 1: Instill 1 gtt to affected eye(s) q2hr while awake, up to 8 xday
Days 2-7: Instill 1 gtt BID-QID on Days 2-7
Interactions
Zinc
,
Selenium
,
prednisone
,
Tolbutamide
,
Tolazamide
,
Dolasetron
,
Palonosetron
,
vandetanib
,
sparfloxacin
,
Dofetilide
,
Promazine
,
Linagliptin
,
Vasopressin
,
Canagliflozin
,
Alogliptin
,
Saxagliptin
,
Halofantrine
,
Acetohexamide
,
Dapagliflozin
,
Empagliflozin
,
Troglitazone
,
Exenatide
,
Terfenadine
,
Ertugliflozin
,
dulaglutide
,
Abarelix
,
Asenapine
,
Alfuzosin
,
Albiglutide
,
Perflutren
,
Semaglutide
,
lixisenatide
,
gilteritinib
,
glasdegib
,
Bepridil
,
bedaquiline
,
Dasatinib
Alerts
Prolonged use may result in overgrowth of nonsusceptible organisms (incl fungi)
Some patients may require slit-lamp biomicroscopy & fluorescein staining
Advice patients not to wear contact lenses if they have signs and symptoms of bacterial conjunctivitis
Solution may harm corneal endothelial cells if introduced directly into anterior chamber
Points of recommendation
Tell all of your health care providers that you take gatifloxacin. This includes your doctors, nurses, pharmacists, and dentists.
Use care when driving or doing other tasks that call for clear eyesight.
Do not use longer than you have been told. A second infection may happen.
Tell your doctor if you are pregnant or plan on getting pregnant. You will need to talk about the benefits and risks of using gatifloxacin while you are pregnant.
Tell your doctor if you are breast-feeding. You will need to talk about any risks to your baby.
To gain the most benefit, do not miss doses.
Use as you have been told, even if your signs get better.
Wash your hands before and after use.
Do not touch the container tip to the eye, lid, or other skin.
Tilt your head back and drop drug into the eye.
After use, keep your eyes closed. Put pressure on the inside corner of the eye. Do this for 1 to 2 minutes. This keeps the drug in your eye.
Avoid wearing contacts unless told to wear them by your doctor.
Use a missed dose as soon as you think about it.
If it is close to the time for your next dose, skip the missed dose and go back to your normal time.
Do not use 2 doses or extra doses.
Pregnancy level
Group c - Not adequate studies in pregnant women