Drug information of Panitumumab
Panitumumab
Panitumumab (ABX-EGF) is a recombinant human IgG2 monoclonal antibody that binds specifically to the human epidermal growth factor receptor (EGFR). This drug is an antineoplastic agent.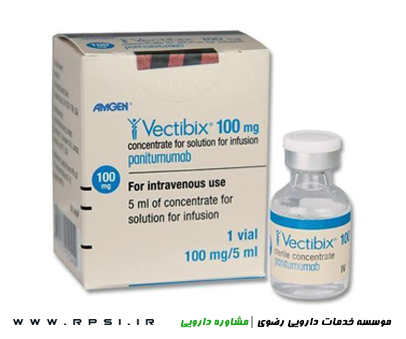 Mechanism of effect
Panitumumab binds specifically to EGFR on both normal and tumor cells, and competitively inhibits the binding of ligands for EGFR. Nonclinical studies show that binding of panitumumab to the EGFR prevents ligand-induced receptor autophosphorylation and activation of receptor-associated kinases, resulting in inhibition of cell growth, induction of apoptosis, decreased pro-inflammatory cytokine and vascular growth factor production, and internalization of the EGFR.
Pharmacodynamic
Panitumumab is a recombinant, human IgG2 kappa monoclonal antibody that binds specifically to the human Epidermal Growth Factor Receptor (EGFR). EGFR is a transmembrane glycoprotein that belongs to the subfamily of type I receptor tyrosine kinases. Although EGFR is expressed in normal cells, the overexpression of EGFR is detected in many human cancers, including those of the colon and rectum. Interaction of EGFR with its normal ligands causes phosphorylation and activation of a series of intracellular proteins that will in turn regulate the transcription of genes involved with cellular growth and survival, motility, and proliferation. Signal transduction through EGFR leads to the activation of the wild type KRAS gene, but the presence of an activating somatic mutation of the KRAS gene within a cancer cell can result in the dysregulation of signaling pathways and resistance to EGFR inhibitor therapy.
Pharmacokinetics
Peak Plasma Concentration: 213±59 mcg/mL
Trough Concentration: 39±14 mcg/mL
Half-Life, Elimination: 7.5 days
Clearance: 4.9±1.4 mL/kg/day
Pharmacogenomics
Colorectal cancer expressing with KRAS wild-type respond more favorably to regimens that include anti-EGFR antibodies (cetuximab, panitumumab); whereas, the presence of KRAS mutation (codon 12 or 13) showed an absence of biological and clinical activity for the anti-EGFR antibody treatment
Strongly recommended that patients with metastatic CRC who are being considered for treatment with anti-EGFR antibody therapy should be tested for the presence of a KRAS mutation prior to the administration of therapy (NCCN guidelines)
Dosage
Adult
Colorectal Cancer
Dose
6 mg/kg IV infusion over 60 minutes (over 90 minutes if dose >1 g) q14Days
Pediatric
Safety and efficacy not established
Side effects
Diarrhea
,
Acne
,
nausea
,
vomiting
,
Angioedema
,
Peripheral edema
,
pulmonary embolism
,
itching
,
tiredness
,
Abdominal pain
,
Rash
,
Dermatitis acneiform
Interactions
Amiodarone
,
Oxaliplatin
,
Irinotecan
,
Bevacizumab
,
Pimozide
,
Ziprasidone
,
dronedarone
,
Droperidol
,
Dofetilide
,
Arsenic trioxide
,
aminolevulinic acid oral
,
Aminolevulinic acid topical
,
alirocumab
Alerts
Increased tumor progression, increased mortality, or lack of benefit in patients with RAS-mutant mCRC; determine RAS-mutant tumor status in an experienced laboratory using an FDA-approved test before treatment
Monitor patients who develop dermatologic toxicities while receiving panitumumab for the development of inflammatory or infectious sequelae; limit sun exposure
Panitumumab is not indicated for use in combination with chemotherapy due to increase in mortality or toxicity
Permanently discontinue in patients developing pulmonary fibrosis/interstitial lung disease
Monitor electrolytes and institute appropriate treatment if needed
Terminate the infusion for severe infusion reactions
Ocular toxicities reported; monitor for keratitis or ulcerative keratitis; interrupt or discontinue for acute or worsening keratitis
Avoid pregnancy
Not indicated for treatment of patients with colorectal cancer that harbor somatic RAS mutations in exon 2 (codons 12 and 13), exon 3 (codons 59 and 61), and exon 4 (codons 117 and 146) of either KRAS or NRAS (RAS)
Progressively decreasing serum magnesium levels leading to severe (grade 3-4) hypomagnesemia reported; monitor patients for hypomagnesemia and hypocalcemia prior to initiating treatment, periodically during treatment, and for up to 8 weeks after completion of treatment; other electrolyte disturbances, including hypokalemia, have also been observed; replete magnesium and other electrolytes as appropriate
Black Box Warnings
Dermatologic toxicity
Clinical manifestations reported include, dermatitis acneiform, pruritus, erythema, rash, skin exfoliation, paronychia, dry skin, and skin fissures
Severe dermatologic toxicities complicated by infection including sepsis, septic death, and abscesses requiring incisions and drainage
Whether these mucocutaneous adverse reactions were directly related to EGFR inhibition or to idiosyncratic immune-related effects (eg, Stevens Johnson syndrome or toxic epidermal necrolysis) is unclear
Withhold or discontinue panitumumab and monitor for inflammatory or infectious sequelae in patients with severe dermatologic toxicities
Points of recommendation
Call your doctor if you have ongoing vomiting or diarrhea, or if you are sweating more than usual. You can easily become dehydrated while using panitumumab. This can lead to very low blood pressure, electrolyte disorders, or kidney failure.
While using Panitumumab , you may need frequent blood tests. Your skin and vision may also need to be checked.
Panitumumab can have long lasting effects on your body. You may need frequent medical tests for up to 8 weeks after you stop using this medicine.
Using Panitumumab during pregnancy could harm the unborn baby. Tell your doctor if you are pregnant or plan to become pregnant while using this medicine.
Use effective birth control to prevent pregnancy while you are using this medicine and for at least 2 months after your last dose.
You may have irregular menstrual periods while receiving Panitumumab .
It is not known whether panitumumab passes into breast milk or if it could harm a nursing baby. You should not breast-feed while using this medicine.